Dear Cape Cod Home,
     You, with your two stories of light infused halls. You, with your beautiful wire brushed oak floors, and marble kitchen. You promise water that is always hot, windows that are never drafty, and large walk in closets, even for the children. It's all so tempting, yet part of me misses the single story ranch homes of the 30s and 40s; the creaky wide plank floors, the exposed brick fireplaces, the cottage cheese ceilings…just kidding. But I do miss the character that exuded from each and every square foot of those homes. Pete Seeger was onto something when he wrote of little boxes all made out of ticky-tacky, little boxes all the same. Only now, they are big boxes—big boxes with Nest thermostats. So the question becomes, how do you infuse character into a space that looks just like all the others?
As a designer, it used to be, that my clients came to me to refresh their house. Now, they come asking to give character to a home that is a sextuplet in a family of siblings, all on the same block.
Purely from a design stand point—I like a home abundant in natural light, and an interior that is eclectic, warm and livable. It's my job to edit; to create a sense of history and soul, to give texture and layers where it is needed. So how do I do this? Let's assume the home is empty, fresh coat of paint laid, and Carrera marble installed. How do we shake it up?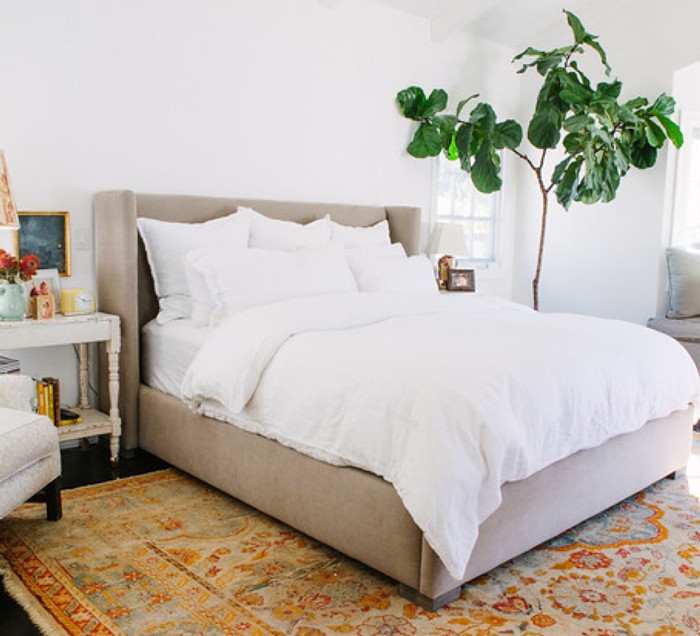 1. Texture, Layers, A Natural Element, And Always, Always A Great Big Mirror. The entry below combines wood, horn, linen, cement, brass, and yes, a great big mirror. Even in a small space the bigger, the better. Strategically placed, it should reflect a second room. Two stories being told as one. The mirror gives depth, and all the natural elements give character to the wall made out of ticky-tacky.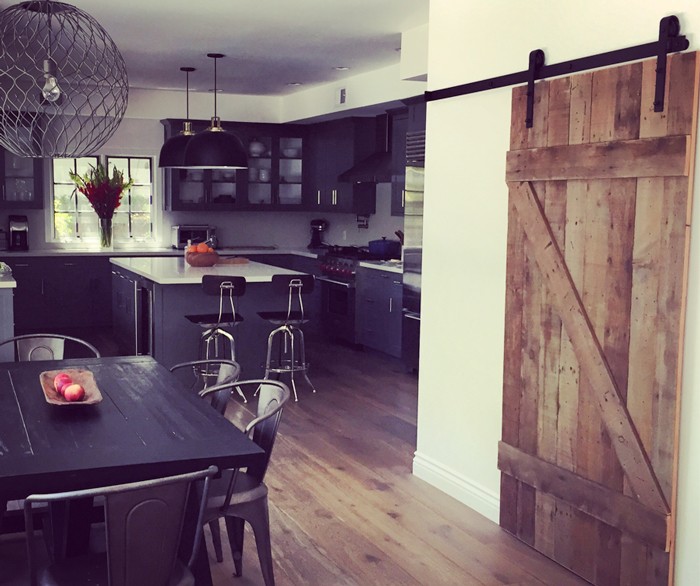 2. Surprise Element—One Big Detail In Each Large Room. Your eyes want to know where to focus. Impact comes from the 'wow' detail that you give each space. The kitchen below is a fairly standard kitchen; Shaker cabinetry, white walls, Caesar Stone counter tops. So what's the wow? I built a pantry where there was once a desk, and instead of putting a standard door- I put an oversized barn door. The door can be as modern, or traditional as the client likes- in this case I used reclaimed wood on a metal slide. The barn door is nothing new, but the placement of it, and the texture it lends the space really creates an impact. Also, I tend to oversize lighting. Big rooms leave a lot of empty space, and where I love me a good drop pendant—I also want to fill "sky" space to balance out the larger elements that ground the room. i.e. kitchen table, island, etc.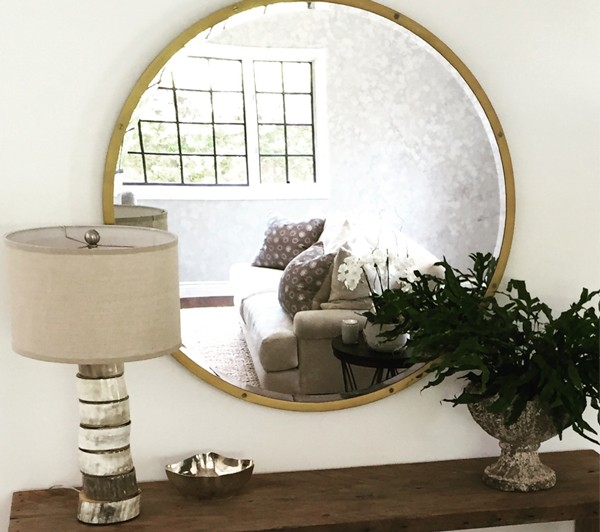 3. Bookshelves Bookshelves Bookshelves! It's sad to say, but they are really not for storing your reading books anymore. I have gotten into many a heated convo about what to do with all those books clients have read in college, or summer vacation. The worst is paperbacks—don't get me started. Anywho… bookshelves should be looked at as art. It should be framed well, in this case with a Fiddle Leaf Fig and a reclaimed wood fireplace. A bookshelf should be bold—it could be in a pop of color (which in my world is black), or it could be lined with wallpaper. Then fill with art books, curiosities, wood accents, etc. Try to keep a consistent color theme, and infuse texture as much as possible.
4. Plants. Eery home should have a big happy plant to breath life into the room. They soften and richen a space.  Truth be told, I've never met a Fiddle Leaf Fig I didn't like. Whether large or small, I like to accent with greens. This goes back to point one—plants add texture, layers, and a natural element.
5. Last, But Certainly Not Least—To Tell A Good Story, You Need A Good Story Board. By starting with a board, it gives vision and clarity, to a potentially overwhelming project. It's a way to hone your ideas into a focused, well-edited presentation. This is where character starts.
Allison Ross is the owner and designer behind Grain Projects (IG: GRAIN PROJECTS). She may be reached at allison@grainprojects.com.