Lumber Price Volatility and the Supply Chain
Lumber constraints will get worse before getting better.
By Matthew Saunders
The set up for 2022 will drive continued lumber shortages and high pricing volatility—the same can be generalized across building product categories. The eventual easing of broader supply-side constraints will not immediately solve longer-term structural lumber supply issues. Watch for lumber prices to remain at historically elevated levels and more volatile for longer. 
Rollercoaster lumber prices. This is an accurate, and often used, description for the track lumber prices have followed since the start of the pandemic: soaring to record levels and with unprecedented volatility. 
Today, the price of lumber stands at around $1,200 per thousand board feet. And volatility metrics show a significant step change in the size of price swings. As these dynamics have unfolded, the price of lumber has become an important measure of existing supply constraints and ongoing disruptions.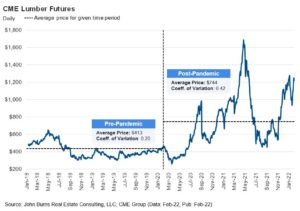 Consider lumber's multiple logistical touchpoints—logged, processed by a sawmill, and then railed and trucked to lumber yards and end users. Along the way, lumber's journey overlaps with a large section of the domestic supply chain. The causes of the current supply-constrained economy are well documented. 
These include coordination issues, trucker shortages, the strength in goods compared to services consumption and slow-to-recover labor force participation rates. Each supply chain disruption has reverberated in the price of lumber, pushing price levels and volatility higher. 
Lumber is a commodity tied to its use in housing and remodeling. Elevated lumber prices have clear consequences; for example, worsening affordability for prospective home buyers and escalating remodeling costs. The same goes for price volatility; builders waiting until later in the construction process to appropriately price the homes they sell. 
When examined in isolation, these effects understate the overall impact, given widespread shortages across building materials and interdependencies in construction schedules.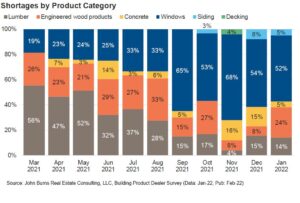 Widespread building material shortages and interdependencies amplify the impact of individual product shortages. At this point in the housing cycle, builder cycle times are extremely stretched; the same can be said for the order backlog of professional remodelers. To illustrate: consider the elevated levels of housing inventory that is under construction and authorized, but not yet started.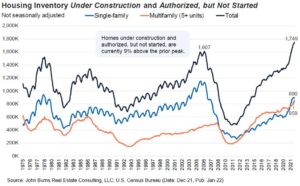 This "shadow supply" is at the highest level in 45 years and is a strong tailwind for building materials spending. The opportunity to "dollarize" what is in the pipeline has never been this high, nor this challenging. Our internal modeling shows that, at a macro level, a slight change in builder cycle times is associated with pronounced changes in 2022 new construction building materials spending. 
Strikingly, we find a one month change in builder cycle times is more impactful than a five-percentage point swing in housing starts growth. 
Demand for new homes is outstripping the ability of builders to supply new homes, resulting in the intentional metering of sales. Remodeling demand is also growing rapidly, driven by a combination of cyclical factors (more sensitive to swings in the economy) and structural factors (which are unlikely to slow). 
Against this strong demand backdrop, near-term improvements in lumber's availability are dependent on the resolution of economy-wide supply constraints. Our most recent reading is these constraints are not easing and will potentially get worse before they improve.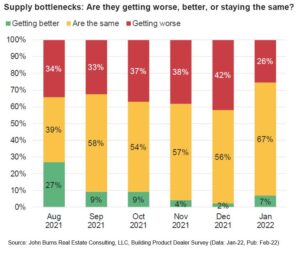 Still, once economy-wide supply constraints are resolved, longer-term lumber supply additions will continue to be challenged to meet the growing needs of housing and remodeling. The U.S. consumes more lumber than is produced domestically. 
Canada has historically been the primary supplier of imported lumber, responsible for around one-third of the lumber used in U.S. home building. Lumber supply out of Canada has been declining—and the rate of these declines is expected to accelerate. 
Reductions in the annual allowable cut on crown lands, imposed following the devastation of the Mountain Pine Beetle epidemic and wildfires, are contributing factors. Solutions, such as the push to ramp up U.S. Southern Yellow Pine production (an imperfect substitute for Canadian lumber) and further expanding lumber import markets, will only gradually scale to meet incremental demand.  
 Matthew Saunders is the Vice President of Building Products at John Burns Real Estate Consulting. He may be reached at [email protected].