Luxury Condos Made for Commuters
The Flats at MetroWest is an ongoing development of luxury condominiums by PulteGroup, which are perfect for today's modern commuter. Located in Fairfax, Va., these luxury elevator condos are set directly next to Vienna Metro Station, making homeowners only nine metro stops away from Washington, D.C.
The project is nestled in a mixed use and highly dense area of town and was designed for buyers who value being close to their everyday needs. It was built with three target markets in mind. "DINKS," meaning dual income no kids, these middle-range income individuals are focused on career issues, are committed to their upward mobility and want convenient access to work and entertainment. The condos were also built to cater to young families with children who are under 12 years of age, and upscale empty nesters or pre-nesters who are looking for a small luxury home where location is key.
The condos are characterized by a modern, urban vibe. Each condominium has two bedrooms and two baths, many with dark hardwood floors throughout the main living, dining and kitchen areas, and carpeted bedrooms.
Each condo has an open-concept style layout, allowing for an unobstructed view throughout the common living space, making it perfect for entertaining. Living rooms lead into the kitchen and dining areas, which in some cases are separated by structural beams, and each unit features ornate, chandelier-style lighting. In some units, wall-molding detail is accentuated with a two-tone paint color scheme, and many units are painted in topes and greys with a splash of mocha colors.
In the end units, homeowners can enjoy wall sized windows and larger sized kitchens with plenty of cabinet storage and countertop space. Each condo features large-sized master suites, and on one floor, master suites include a sitting room. Some units feature balconies and all master suites feature walk-in closets.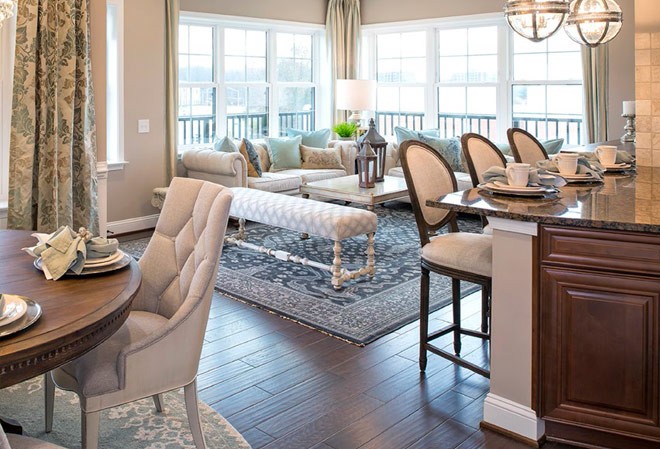 Units begin in the high $400s and range up to the high $500s. Homebuyers have six different home designs to choose from. Beginning at the lower end of things at $494,990 is the Cannes design, which boasts 1,256 square feet of space. Interior features include kitchens with polished chrome faucets and stainless steel appliances, along with ceramic tile floors—which are featured in the bathrooms and on the bathroom walls as well.
At the higher end of the home designs is the Dublin model, which features 1,685 square feet and starts at $584, 990. This model features a breakfast bar, kitchen nook and extra closets. The bathrooms have flat-panel maple vanities with raised heights in the owner's suite bathroom. All units have low-E windows and programmable thermostats to maximize energy-efficiency and lower monthly utility bills.
The exterior of the building is covered in exposed brick and features single-hung windows in a dark bronze.
PulteGroup had in-house architects and contractors for these units. The project broke ground five years ago but continues to be ongoing atop a 53-acre plan, and could finish anywhere between five and ten years depending on market conditions, but all major infrastructure work has been completed. Currently 64 units in two buildings have been constructed, and 59 of those units have been sold and are occupied.
Director of Land Development for PulteGroup's Virginia region, Jeff Edelman said the inspiration for this community was a mix of urban and suburbia.
"This community would be considered semiurban," Edelman said. "An urban island in the middle of suburbia."
According to Edelman, this project was the first major rezoning of an area adjacent to a metro location in Fairfax County. For the project, a serious focus was given to vehicular trip reduction. One thing that separates the MetroWest community from being entirely citylike is its proximity to plenty of green spaces.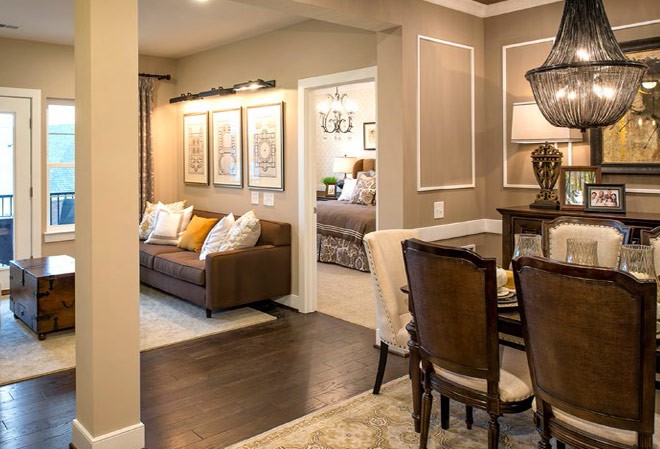 "Plenty of green space in this urban development—walking trails, open space in addition to at least nine pocket parks when [the project is] completed," Edelman said. "We used an existing building that was being built by another division in Airmont, N.Y. It had the same footprint and we needed to draw an elevation to mimic the concept."
In fact, the property that MetroWest was built upon was formerly infill and was previously an assemblage of single family homes, adding to the suburban-urban theme. PulteGroup's new take on the location, providing condominiums in the transit-oriented area, definitely supplies the neighborhood with an urban update.
Edelman said this location was chosen not only because of its prime location next to the metro, but also because of its close proximity to major roads and commuting routes.
"The stellar location and its current transportation infrastructure made it a win/ win," said Elderman. "This community is validation of our ability to execute more urban/ infill projects and designs. Future opportunities across the nation will be modeled after MetroWest."
PulteGroup did have to overcome some challenges during the building process, like people walking through the construction zone during the development stages because of its proximity to the metro station, providing evidence toward the project's prime location. The builders installed a pedestrian pathway. "Constrained space required us to do some sheeting and shoring on all sides of the building," Edelman said.
As part of the MetroWest development, PulteGroup built the Providence Community Center, a 32,000 square foot facility that features a full-sized gymnasium, activity rooms, classrooms, a commercial kitchen and a sensory room for individuals with disabilities. The rooms and amenities are available for community use during open hours, and the institution will also serve as a polling place for the local precinct.
For the community center project, PulteGroup provided the land, design and construction and funded $7.94 million for the community center alone. The community center will serve residents by providing a space for the local Department of Neighborhood and Community Services to offer after-school programs, summer camps, health and fitness activities, programs and activities for active adults, recreational programs for participants with disabilities, technology programs, access to the internet and a multitude of volunteer opportunities.
Jessica Burger is the Editor for Builder and Developer. She may be contacted at jessica@penpubinc.com