Maracay Homes Builds an Oasis with Layton Lakes
The Maracay Homes units at Layton Lakes bring new meaning to "desert flower" with its beautiful home exteriors
By Jonathan Dean
Photography by Mark Boisclair
Finding an oasis in the desert is rare, but ultimately worth the journey. The ancient Egyptians made their civilization near the Great Delta on the Nile, and the Babylonians created their Hanging Gardens. Maracay Homes has built an oasis of their own in Chandler, Ariz. within the confines of the Layton Lakes community—a place of luxurious living that serves as the flower in the desert dunes.
What makes a flower beautiful? Many would argue its petals and coloring while in bloom. Much like flowers, new homes have their external structuring and layouts to thank for their curb appeal. "The Maracay units in Layton Lakes feature layouts from the award-winning New Arizona Living Collection of floorplans, designed to meet the needs of buyers seeking more connection, customization, and convenience," stated Elise Goodell, Marketing Manager for Maracay Homes.
Maracay's New Arizona Living Collection features dozens of new floorplans that have been designed with the modern homeowner in mind to accommodate a variety of today's lifestyles. Maracay recently invested over $4 million over two years researching the Phoenix and Tucson housing market to discover the facts that would go into the development of the collection designs. Some of the most notable exterior features for this collection of home designs include a front courtyard entry experience, an expanded wrap-around porch, and an option for a three or four-car garage.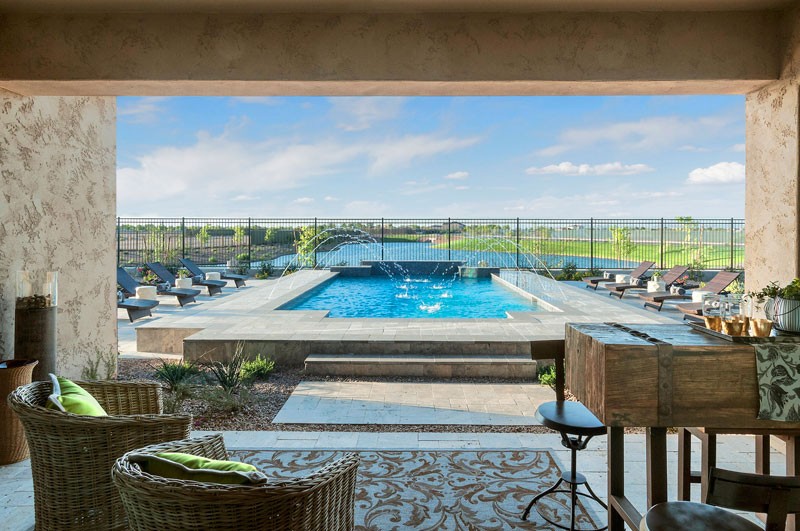 Layton Lakes features five single level FlexDesign® floorplans from Maracay's Hallmark, Imperial, and Paragon collections, all of which are part of the overall New Arizona Living Collection. According to Goodell, "the new homes within the collection take livability to an entirely new level, with floor plans and amenities so intuitive, some people may wonder how they ever lived without them."
The Cholla floorplan is a 3,178-square-foot single family home and features four to six bedrooms, three bathrooms, and a three-car garage. The Pinnacle floorplan is a 3,412-square-foot single family home and features four to six bedrooms, 3.5 to 4.5 bathrooms, and a four-car garage. The Arrowhead floorplan is a 3,580-square-foot single family home and features four to six bedrooms, three to four bathrooms, and a four-car garage. The Palm floorplan is a 3,704-square-foot single family home and features four to six bedrooms, 3.5 to 4.5 bathrooms, and a four-car garage. The Ironwood floorplan is a 3,843-square-foot single family home and features four to five bedrooms, 3.5 to 4.5 bathrooms, and a four-car garage.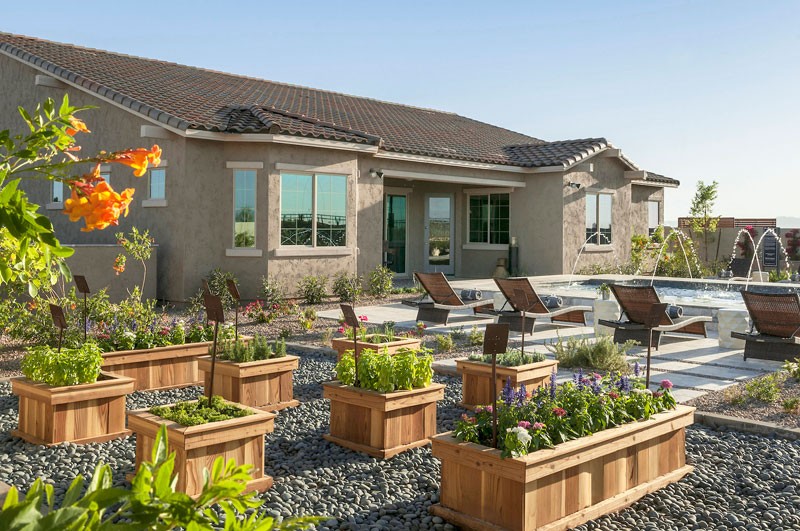 When designing the look of the Layton Lakes homes, Maracay decided to emphasize large open areas outside of each home. "We included a welcoming front porch and a large backyard with a covered patio, not only providing plenty of space to relax with family and friends, but encouraging a lifestyle centered around entertaining," said Goodell.
Being able to entertain guests in a beautiful space is a feature that sits well with most home upgrade buyers, as does being able to open a home up to the outdoors. "[Maracay] also included expansive sliding glass doors along the back of the home to cater to Arizona's indoor-outdoor lifestyle," Goodell shared. "The wall of the glass not only invites natural sunlight into the home, but also provides a seamless transition to the covered backyard patio that can be transformed into a separate seating area that extends from the great room."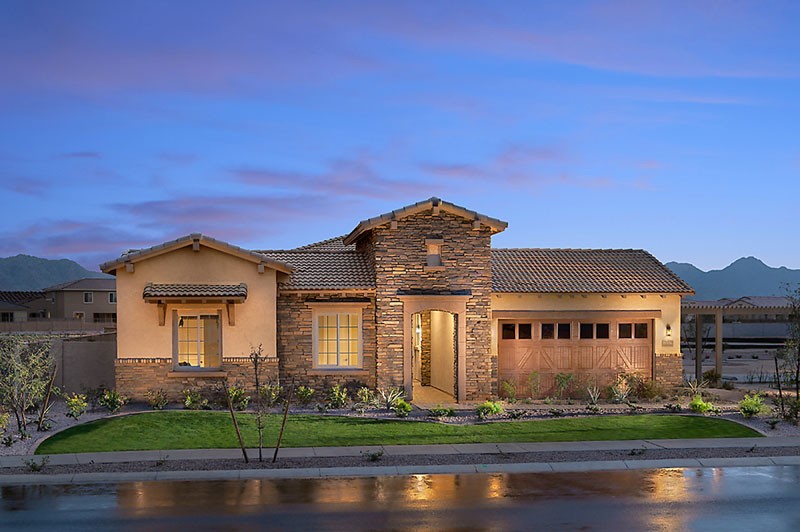 Landscaping in the desert also has a different set of rules as Maracay's research and over 23 years of building experience have revealed. Gorgeous arrangements of native plants rule the landscape in Arizona due to water scarcity, but the outer look of the Maracay homes is not diminished one bit. Layton Lakes have used native plants and carefully laid-out pavers to frame outdoor areas that support active outdoor living.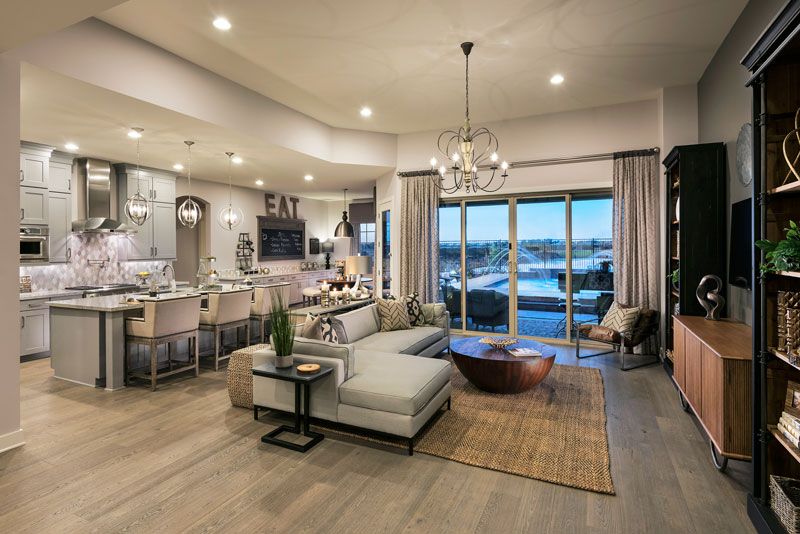 The Sonoran Desert is home to many wonderful forms of flora, and Maracay Homes believes in preserving and retaining the charm of the native land by saving types of plants like cacti during construction and reintroducing them to the landscape. Maracay recently did this with over 4,200 native plants for their Center Pointe Vistoso community near Tucson.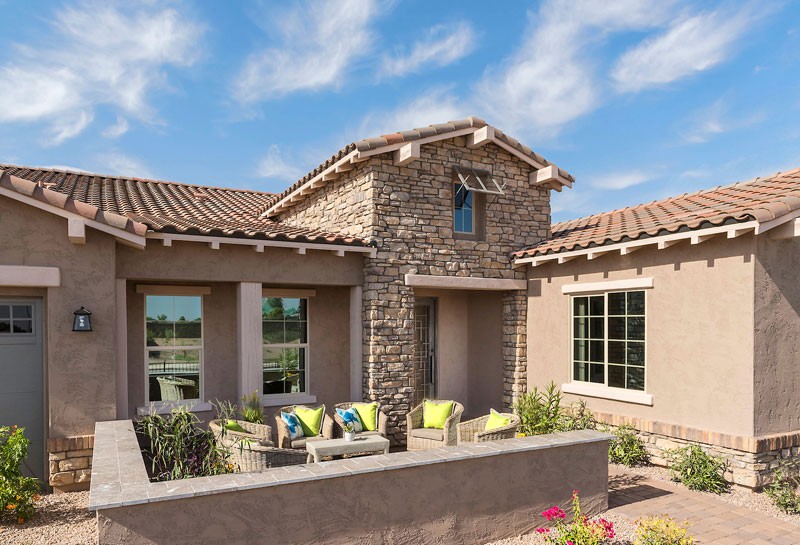 Not only do the Maracay homes at Layton Lakes look amazing, but they also function as tremendous green homes. Maracay uses its LivingSmart® program in all its New Arizona Living Collection homes to demonstrate its commitment to creating responsible developments that work in conjunction with their natural surroundings; this program includes four main components—HealthSmart™, EnergySmart™, EarthSmart™, and WaterSmart™—for a harmonious look of naturally-conscious, modern design. Besides recycling when possible during construction, Maracay uses Trus Joist® engineered wood to help cut down on waste and give buyers a product that will last without having to worry about warping, splitting, or shrinking. "We feel we have a responsibility to develop high-performing homes, not only to help reduce costs and increase comfort for our buyers, but also to protect the environment," said Goodell.
Inside all Maracay homes at Layton Lakes, the company has made a gallant effort to install the best modern materials to contribute to comfortable and responsible living. Some of the green features include ENERGY STAR® appliances, advanced HVAC and air filtration systems, low VOC paints, low flow toilets and water-saving fixtures, CRI-green label carpets and pad, and an advanced insulation that promotes cleaner air, energy efficiency, and reduced noise pollution. Each home layout also has a great HERS Index score to show off each floor plan's fantastic energy efficiency: Cholla – HERS Rating: 61, Arrowhead – HERS Rating: 59, Pinnacle – HERS Rating: 57, Palm – HERS Rating: 57, and Ironwood – HERS Rating: 57.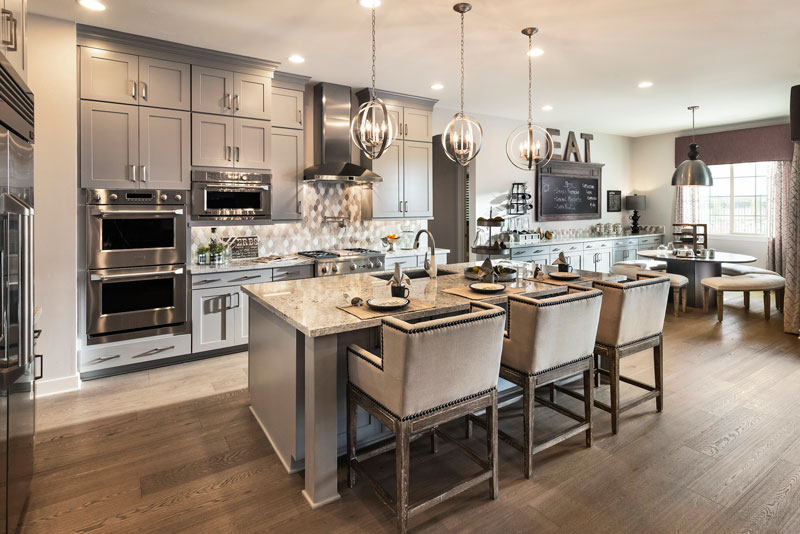 Layton Lakes is a master-planned community that brings together all the elements many modern homebuyers are looking for: good looks, cost-effective, and full of options. Maracay Homes is committed to offering all these features to their buyers. The community is conveniently located near major shopping, dining, and employment centers in the East Valley. If you are looking to settle in the beautiful Sonoran desert landscape, let the Maracay Units at Layton Lakes be your oasis.
Jonathan Dean is an Assistant Editor for Builder and Developer magazine. He may be reached at jonathan@penpubinc.com.