Marketplace Commons Emphasizes Everyday Spaces
In the cozy town of Cumming, Ga., lies the community of Marketplace Commons by Ryland Homes—one of the largest builders in the nation. This community opened for sale last July, and boasts 131 lots of single family homes.
Currently, the development is ongoing and these homes are being marketed for their affordable price range, with the target buyer ranging from growing families to empty nesters looking to downsize.
Marketing Manger for Ryland Homes Domenica Haas said this community offers something unique when compared to other communities within the area. "Marketplace Commons is a departure from the typical community in the area being offered at this time," Haas said. "This project was chosen due to location."
Some of the great features of the location include being only 1.5 miles from recreation opportunities, such as Lake Lanier, a large manmade lake full of outdoor entertainment options.
"In addition to being located close to the highway and several major arteries to ensure a shorter commute time, the community is uniquely located close to so many conveniences," Haas said. "This presents an opportunity to offer homeowners more conveniences than is usually possible in a residential area."
The community consists of nine different plans, each of which emphasizes the gathering areas and practical everyday usable spaces within home. Some of these features include mudrooms, lofts, game rooms and third floor retreats. Community features include a swimming pool and two tennis courts.
"The main point to emphasize is that we knew the area was desirable but not always affordable, so we looked for creative ways to make it more affordable by offering plans that focused more on the cozy, casual living, and less on the formal spaces," Haas said.
Floor plan models start at $295,000 with the Danbury model, which is a one-story, 2,064 square-foot ranch home with three bedrooms, two bathrooms and a two-car garage. This home features oak hardwood in the entry foyer, a laundry room, as well as all of the features that are apart of Ryland's unique HouseWorks energyefficiency program. The program includes programmable set-back thermostats, low VOC paint and carpet for improved indoor air quality, water-saving low flow shower heads and toilets, a passive attic ventilation system, and even more features that create an energy-efficient home environment, that simultaneously reduces the owner's utility bills monthly.
"This program is designed to preserve the environment, conserve energy, and provide more comfort for homeowners," Haas said. At the higher end of models available we have the Ellington C floor plan, which starts at $378,335. This two-story slab home provides four bedrooms, four bathrooms and a two-car garage atop of 3,118 square feet.
The home comes with a game room and an optional study, as well as optional upgrades including coffered ceilings in the flex/dining room, wrought iron railing, kitchen pendant lighting and more. The spacious kitchen has granite countertops and stainless steel appliances, and again, this model features the energy-efficiency benefits that are supplied through Ryland's HouseWorks program.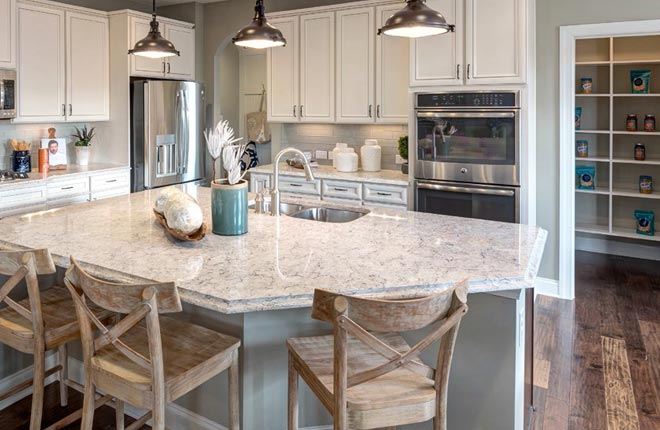 Ryland Homes integrates an eco-friendly attitude from the very beginning of the building process, according to Haas, who said they take a holistic approach to building energy-efficient homes from the early stages through to the livable ones.
"We often don't think of wood framed construction as environmentally friendly, but wood is a renewable resource," Haas said. "We use not only wood framing in the walls but in the engineered roof trusses and the wood flooring—it takes far less CO2 to fabricate this material than other traditional building materials."
Offering a little bit more space at slightly lower price point is the Drake II model, which boasts four bedrooms with three bathrooms atop 3,280 square feet, and is priced at $348,900.
"We knew the area had homes in the $400s, $500s and $600s, but not everyone is comfortable in that price range or needed that much home," Haas said. "There was a need for more affordable, but upscale homes in a 2,000 to 4,000 square-foot range."
Marketplace Commons was designed to be a competitive choice on today's modern market, which is why technology options were integrated into the house plans. "We offer all the latest technology in structured wiring and security system needs to satisfy our buyers' desire for connectivity and security," Haas said. "We include network connections in all bedrooms and the family [room] for high speed streaming of content."
Additionally, category 6 wiring is available, and each home is hooked up to a fiber optic cable run underground within the community to each home, to ensure faster internet access. The security system prewiring and the wiring panel allow additions to the system for smart connections to wireless devices as well.
Among homebuyers, the design of the homes, Haas said, is one that has been well received. "We offer a great first impression with brick wrapped foundations we call 'watertables,' sidewalks on both sides of the street, two trees in each front yard as well as more emphasis on landscaping to give points of interest to the back yards and the community in general." She added that several of the kitchen, breakfast nook and family room orientations received loads of positive commentary.
"I suspect we will be using this insight as a foundation for more design like this to come," she said.
Looking ahead, Ryland Homes continue to expand across the Atlanta area across eight different counties, including Forsyth, Fulton, Cobb, Delkalb, Gwinnett, Cherokee, Hall and Henry County.
Jessica Burger is the Editor for Builder and Developer magazine. She may be contacted at jessica@penpubinc.com