MBK Homes Delivers Unique Living Options and Urban Design
MBK Homes prides itself on creating developments that enhance communities and 1500 Artesia Square is no exception. In 2012, MBK began construction in the center of Gardena's Artesia Corridor Specific Plan area, a 44-acre revitalization area, with the live/work and townhome community 1600 at Artesia Square. The high-density, urban infill development was part of the first and only major mixed use development in the city since it adopted the plan.
Now with the development of 1500 Artesia Square, which broke ground in July 2014, MBK has the opportunity to build on the success of its predecessor to deliver urban lifestyle and at-home business options to a unique set of buyers in Southern California's South Bay. "We are thrilled to be building another community in Gardena and are pleased to be able to offer again the same quality in design and amenities," said Rick Fletcher, Vice President of Sales and Marketing for MBK Homes. "The success of 1600 Artesia Square demonstrates just how integral this housing option really is and the high-density residences at 1500 Artesia Square are a continued response to that growing demand."
The building products used to construct these homes are also the highest of quality. The majority of MBKHomes' communities feature materials like Stego Wrap Moisture barrier, a trusted brand in vapor barriers under floors. The concrete tile roofs have a 25 to 35 year life expectancy, and the quality products do not stop there. Top-rated energy saving windows, Therma-Tru entry doors and raised panel interior doors lengthen the list of quality elements, attractive to all homebuyers. The first floor features the entry, ground floor decks, outdoor living spaces and garages.
The living space is centered on the second floor where the kitchen, dining room, main living room, den and half baths reside. The bedrooms are separate from the entertaining area and are all located on the third floor of the residence with an adjoining deck and full baths, including a master suite. Additional interior design elements that appeal to many current homebuyers include granite countertops, USB charging stations, high ceilings, and less formal living spaces. All of this accentuates an open floor plan that still adheres to strict Feng Shui design principles.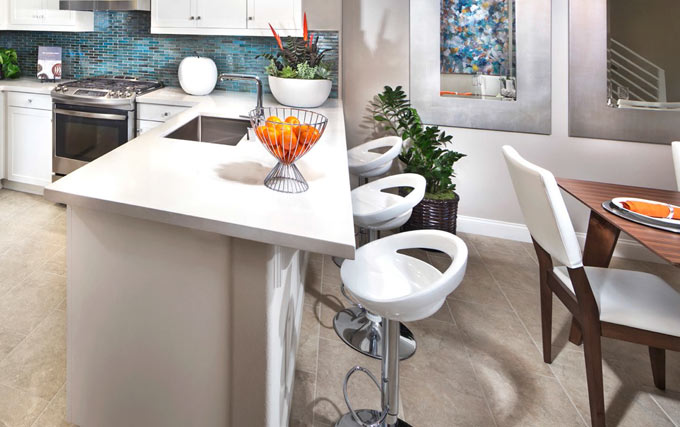 Though design may have come easy, the building site and process did not. "Previously designated and occupied as industrial space, there was significant excavation and export of soils that occurred during grading," said Fletcher.
This redeveloped infill features many significant sustainable and green features, such as its close proximity to resources, amenities and mass transit systems, which for residents may reduce their gas emissions.
Additional energy-efficient elements range from tankless water heaters and a conduit for solar to radiant roof barriers, energy-efficient windows and every compact fluorescent light in between. The finishings and appliances were not forgotten when incorporating energy-efficiency. Faucets and showerheads are high-efficiency and help to reduce water usage. ENERGY STAR dishwashers and environmentally friendly HVAC refrigerants and efficient ventilation systems contribute to a clean and energy-efficient environment.MBK is committed to minimizing the impact of their carbon footprint. Green building practices are put into effect from land planning to final walkthrough.
"The commitment is of benefit to the environment and also of benefit to the homeowner," Fletcher said. "Every residence has its own outdoor patio that is connected off of the main living space. A shared community space is also attractive to buyers considering townhomes and other attached homes."
MBK made sure 1500 Artesia fit the ecofriendly bill down to the steps they took to reduce overall environmental impact. Beginning with the way they used land efficiently, to waste control, design use minimized wood waste and construction waste was largely recycled.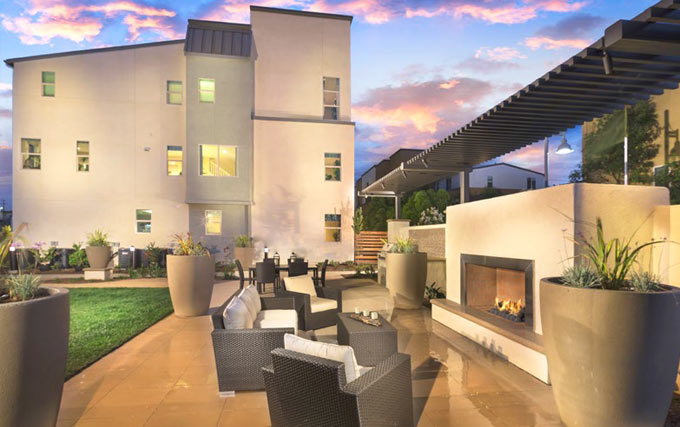 Homebuyers find many perks in this urban infill development. The mixed-use live/work spaces are highly desirable and sensible for the area. With large frontage on Artesia Blvd., residents may easily walk to nearby restaurants, shops or public transit and there is easy access to three major freeways, making commuting easy for a working homebuyer.
Within the next year, MBK Homes will begin development on several new communities in Southern California including two for sale townhome properties, two for sale single family home properties and one for rent apartment property. No newbie to the judging table, MBK Homes has many awards under their belt. Most recently, in the 2015 Eliant Home Buyer's Choice Awards, MBK Homes was named the top-rated single division builder in North America for the second year in a row and was honored with three first place awards for Purchase Experience, Construction Experience, and Design Selection Experience. Other awards include third place for First-Year Customer Service Experience for large volume builders, and the Best Places to Work award. They were also the recipient of Eliant's best Overall Purchase & Ownership Experience for the second year in a row.
Looking forward, it's clear that MBK will continue to deliver sought after communities with true expertise.
Devon Douglas is the Assistant Editor for Builder and Developer magazine. She may be reached atdevon@penpubinc.com.