MBK Rental Living Begins Construction of 315-Unit Luxury Apartment Project in Anaheim, California
Zia will bring much-needed housing to Orange County, California where less than 3 in 10 first-time homebuyers can afford to purchase an entry-level home
IRVINE, California – MBK Rental Living, in joint venture with Haseko Corporation, announced that construction is underway at Zia, a five-story wrap-style apartment community located in central Orange County. Offering upscale living with easy access to downtown Anaheim, Interstate 5, and Disneyland, the MBK Rental Living community will comprise 315 apartments offering studio, one-, two- and three-bedroom floor plans ranging from approximately 600 to 1,900 square feet. The grand opening of the community is anticipated for mid 2024.
Located on 5.2 acres at 1600 W. Lincoln in Anaheim, Zia will feature luxury interior finishes and sustainable elements including quartz countertops, stainless-steel appliances, distinctive wood-style plank flooring, and large-scale precision windows. The thoughtfully designed community will feature amenities such as a 4,900-square-foot, two-story fully equipped fitness center with children's lounge area with Wi-Fi; pool with grill, bar area, spa, and cabanas; entertainment and Zen courtyards; game lounge with duckpin bowling – a fun variation on the standard ten-pin bowling game; co-working office space with podcast rooms; walking path with outdoor fitness equipment; basketball court; dog spa; and a park.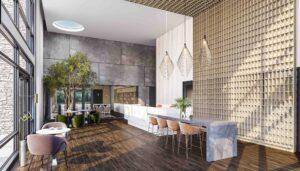 "An apartment community of this caliber is in high demand given the strong employment fundamentals and high barriers for entry into home ownership in Orange County," said Ken McCarren, President of MBK Rental Living. "The fact that first-time homebuyer affordability declined from 41 to 29 percent2 in just two years paints a clear picture of the county's affordability crisis. Zia will attract a wide range of residents from all over Orange County who are seeking a place of belonging and a connection with the local community."
Located only a mile west of downtown Anaheim and a mile north of Disneyland, Orange County's largest private-sector employer; Zia will offer residents the opportunity to "live full circle" with its high-quality confluence of culture, entertainment, sports, fantasy, and enterprise. Residents will easily connect to Interstate 5 as well as to businesses catering to daily needs and the area's many dining, entertainment, and cultural destinations, including Anaheim's Packing District, John Wayne Airport, UCI Medical Center, California State University, Fullerton, and the University of California at Irvine, the county's second largest employer. 
MBK is proud to partner with Haseko Corporation in its third apartment joint venture with the company. Zia is designed by AO Architects, landscape is designed by Sitescapes and the interior design by Design-Art. 
For more information, please visit www.mbkrentalliving.com/communities.
About MBK Rental Living
MBK Rental Living is active in the acquisition and development of apartment communities. The company's mission is to be the preeminent lifestyle developer focusing on creating communities that deliver value for their residents, partners, and investors. Throughout its more than 30-year history, MBK has earned a reputation for delivering award-winning customer satisfaction in housing that is innovative in design, comfort, sustainability, and craftsmanship, all at an excellent value. MBK Rental Living is a division of MBK Real Estate Ltd., the U.S. real estate development arm of Mitsui & Co., Ltd., a global trading and investment company with a diversified business portfolio. MBK Real Estate's companies span a wide spectrum of real estate development including apartments, industrial, and their senior housing divisions. MBK Rental Living is headquartered in Irvine, California. Corporate offices are located at 4 Park Plaza Suite 1700, Irvine, CA 92614; or visit their website at www.MBKRentalLiving.com. 
About Mitsui & Co., Ltd. 
Mitsui & Co., Ltd. (8031: JP) is a global trading and investment company with a diversified business portfolio that spans approximately 64 countries in Asia, Europe, North, Central & South America, The Middle East, Africa and Oceania.
Mitsui has over 5,600 employees and deploys talent around the globe to identify, develop, and grow businesses in collaboration with a global network of trusted partners. Mitsui has built a strong and diverse core business portfolio covering the Mineral and Metal Resources, Energy, Machinery and Infrastructure, and Chemicals industries.
Leveraging its strengths, Mitsui has further diversified beyond its core profit pillars to create multifaceted value in new areas, including innovative Energy Solutions, Healthcare & Nutrition and through a strategic focus on high-growth Asian markets. This strategy aims to derive growth opportunities by harnessing some of the world's main mega-trends: sustainability, health & wellness, digitalization and the growing power of the consumer. 
Mitsui has a long heritage in Asia, where it has established a diverse and strategic portfolio of businesses and partners that gives it a strong differentiating edge, provides exceptional access for all global partners to the world's fastest growing region and strengthens its international portfolio.  For more information on Mitsui & Co's businesses visit, www.mitsui.com. 
About Haseko Corporation
Haseko Corporation, established in 1937, is a Japanese-based construction company mainly specializing in the development of residential condominiums.  The company has built approximately 694,000 condominium units throughout Japan since 1968, equivalent to roughly 10% of Japan's condominium stock. 
Haseko Corporation, through a wholly-owned subsidiary company Haseko America, Inc., has been developing residential, commercial, and resort properties in Hawaii since 1973, including luxury resorts, residential communities, commercial properties, and upscale condominiums on Oahu, Maui, Kauai, and the Big Island. To date, the company has sold 4,000 single-family homes in Hawaii.