McVaugh Custom Homes Builds First LEED Residential Subdivision in Houston
Royal Oaks Country Club is setting a landmark in Texas, being recognized as the City of Houston's very first 100 percent LEED certified residential subdivision
By Sergio Flores
Photography by McVaugh Custom Homes
Houston's real estate market remains hot, thanks to continued low interest rates and limited inventory. Both single-family homes and town homes are experiencing impressive sales, and McVaugh Custom Homes is responding to these trends with Royal Oaks Courtyard Villas, their new manned-gated community in Houston, Texas.
McVaugh's community began development in late 2014, and on November 5, 2015, more than 300 guests joined the custom homebuilder for their grand opening of Royal Oaks Courtyard Villas, showcasing six furnished model homes.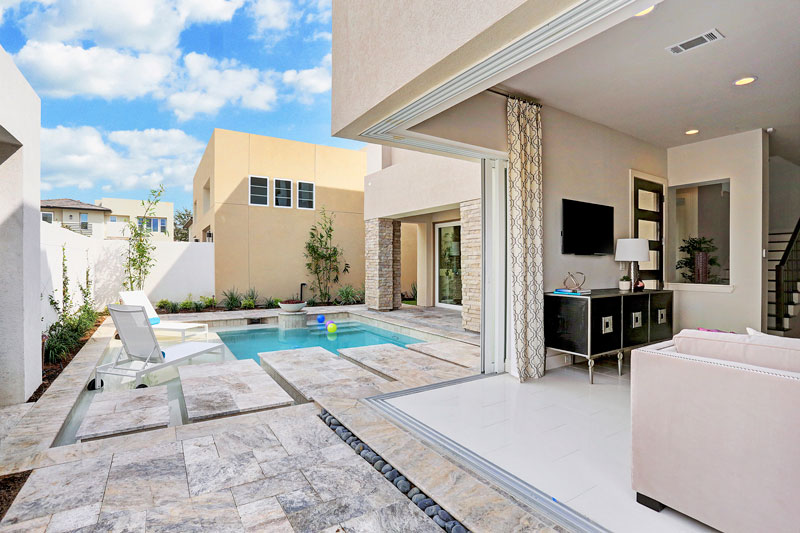 The gated community is located centrally in Houston's West Chase area, within close proximity to major business centers and highways. The community sits on a 10-acre site located appropriately beside the Royal Oaks Country Club in Houston. A desirable area that McVaugh Custom Homes has built in before, it is a mere 16 miles from Houston's downtown and only 8 miles from the Galleria, a popular retail Mecca. The town itself is known as the "Energy Corridor," hosting a myriad of headquarters from the latest emerging energy companies.
The inspiration for Royal Oaks Courtyard Villas was derived from President Jim McVaugh's travels in Mexico, Nevada, and California; the concept for the community was also influenced by his penchant for modern and contemporary architecture. Because of these elements, the community dons a modern/contemporary design with a 'maintenance free, resort living' theme.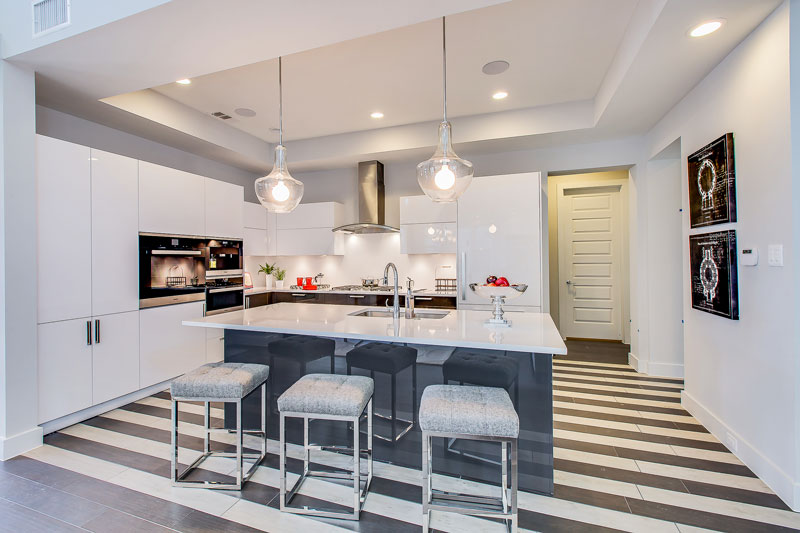 "These homes integrate both interior and exterior details to maximize entertaining and the overall functionality of the home," explained McVaugh. The company acted as the builder and developer, and collaborated with award-winning Danielian and Associates of Irvine, Calif. to create an aesthetically valuable and financially affordable community that would be novel to the City of Houston.
Architectural details include clean, geometric flat roof lines, grandiose 14 to 15-foot great room ceiling heights, and spacious open floor plans. High-end interior finishes feature pocket-sliding glass doors that create a seamless indoor to outdoor living space, imported German-made bespoke Eggersmann cabinets, Miele appliances, natural stone countertops throughout, and hardwood and porcelain tile floors.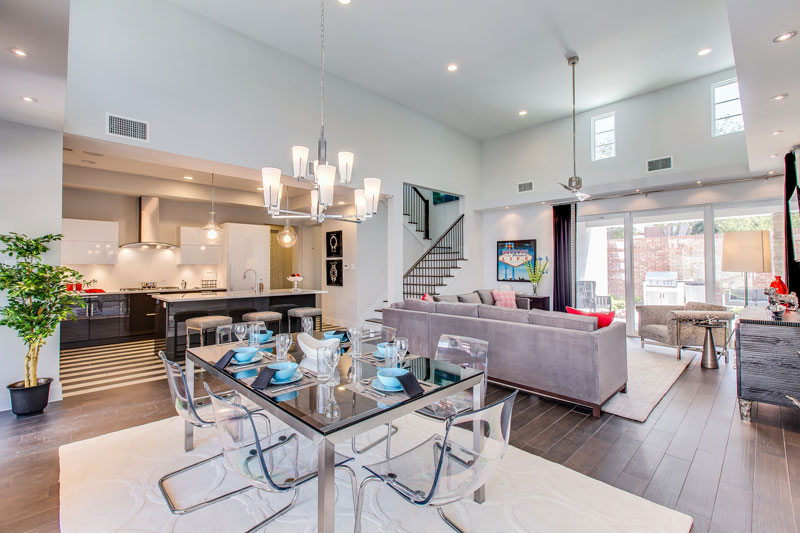 In addition to the spacious floor plans, the dual masters also functions as an optional multi-generational living setting. The luxury continues to the back with plunge pools in the courtyard accentuated with stone pavers and courtyard fire features. Arizona-based landscape architect Summers, Murphy and Partners also lent their expertise for this project by designing an artificial turf and six-foot masonry walls for an elegant outdoor setting.
For low-maintenance living, McVaugh has included Control 4 home automation in homes for facilitating daily tasks, and the community homeowner's association offers complimentary courtyard landscaping services.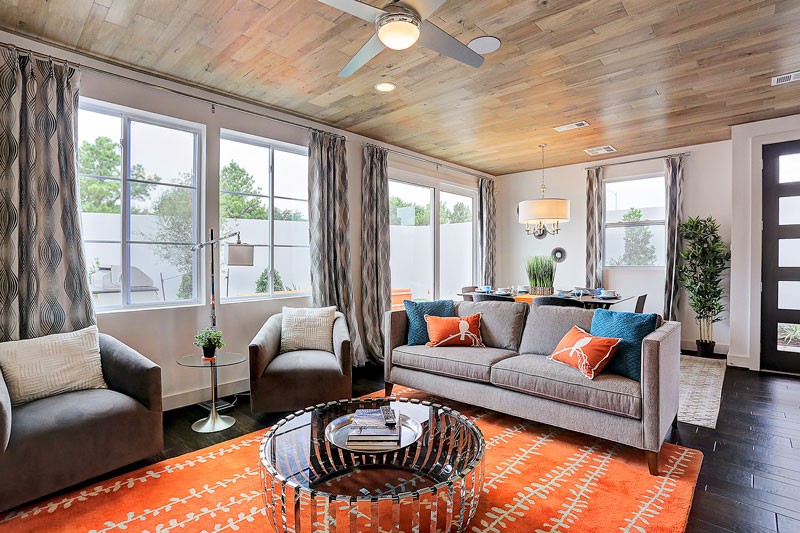 Notably, all of these features (sans the plunge pool) are McVaugh Custom Homes' standard details, not upgraded features.
"For today's buyer looking for clean lines and modern designs, it's very difficult to find anything of quality, size, and value that doesn't exceed at least $1 million," McVaugh explained. "The Royal Oaks Courtyard Villas offers first-floor master bedrooms, indoor-outdoor living, and quality finishes for a great price."
Homes are currently priced from the $400s to $800s, and range in sizes from 2,500 to 3,200 square feet. These prices are fantastic considering how new the product is to Houston. Most Houston homes have been slow in adopting modern architecture on a large, more cohesive scale. "We threw tradition out the window," said McVaugh. "Houstonians want affordable modern architecture."
Besides affordable modern architecture, Houstonians also want energy-efficient and sustainable homes without the need to compromise aesthetics and comfort. Royal Oaks Courtyard Villas is setting a landmark in Texas, being recognized as the City of Houston's very first 100 percent LEED certified residential subdivision. Certified by the U.S. Green Building Council, the Leadership in Energy and Environmental Design certification is internationally known as the most strictly adhesive regiment for energy and environmental building practices and guidelines. Respectively, the home boasts incredible energy-efficient and sustainable features, including double-paned windows, roof overhangs, spray foam insulation, artificial turf for water conservation, and more—all guaranteeing homeowners low utility bills.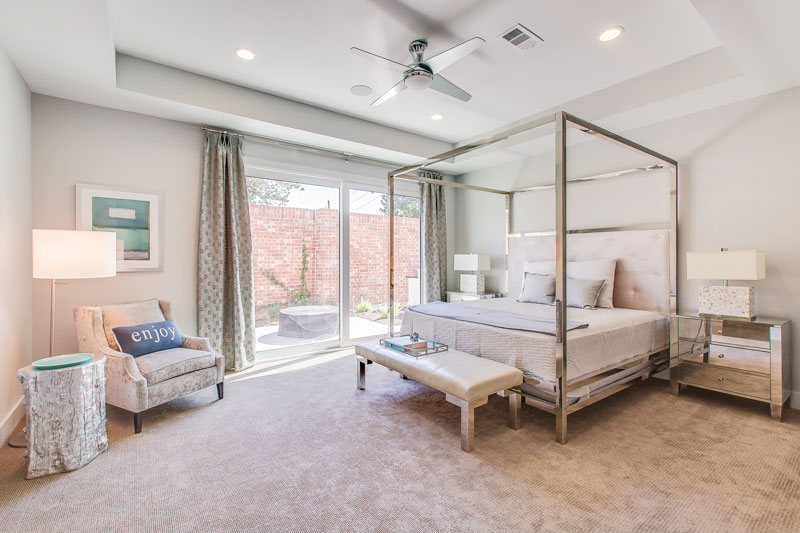 McVaugh consulted with Snyder Energy Services for their green endeavors. In fact, Snyder Energy was so confident in the home's energy-efficient performance that they promised homeowners that if their bills exceeded $75 for villas or $55 for townhomes, they would pay the difference for the first two years.
Despite its elegant presentation, the builder did experience difficulties during construction. Utilities during the development posed the biggest problem, with internal gutters and pool and gas line located in a diminutive space. To counter this problem, McVaugh Custom Homes added additional drainage plans in addition to elaborate structural and mechanical planning. Wait time for European-shipped German cabinetry was also a drag!
The community has already garnered awards, earning a STAR award for Best Community Brochure and a PRISM Award for Best Community Brochure and Project Video.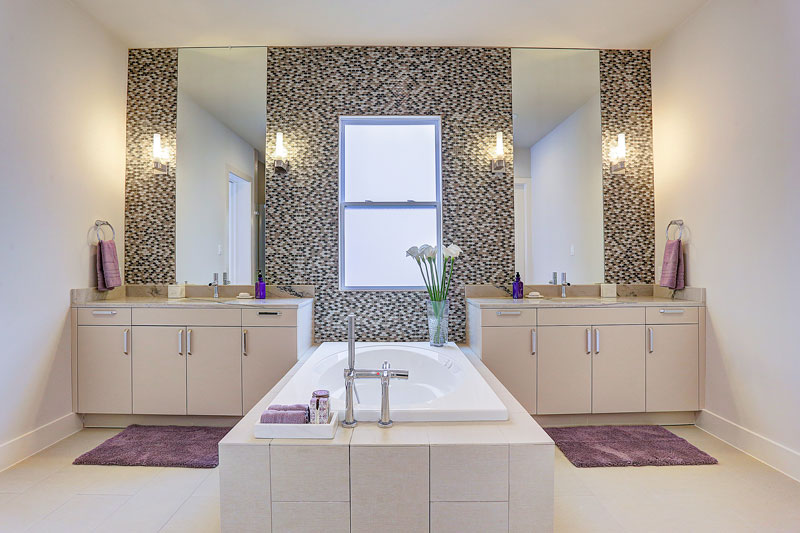 Although the community would be suitable for anyone with fine taste, empty nesters were on McVaugh Custom Homes' mind. "We designed this project specifically for empty nesters who have tired of cavernous homes and high-maintenance yards, for a lock-and-leave, low-maintenance lifestyle," added McVaugh.
The community is slated for completion by 2017, and will host 80 LEED certified units, 24 townhomes, and 56 villas at full build out. To date, 36 of the 80 homes are sold with 15 occupied.
For over 25 years, McVaugh Custom Homes has been building single-family homes in the Houston area and will continue to do so with plans to deliver a similar community a half mile away, and hopes to add office space, too. The unique lot and architectural designs from Royal Oaks Courtyard Villas is something that the builder will continue to carry throughout its future endeavors.
For more information on McVaugh Custom Homes, current home offerings, and projects, visit www.mcvaugh.com.
Sergio Flores is an Assistant Editor for Builder and Developer magazine. He may be reached at sergio@penpubinc.com.