A Mid-Year Review: The Trials and Tribulations of Designing in 2016
With the real estate market back on track in California, many homeowners are finally renovating and remodeling
By Jessica Nakata
Almost every call I've received this year is from a potential client who either just purchased a home and wants to tear it down to the studs, or wants to refurbish their existing home. With the real estate market back on track in California, many homeowners are finally renovating and remodeling. I love shaker cabinets and white Carrera as much as anyone. I love the creative process of transforming a dated or impractical space into someone's favorite room in the house. Nothing makes me happier then witnessing the changes and transformations that occur during the remodeling process and the pride my clients have in their homes when the job is complete. All of these things help reinforce how much I love what I do when the grout lines aren't straight enough for one client, or the electrician doesn't center the junction box enough for another.
A few years ago, I would have never thought twice about all of the remodeling happening, much less include it as an issue in what I consider a mid-year review. However, even with all of the structural and architectural changes my clients are making, there is a problem. We spend so much time on the minutia of the remodel—far beyond the important elements such as space planning, tile, fixtures, and flooring—that when the dirty job is complete, I find that my clients are burnt out and fail to complete the job as a whole. Despite their relatively large budgets, they are financially and emotionally spent, and often don't proceed with actually decorating their new spaces. This issue is a personal one and has little to do with financial gain. It's a challenge because of the vision I have when I first walk into a home during its "before" stage.
I can visualize the changes I propose, from the largest to the smallest, but when the job gets put "on hold" after the construction phase, it feels incomplete and unfinished. The remodel process can be a long and sometimes challenging one for the client; even though I help guide them through the process and act as a mediator and a liaison between them and the subcontractors, in the end, some clients are just done. Fortunately, most clients come back and want to finish. They have lived long enough in half-empty rooms filled with older and less functional furnishings. The hard part for me is when they do not and I never get to see our vision come to fruition. I can't help but acknowledge the presence of social media in our industry today, both positive and negative. I am finding it challenging that there is no end to what clients can find on social media.
This can be very overwhelming for a client that is already indecisive and overwhelmed by the whole design process. I always tell my clients "it's like shopping for a black dress—there are infinite styles and cuts." There could be five "perfect" little black dresses; however, when you find one you love, buy it and don't keep shopping. It's the same with fabrics and furniture. I have clients' present sofas they found online, even after we have had multiple meetings and made a final decision. Perhaps they saw it on Instagram from someone they follow that is in the design industry, or they saw it on Pinterest. The never-ending flow of options often creates confusion and indecisiveness.
The issue really comes to light when there is a schedule that we are trying to meet and decisions need to be made. I want my clients to love everything they choose, and I often say "do you really love this?" or "don't feel like you have to choose from what I brought; I can show you more if none of these speak to you," but at a certain point decisions need to be made.
Social media has been a positive tool for our industry as well. The introduction of sites like Houzz and Pinterest has also opened up the lines of communication between my clients and I by helping my clients describe what they like in a much clearer and more efficient way. Often, clients can't describe what they see as their vision for their home or don't know the proper verbiage. At the start of a project, I often suggest that my clients look at Houzz and create an idea book of design elements they like. It allows them to describe their tastes and vision clearly. I have also found sites like these are helpful to explain a design idea I have. Perhaps it's a picture on Houzz that shows a specific molding in a living room or a setting that helps illustrate an idea. Social media also allows our industry to reach millions of potential clients in an efficient and effective way. Without it, we would be back spending thousands of dollars a year advertising in media that may or may not be reaching our future clients.
2016 has been a great year so far, regardless of the few small issues I have highlighted. I have had the pleasure of working with great clients on really interesting projects! Like everything else in life, change brings both opportunity and challenges. The trick is to roll with those changes and figure out the best ways those changes can benefit my business and my clients.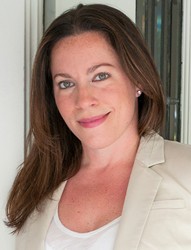 Jessica Nakata is the owner of The Black Door Interior Design,
a design firm in Studio City, Calif.
For more information, visit