Millennials and the Housing Market
What millennials are looking for in a new home
By Rose Quint
Millennials have become the single-largest generation in the country and, consequently, the underpinning of the housing market. Ranging in age from 25 to 41, the 77 million millennials account for 23% of the U.S. population, ahead of both boomers (21%) and Gen X (19%). This oversized cohort is also squarely inside the sweet spot for buying a home, as the typical millennial has reached the prime homebuying age of 33. The rising importance of this generation for the housing market is made crystal clear by the share of home buyers they represent (37%), compared to boomers (32%) and Gen X'ers (24%).
So what do millennials want in a home? What are their preferences for size, location, layout and features of the home and community where they want to live? And how did the COVID-19 pandemic affect their preferences? The answers can be found in the study "What Home Buyers Really Want," produced by the National Association of Home Builders (NAHB) and based on a nationwide survey of more than 3,200 recent and prospective home buyers. 
These are some of the most important findings:
More than one-third (36%) of millennial buyers report that COVID-19 impacted their housing preferences, with 36% wanting a larger home directly as a result of the pandemic, 6% wanting a smaller home, and 59% didn't change their home size preference. This finding is reflected in 42% wanting a larger lot because of COVID-19, 4% wanting a smaller lot, and 54% wanting the same size lot as before the health crisis, with the median lot size being 2,310 square feet.
Most millennials (55%) prefer to live in the suburbs while 23% prefer the central city and 23%  prefer a rural location. Overall, 70% of Millennials would prefer to buy a single-family detached home, with 84% preferring an open layout. The ideal home for millennials is three bedrooms and 2.5 baths. A majority (58%) prefer an electric air heating and cooling system.
While there is no majority preference for the exterior design of the home (31% traditional, 29% contemporary, 22% modern and 13% transitional), most millenials would prefer a two-story home with a two-car garage. 53% of millennials are looking to purchase a multigenerational home. 
As for kitchens, 61% prefer stainless steel appliances and 48% prefer gas for cooking as opposed to electric. In regards to the countertop, 49% prefer granite or natural stone and 25% prefer quartz. White cabinets are popular among this cohort, with 35% preferring white kitchen cabinets and 15% preferring gray or dark brown. 
A laundry room (83%) and hardwood flooring for the main floor (82%) are the two features most wanted by millennials. Spending time outdoors in the relative safety and comfort of their home is critical; their top 10 most wanted list includes four exterior features: lighting, a patio, a front porch and a rear porch. The most important community features for millennials are a park, walking/jogging trails, a swimming pool, good public schools and playgrounds.
 Top 10 Most Wanted List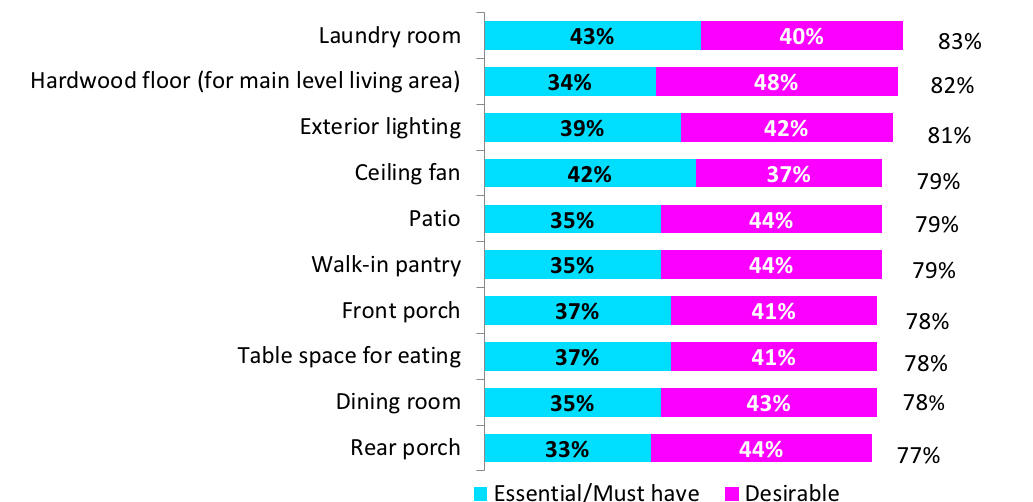 Out of over 200 features presented in the survey, 74% of millennials consider a home office essential, with 61% giving similar ratings to an exercise room.
Energy efficient features and sustainability are high priority for this cohort as millennials would pay an average of $10,201 extra for a home if that saved them $1,000 every year in utility costs. 
Most Unwanted List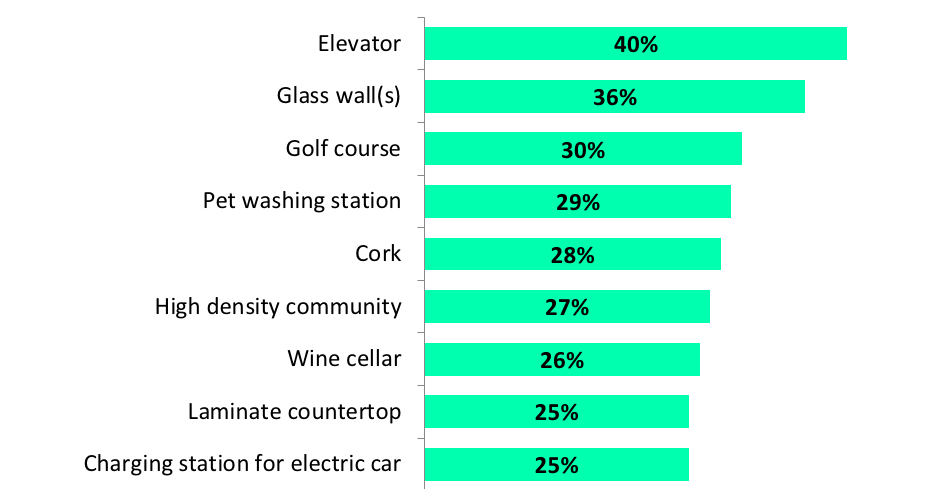 Only nine features received a "do not want" rating from 25% or more millennials. At the top of this list are an elevator, glass wall(s) and a golf course community.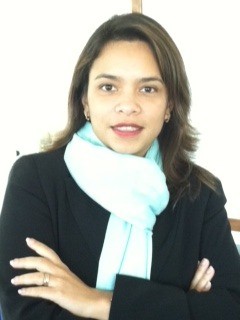 Millennial home buyers have clear and specific preferences when it comes to buying a home. A laundry room and exterior features are critical. For many of them, the recent rise in mortgage interest rates and double-digit growth in home prices (driven by 30% increases in material prices, record lot prices, and serious labor shortages) have seriously challenged their ability to afford a home. 
Given the sheer size of this generation, however, there still are millions of millennials motivated and qualified to buy a home – simply waiting for competition to let up a little.  
Rose Quint is Assistant Vice President for Survey Research at NAHB.