Millennials Embrace Suburban Homeownership
Millennials are becoming the new drivers of the housing market
By George Raitu
Real estate markets have undergone extraordinary changes during this past year, as the global pandemic dominated business activity and headlines and restricted most people's daily lives. Through COVID's ups and downs, housing markets provided a refuge from the crosswinds. For most Americans, homes became not only shelter, but also took on a number of other roles and functions: Workplace, school, gym and more. Many people discovered that the homes they had chosen no longer fit their needs, leading to a nationwide surge in real estate demand.
In the wake of the 2020 quarantines, housing markets led the economic rebound and experienced a full recovery after twelve months, based on Realtor.com's Housing Market Recovery Index. Building on that momentum, the first six months of 2021 have seen low inventory, skyrocketing home prices and frenzied buyers looking to lock in historically-low mortgage rates. As we move through the second half of this year, markets are reaching for normalization, with more sellers entering the market and prices growing at a more moderate pace.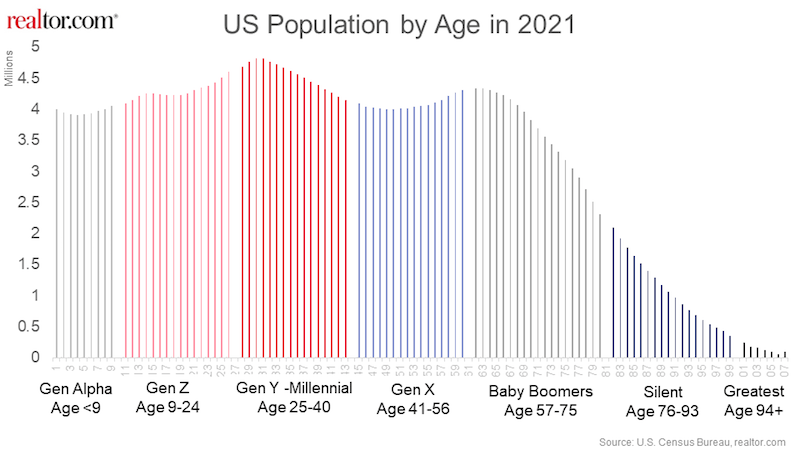 A historic tidal wave
For first-time buyers, the dramatic changes of the past year have resulted in shifting housing preferences, with versatility, space and flexibility propelling choices. As millennials – the largest generational cohort in the country's history – come into their prime life stage, they are playing an increasingly important role in the U.S. housing market.
This role is even more significant when analyzed through the perspective of the 2017-2026 period, which represents the peak of the millennial generation cohort as its youngest members turn 30. The tidal wave started in 2017, with 4.5 million millennials turning 30, and rose another 4.6 million in 2018-2019. It continues this year, with 4.8 million members of Gen Y maturing into their third decade of life. Just as importantly, this life-stage turning point will persist until 2026, with each successive year seeing at least 4.7 million Americans reaching the age at which home buying becomes an important consideration in life choices.
With such a large footprint in the real estate landscape, millennials are confounding a decade-plus of misplaced expectations – and busting myths in the process.
With such a large footprint in the real estate landscape, millennials are confounding a decade-plus of misplaced expectations – and busting myths in the process. Looking at over 10-years' worth of headlines, the main theme was that Gen Y was expected to be "the renter generation," distinctly different from prior cohorts. Millennials were not expected to buy homes, opting instead for a more flexible lifestyle, centered in revitalized downtowns and focused on experiences over assets.
Those predictions were proven wrong as millennials moved into their 30s. Recent Realtor.com surveys show their principal motivation for buying a home is the desire to be a homeowner. As millennials have matured and moved into the stage of life where forming families and having children become important, they have embraced similar choices as prior cohorts during similar life periods.
Millennial buyer profile
For millennials, turning 30 is driving home preferences and buying decisions.They are looking for a home that can fit growing needs. So what type of home is favored by millennial buyers in 2021? A three-bedroom, two-and-a-half bath home is at the top of the list, in a quiet location, with a large backyard, proximity to good public schools and space for pets, as well as an open floor plan and a home office. Reflecting an extremely tight housing market with limited inventory of available homes, buyers also express a higher preference for newly-built construction or completely renovated homes. 
Given this year's heated market, where multiple bids and price escalation clauses are the norm, affordability is another major theme of the millennial buyer profile. About 60% of all 2021 buyers are looking to pay $350,000 or less, with 16% of those looking for homes below $100,000. 
Changing stage-of-life is also shifting location preferences for this year's buyers. Based on Realtor.com data, 62% of buyers plan to move away from their current city or town. Of those, 24% plan to move to a nearby city/town and 16% plan a farther move within the same state, while 21% plan to cross state lines. The main drivers for 2021 relocation plans are lower housing costs, being closer to family and friends, more access to outdoor activities and lower taxes.
Implications for Home Building
After a decade of driving the renaissance of urban downtowns, millennials are shifting their attention and purchasing dollars toward suburbs, as well as mid and small-size cities within a two-hour commute from major employment centers. The buyer profile for today's first-time buyers points firmly toward single-family homes in greener neighborhoods, a location where a large share of construction activity is actively re-shaping communities. For home builders, this generation's strong preference for homeownership presents tremendous opportunities.
The last time the country faced such a large demographic wave was during the Baby Boom period of the 1950-1960s.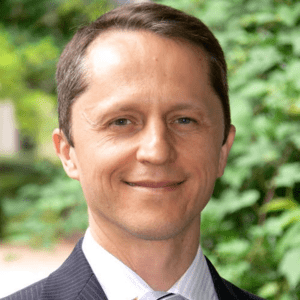 At the time, real estate markets offered young Baby Boomers striking out on their own a plethora of new housing options, from the inexpensive Sears catalogue houses all the way to unique luxury homes. Most importantly, mid-priced, affordable options were plentiful across the country. In comparison, today's millennial households have a very small menu of new homes to choose from and most of them are on the upper end of the price range. The shortage of new, affordable homes is a major reason for this year's imbalanced markets and high prices. Looking forward, affordable housing – both existing but also new construction – is a key component of a sustainable housing and economic foundation. And the need for new construction is felt across communities of all sizes.
It is important that cities across the country revisit zoning and development planning tools, many of which were enacted decades ago and may no longer be suited for today's reality. Removing building restrictions, expanding development corridors, cutting back regulatory costs, and exploring new construction technologies could lead to lower costs in the long term, and more affordable housing for the millions of first-time buyers coming to market in the coming years. Tremendous opportunities come with great responsibilities, and we can all play an active role in ensuring that not only today's millennials, but also tomorrow's Gen Z first-time buyers, have access to quality, affordable homes.
George Ratiu is Senior Economist with Realtor.com®. His latest work can be found at Realtor.com/research.