Mitsubishi Electric Trane HVAC US Introduces Improved Capabilities to Sales Builder Pro Mobile App for HVAC Pros
SUWANEE, Ga. – January 7, 2019 – Mitsubishi Electric Trane HVAC US (METUS), the exclusive provider of Zoned Comfort Solutions® and a leading supplier of Variable Refrigerant Flow (VRF) heating and cooling systems, introduces new improvements to the Sales Builder Pro mobile application.
Sales Builder Pro is an in-home selling and quotation app for HVAC contractors designed to make in-person sales calls more easeful, efficient and persuasive. The app takes the guesswork out of equipment sales and system design and provides contractors with access to a variety of selling tools, including videos, comprehensive product details and homeowner-focused education on zoning and ductless systems. As contractors specify and design projects, they'll be able to explain Zoned Comfort Solutions to homeowners and set realistic expectations.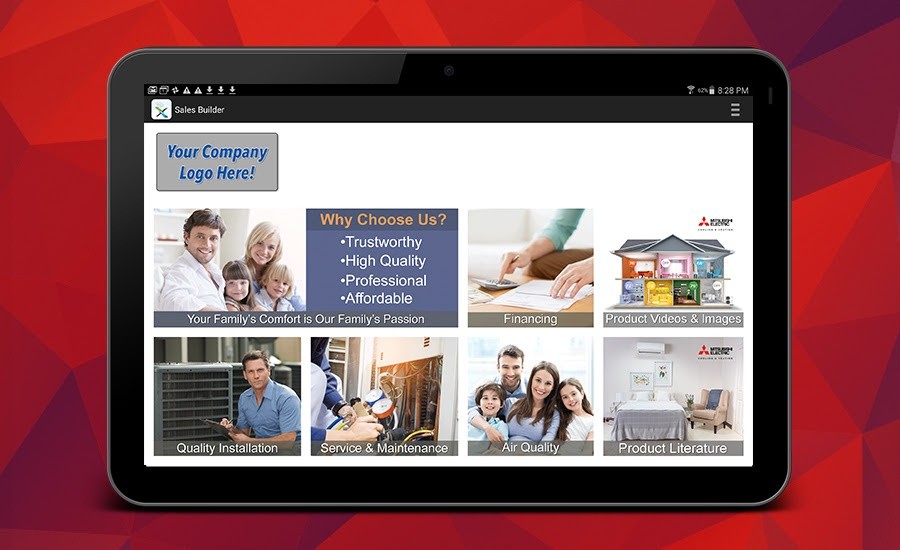 The Sales Builder Pro app offers other features and benefits such as:
Customizable design and proposal conditions which allow the user to input and test ACCA Manual J load calculations, desired heating and cooling set points, geographic factors, etc.
Educational tools and videos demonstrating the operation and benefits of zoning and ductless systems using the individual homeowner's residence as an example.
A visual selection tool showing customers the variety of indoor unit options in actual residential settings. The app's Comfort Survey feature makes this process easy.
While walking through a customer's home, contractors take photos to indicate where units should be placed. This creates an install package for the contractor that provides them with all placement information.
The in-app proposal template generates on-the-spot project proposals, including labor, equipment and installation pricing, as well as financing options, so there's no need to wait until post-home evaluation to provide a quote.
With the most recent update, the app now automatically adds all necessary installation materials to the quote as equipment is selected. This streamlines the quoting process and eliminates the fear of forgetting materials such as line sets, port adapters or mounts.
"After their first year with the Sales Builder Pro app, one Mitsubishi Electric Diamond Contractor saw an 8% increase in sales price and a 5% increase in gross profit," notes Steve Scarbrough, vice president of residential business for Mitsubishi Electric Trane HVAC US. "In fact, the most recent upgrades like educational videos and the in-app proposal templates should help Diamond Contractors achieve even greater results."
Sales Builder Pro also offers HVAC professionals the option to customize the branding within the app. Contractors can add their company logo and other branded graphics to create a more professional sales experience. Plus, the app offers a robust set of analytics options or add-on services geared toward improving future appointments including data on where teams spend the most time during sales calls and what products are most frequently selected.
To request more information about the Sales Builder Pro app, visit www.mitsubishicomfort.com/sales-builder-pro. The Sales Builder Pro app is compatible with iOS and Android devices; standard data and messaging rates apply.
For more information about METUS residential products, visit mitsubishicomfort.com.
Sales Builder Pro is a product of Intelligent Mobile Support, Inc. Certain features and benefits are only available to contractors purchasing the premium or preferred package. Terms and conditions apply and individual contractor results will vary.
About Mitsubishi Electric Trane HVAC US LLC
Formed in May 2018, Mitsubishi Electric Trane HVAC US LLC (METUS) is a leading provider of ductless, ducted and VRF systems in the United States and Latin America. A joint venture between Ingersoll Rand plc and Mitsubishi Electric US, Inc., the company provides innovative products, systems and solutions capable of heating and cooling a broad range of applications from a home to a large commercial building.
METUS is a leading marketer of Zoned Comfort Solutions® and Variable Refrigerant Flow (VRF) heating and cooling technology. Systems sold by the joint venture include a wide variety of technologically advanced products designed to deliver superior efficiency, comfort and control for every home or building type.
The family of brands supported by METUS includes: Mitsubishi Electric Cooling & Heating, Trane® / Mitsubishi Electric and American Standard® / Mitsubishi Electric. More information is available at www.metahvac.com.