Modern Living with Smart Home Technology
Smart home technology is becoming deeply integrated in our lives
By Elizabeth Parks
Convenience, comfort and peace of mind are the leading drivers of smart home product adoption. Smart home products are among the newest category of connected devices, and adoption has been growing steadily since 2014. This includes an average of 11 computer and entertainment devices, two connected health and wellness devices and three smart home devices. 
Factors influencing growth include an increase in product familiarity; co-marketing partnerships with brands in other industries such as energy providers, builders and insurance companies; and an increase in DIY smart home device models. Not only do more consumers own smart home devices, but they are prone to purchasing more. 
The percentage of US broadband households owning three or more smart home devices increased by over 64% in the past two years from 14% in 2018 to 27% at the end of 2021. This growth in connected devices is fueled by the emergence of new products that solve specific home problems. With an increase in connectivity and smart devices, the technical landscape of the modern home is constantly evolving, and new homes must be designed with these changes in mind.
Connected devices are gradually forming deep integrations in consumers' lifestyles. Currently, 88% of US households have broadband, and consumers now have an average of 16 connected devices, up from 9.2 in 2016. The frequency of use of smart home features indicates how deeply integrated these products have become in consumers' lives.
"With an increase in connectivity and smart devices, the technical landscape of the modern home is constantly evolving."
New Smart Products Entering the Home 
As consumers grow increasingly aware of smart devices already on the market, new products are emerging, offering added benefits that address different pain points. New categories include solutions that monitor indoor air quality and facilitate independent living, safe package delivery and energy resilience in the home.
Indoor Air Quality Products 
New indoor air quality monitoring devices include smart air quality monitors, air purifiers and fresh air ventilation systems. These products can identify volatile compounds and other issues that spur respiratory illnesses and automate actions, like activating air purifiers or humidifiers to improve air quality. 
Smart Systems for Independent Living 
The US Census Bureau estimates that approximately 20% of the population will be age 65 or above by the year 2030. Nearly 90% of consumers aged 65 or above consider it very important to live independently in their own homes. US residents who are 65 years and older are most interested in independent living solutions that provide home safety and security, along with features that automatically alert first responders, in the event of a security breach or exposure to a safety hazard. 
Energy Resilience Solutions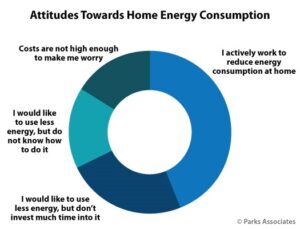 Energy resilience solutions include batteries that store excess power. 9% of US broadband households report having battery storage for excess power, and new concerns about energy resilience may drive further adoption. The rolling blackouts in California last summer affected many consumers and businesses and the Texas blackouts in February 2021 led to the loss of lives. Both events have put energy resilience solutions top-of-mind for many more consumers.
Overall, 44% of US internet households say they actively work to reduce energy consumption at home, according to Parks Associates research. Energy savings are an important benefit for consumers, and many households are taking an active role in monitoring and managing their energy consumption.
For these solutions to be more universally adopted, they have to be accessible and actionable. Our research consistently shows consumers want to see data on their energy consumption and guidance on how best to use that data, but they don't always know how to get it.  
The quest for new sales channels for smart home devices includes identifying unique opportunities that aren't optimally served by existing channels. While retailers and managed service providers have provided foundational channels for smart home products, other participants in the residential ecosystem such as single and multi-family builders and insurance companies offer additional channels with varying potential scale and momentum.  
The builder channel opportunity is greatest for smart thermostats, smart lighting, smart door locks and smart speakers to control them. Security systems remain popular with about a third of builders.
Elizabeth Parks is the President & CMO of Parks Associates.