Monte Vista Fills Niche for Reno Market
Located in Reno, Nev., the panoramic views of Mt. Rose bordered to the east by White's Creek Natural Preserve serve as a sublime backdrop for the Monte Vista community by builder Tim Lewis Communities and partner Silver Crest Homes. For nearly 30 years, Tim Lewis Communities has been building five-star quality homes in the Sacramento, Reno, and Bay area. Monte Vista marks the second time Tim Lewis Communities partners with Silver Crest Homes, the first being for Highland Estates, a high end community in Sparks, Nev.
The Monte Vista community offers large semi-custom single story homes in the Southwest Reno area. Homes range between 3,000 and 4,000 square feet with homesites ranging from one to two acres in size. "Monte Vista fills a niche in the Reno market for homebuyers looking for a large energy-efficient single story home on a wide open home site, one to two acres, surrounded by incredible views of Mount Rose" said Linda Schwartz, director of sales and marketing for Tim Lewis Communities.
Although the community began sales in 2012, development is ongoing with 28 units currently sold, 28 closed, and 13 under construction. Settled in a great location, Monte Vista is mere minutes away from Mt. Rose ski resort, 20 minutes from Lake Tahoe and the Reno Airport and nearby activities including golfing, hiking trails, fishing and boating. Monte Vista appeals to professionals with families and active adult living.
In 2012 Tim Lewis Communities won three prestigious Builders Association of Northern Nevada awards for best new home designs under one million dollars, best outdoor lifestyle and best marketing campaign. "It is difficult to find the land for such a unique offering. The amenities and design we offer truly add a very custom feel to the home," said Schwartz.
The community offers four plans to choose from: Le Bordeaux, Le Chardonnay, Le Pinot Grigio, and Le Champagne. Floor plans all include 3-car garage and 3 to 4 bedrooms. Their most decadent floor plan is Le Champagne, which includes four bedrooms, three-and-half baths, three-car garage, a guest suite, office, courtyard, retreat and parlor.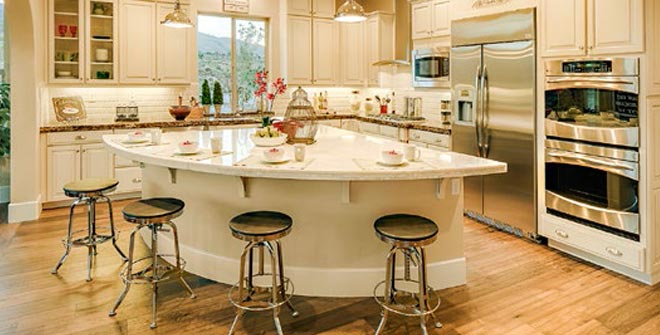 Monte Vista offers twelve distinct exterior elevations that create a diverse custom streetscape such as European Country, Italian Renaissance, Modern Prairie, Sierra Farmhouse, Spanish Ranch. Exteriors also include color through concrete Eagle roof tiles, covered outdoor living space prewired for future ceiling fan, illuminated custom address plaques, an automatic garage door opener with two controls, broom finished colored concrete at front walks and patios, paver enhanced driveways, over-sized exterior coach lights that are custom per home, and much more.
The interior of homes at Monte Vista are perfectly detailed to accentuate the beautiful backdrop the homes are placed in. High volume 10-foot vaulted ceilings with an abudance of windows help capture natural lighting and bring the character of the environment into the home. Homes also include tasteful arches throughout for defined living spaces, tray ceilings in the dining room, study and master bedroom and a 45 inch sealed gas fireplace with decorative pre-cast mantel. Their handset 20×20 inch porcelain tile flooring at the entry, kitchen, mud rooms and laundry areas give the home an elegant look. In addition eight-foot solid-core passage doors help reduce sound and give homeowners privacy.
Homes at Monte Vista are perfect for entertaining company with oversized kitchen islands with bar area seating. Monte Vista's gourmet kitchens are designed with maple cabinetry, dovetail drawers and concealed hinges and easy-clean interiors. Kitchens are filled with stainless steel GE appliances that are energy-efficient. For families all home plans offer a breakfast nook room with five light chandeliers for familial mornings. And their walk-in pantry with glass pantry door will make organizing your supplies easy.
The master bedroom includes an oversized soaking tub, walk-in shower and custom cabinetry for slip in towel shelving and upper curio vanity cabinets. Separate private toilet compartment with elongated toilet is also a great feature, and upgraded Kohler "Memoirs" china sinks will bring the elegance out in the home. Walk-in closets with generous single and double pole shelving are also notable highlights.
Monte Vista proudly practices green building and living. Energy saving features include 92 percent efficiency natural gas furnace and an automatic hot water recirculation pump. Appliances throughout the home are ENERGY STAR rated to conserve water and energy. Tim Lewis Communities uses eco-friendly Glidden low VOC paints to ensure that detrimental chemicals are not released in the air.
The building envelope for homes at Monte Vista is intricately designed to ensure that homes are not damaged during rough seasons. For example, their exterior walls are all framed with a 2×6 material that increases the depth of exterior walls and thus allows for more insulation, improving the overall energy efficiency of the home – especially during those frigid winters.
Their roofing material is primarily made of long-lasting concrete tile, although some accent areas are done in metal. Because of ice build-ups in winter months, the tiles are underlain with Grace Ice and Water Shield, and over the concrete tile O'Hagin Fire and Ice vents are used. This ensures that embers are not entering the attic in case of a wildfire. The entire exterior is weather stripped and their sealed gas fireplaces improve indoor air quality.
For entertainment Monte Vista offers category-5 high speed telephone wiring is available throughout the home to ensure a strong connection.
Tim Lewis Communities is continuing to deliver high quality homes with future developments including Shoreline at River Islands in Lathrop, Calif. Scenic views are a trademark for Tim Lewis Communities with The Promonotory in San Jose offering outstanding views of Silicon Valley.
Their Highland Estates II provides spacious floor plans, an array of energyefficient features with luxurious owner's suites and breathtaking Valley-sierra and hillside views.
Sergio Flores is the Editorial Assistant for Builder and Developer magazine. He may be reached at sergio@penpubinc.com.