Multi-family Living Goes Sustainably Modern
The Matisse is a multi-family development by SHLP Block 46, LLC—a subsidiary of Simpson Housing LLLP—that boasts 293 apartment units in Portland, Ore.'s south Waterfront District. The housing project was as conscious of environmentally friendly building as it was of design aesthetics during its development, earning the building a LEED Gold certification by the Green Building Certification Institute.
The name and design of the building was inspired by the French artist Henri Matisse. His unique use of color and shape is mimicked in the structure and can be seen in the architectural detail of the building and units.
"Matisse's use of color, shape and design steered the design team to deliver a building with vibrancy and organic movement, ultimately transforming it into a space where people would want to work, live and play," said Senior Vice President of Simpson Housing LLLP Spencer Welton. "SHLP Block 46, LLC worked with the city of Portland to create a community that would provide a pleasant, rich and diverse pedestrian experience."
The project seems to have accomplished just that. The area it's set in has undergone largescale developments in recent years, with other condominium, apartment and office buildings popping up nearby. The Matisse is also just steps away from a streetcar stop, making it convenient for residents to commute throughout the city. "[The land] was essentially chosen for the developer's long term vision of a vibrant south waterfront where residents would work, live and play," Welton said.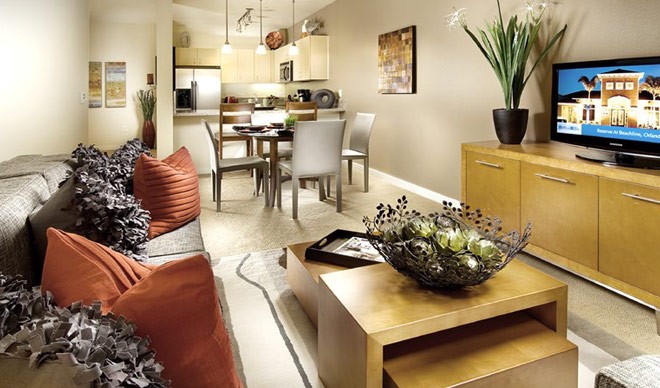 The project was a collaboration between the Denver-based developer SHLP Block 46 of Simpson Housing, Seattle- and Portland-based Ankrom Moisan Architects, and Oregon-based R&H Construction. Established in 1948, Simpson Housing LLLP has been a major builder in the multifamily development industry and has developments in 13 different states across the country. In 2014, they closed nearly 1,400 units in total.
The residential units of The Matisse apartments are donned with modern finishes. Bamboo plank flooring, granite kitchen countertops, cabinets with contemporary finishes, and stainless steel appliances pair well with the spacious closets, modern lighting and the expansive patios and balconies. Currently 93 percent of the units are filled, and units vary from studio, one bedroom and two bedroom floor plans.
"The development was designed to be set at a human scale, ultimately relating to the desired character of its setting and the Central City as a whole," Welton said.
Residents can enjoy the stunning rooftop lounge that's complete with a sun deck, firepit and amazing views, or they can utilize the 24-hour fully equipped fitness center, the resident lounge with kitchen and internet café, or the secured access parking garage that's complete with electric car charging stations. "The Matisse attracts resident that enjoy a smoke-free facility and a walkable community that is very pet friendly," Welton said. "The community adds to the vibrancy of the South waterfront neighborhood with its beautiful architectural design, its reduced impact on the environment and the valued residents that call it home."
Another key characteristic of this project is the extensive effort the project team put into making the building and the building process environmentally friendly.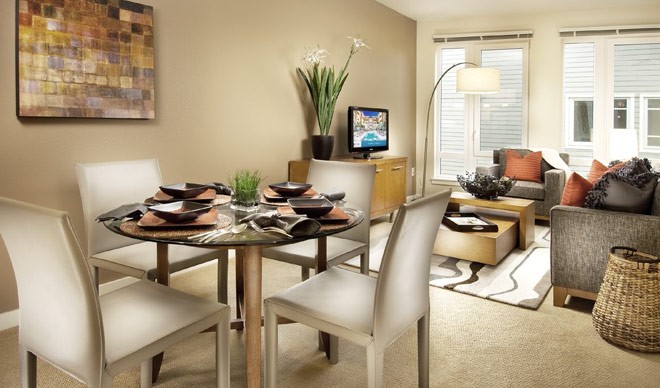 More than 75 percent of the waste generated during construction was recycled, and the builders incorporated a variety of materials with recycled content, including concrete, reinforcing steel, insulation, metal wall panels, metal and wood doors and hardware. Additionally, more than 30 percent of the primary building materials, including concrete, wood framing, interior woodwork and doors, were sourced from within 500 miles of the site.
"The project is proudly certified LEED Gold through the Green Building Certification Institute," Welton said. "Developing, designing and building The Matisse has provided our company with a blueprint for building Green and reaching Gold." Another factor attributed to helping The Matisse to achieve LEED Gold certification is the buildings overall energy-efficiency. Maximized throughout the building, on average it achieves more than 25 percent energy cost savings when compared to a conventional building.
The building is estimated to save over 1,200,000 kWh of electricity and 82,000 kBTU of natural gas annually. Increased insulation, high-performance windows and a high-efficiency heat pump system produce efficient water heating and lighting, and commissioned building systems ensure the most efficient function of HVAC&R and lighting systems. High indoor air quality was ensured by incorporating low-emitting adhesives, sealants, paints, coatings and carpets during the development process. To date, green housekeeping procedures reduce exposure of volatile organic compounds to residents and employees. The building design also maximizes access to natural daylight within the living units, providing excellent views. The property even has an onsite recycling center.
"By completing the LEED certification process, developing this building has widened our knowledge and experience of how to create a building using the best sustainable practices possible, while ultimately keeping the goal of creating a home for our current and future residents," Welton said. "Even if we don't or cannot pursue Gold or Platinum certification on the next project for whatever reasons, the various choices we make along the way as developers have definitely been shaped by our overall experience in developing The Matisse."
"Simpson Housing and and Simpson Property Group provide not only a place to live, but a way to live, with luxuries that combine technology, amenities and personalized services, which adds up to more convenient living for our residents," Welton said.
Simpson Housing LLLP has developments nationwide and builds low-rise and high-rise rental units.
They have developments in the west coast, east coast and southern markets.
Jessica Burger is the Editor of Builder and Developer magazine. She may be reached at jessica@penpubinc.com