Nancy Surak Becomes First Woman to be Named to Realtors Land Institute's APEX 2020 Top Twenty National Producer List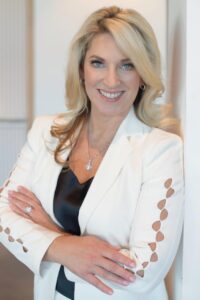 Tampa, Florida –Land Advisors Organization is pleased to announce that Nancy Surak, senior advisor and managing broker of the firm's Tampa Bay office, was named by the Realtors® Land Institute (RLI) as one of the APEX Top 20 National Producers for 2020. This is a particular honor because she is the first woman to ever earn a place on this list, and the only female producer named to this list for the year 2020. Surak received recognition on this national list by RLI CEO Aubrie Kobernus, MBA, RCE, as well as The Land Report's Co-founder Eric O'Keefe during RLI's 2021 Virtual National Land Conference.
Surak, who has more than 20 years of experience in commercial real estate, specializing in advising on land in Tampa, marked a career milestone of closing over $200 million in land transactions last year. She is known for her expertise in transactional negotiations, marketing services and her in-depth knowledge of the Tampa Bay market. These attributes along with the firm's proprietary technology, which maps growth trends, area transactions and land development trends have helped her to become one of the most trusted land advisors in Tampa Bay, resulting in her closing on many of the most significant land deals in the market.
"As one of the top producers at Land Advisors Organization, it's no surprise that Nancy is receiving this national recognition and is the first woman producer to make the list – she is a trail blazer," said Greg Vogel, founder and CEO of Land Advisors Organization. "She has distinguished herself from others in Tampa Bay with her market expertise, the keen advice she offers landowners, purchasers and investors as well as her unparalleled deal-making skills. It's certainly time for her to be honored by others in the industry for her exceptional work – Congratulations Nancy!"
The APEX Awards Program marked its fourth year by tripling in size since its inception, with 140 applicants totaling a combined $3.5 billion in qualifying transaction volume. All land professionals recognized as part of the RLI APEX Awards Program are active members of RLI. The 2020 APEX Top 20 Award winners were ranked within the top 20 applicants by qualifying production volume, starting at around $49M in production volume. For more information on the award winners, make sure to get a copy of The Land Report, one of the industry's leading magazines for landowners and land professionals, which will be publicizing the top winners in their upcoming spring 2021 issue. All land real estate professionals are invited to join RLI and apply to the prestigious APEX Awards Program next year. Learn more at rliland.com.
"We are proud of Nancy and all of our members that were recognized as part of our award programs for their accomplishments in 2020. They truly are the cream of the crop when it comes to land real estate professionals," Kobernus said about the winners.
About Land Advisors Organization
Founded in 1987, Land Advisors Organization is the nation's largest land brokerage firm specializing in providing deep market insights to landowners and purchasers for the most comprehensive and effective evaluation of land in markets across the country. By integrating current local market information with cutting-edge technology and geographically specialized professionals, Land Advisors Organization advises clients in identifying and capitalizing on valuable land opportunities in all economic environments. Land Advisors Organization serves landowners and purchasers from offices in Phoenix, Tucson, Casa Grande and Prescott, Arizona; Irvine, San Francisco, Century City, Pasadena, Roseville and San Diego, California; Orlando, Tampa, and Jacksonville, Florida; Boise, Idaho; Las Vegas, Nevada; Albuquerque, New Mexico; Charlotte, North Carolina; Atlanta, Georgia; Austin, Houston and Dallas-Fort Worth, Texas; Salt Lake City, Utah and Seattle, Washington. Stay connected with us on Twitter, Facebook and LinkedIN.