New Eco-Minded Community Sprouts in Texas
By Carly Caumiant
Photography By Brian Hutson
Elegantly bricked walls and stained cedar accents hover among shaded porches near lush, native landscaping in the new Grenadier Homes Stone Bridge Oaks community in Grapevine, Texas.
Homes project an upscale-rustic feel with historic detailing, said Grenadier Homes Cofounder John Egnatis. Southern charm meets sophisticated, down-town high-rise living in Grapevine's new green community.
Green Built Texas-certified and Energy Star-rated, Stone Bridge Oaks is sure to provide the highest levels of efficiency. A 16 SEER air conditioning and heating unit provides comfort to residents while a high efficiency water heater, low-flush toilets and low-flow faucets conduct practicality at its greenest.
"The process begins in the design and engineering stages when the precise amount of materials needed are calculated in an effort to reduce job site waste," said Egnatis. "We use structurally engineered lumber products to improve the strength of the home while reducing consumption."
Other features include, but are not limited to, jumper ducts above bedroom doors, radiant barrier roof decking, drought-resistant landscaping systems, thermal block, and Low E, double-paned, vinyl windows that bring in light while reducing heat levels.
Drought-resistant landscaping systems contain sensors that turn off irrigation when rainfall hits through three separate systems for the grass, planting beds, and trees. Each attic holds radiant barriers which reflect heat away from major living quarters.
"Even our carpets and carpet pads are 'green'," said Egnatis. "We check all HVAC air ducts for leaks and use Grade 1 insulation. Insulation R-38 is blown into the ceiling cavity, R-15 blown into the wall cavities, and we use advanced framing to insure complete insulation."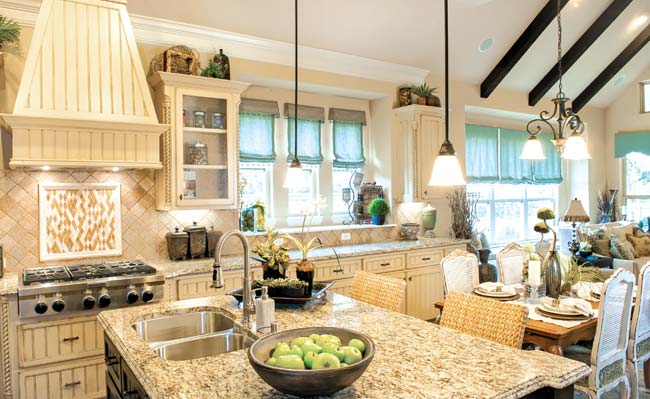 Villa-inspired, single-family homes at Stone Bridge Oaks provide residents with 1,976 to 3,305 square feet of inside living and 425 square feet of outdoor luxury. Homes are available in single- and two-story floor plans with private-entry home offices and three-car garage spaces in some units.
"The hard-scaping lends itself to the Colorado look," said Egnatis. "It features earthy, rustic, and elegant, upscale exterior architecture with bright stucco accents. The soft-scaping is a zero scaped landscape that blends well with the indigenous plants."
Grenadier Homes prides itself on their greener and healthier living environments. Each Grenadier home has a Home Energy Rating System (HERS) of 70 to 75 points – that is more than 30 percent in utility savings in comparison to the industry's new home average. And before each home is set for purchase and living, it is subject to a duct blaster test to ensure no energy is lost through leaks in the home.
The forest views, walking paths, four-star community pool, fitness center and club house are all open and available. Residents will also enjoy a convenient and quick commute to the Dallas/Fort Worth International Airport, as well as an easy route towards culture in the historic downtown of Grapevine.
"Our buyers want beautiful, country views in the city," said Egnatis. "They like being near the airport without feeling like they're right on top of it; and they want to enjoy upscale living without a lot of hassle."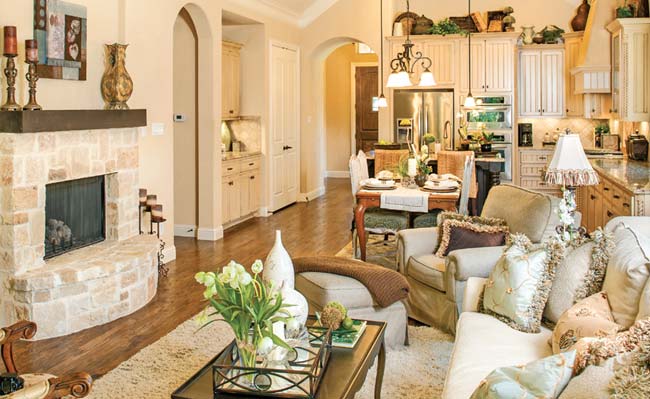 Stone Bridge Oaks is enveloped by maintenance-free living, with a professional homeowners association (HOA) that keeps the home fresh and up to date.
"One of the best features is the lock-andleave, low maintenance lifestyle," said Egnatis. "Homeowners never have to mow the lawn, weed, edge, water plants or the grass, paint the outside of their houses or fix the fence, etc. – the HOA takes care of it all."
Phase I of the Stone Bridge Oaks project began in 2006 and involved the building of townhomes. The phase lasted from 2006 to 2009 and transitioned into Phase II in 2010 where the development of single-family patio homes was set in motion.
Phase II is still in the process of being completed but hopes to see its finish by the end of 2014. Patio homes are priced in the mid $300,000 range. Once completed, Stone Bridge Oaks will contain 90 units all together; 24 of which will be townhomes and 66 to be patio homes.
Grenadier Homes is also looking to build similar communities in the future. "We just began Phase II construction in the Villas at Willow Grove in McKinney, Texas," said Egnatis. "During this phase, we'll be adding 57 new town homes to the community."
The new green community gives Grenadier Homes the opportunity to continue delivering the quality product line that their loyal homeowners need and expect. Stone Bridge Oaks will continue working to preserve the natural surroundings of Grapevine through the use of green building practices.
"When you have something that beautiful, you want to preserve it," Egnatis added.
Carly Caumiant is an editorial assistant at Builder and Developer magazine. She may be contacted at ccaumiant@penpubinc.com