New-Home Market Outlook: Increase Projected for 2019
New-home market is strongest in South and West
By DR. FRANK E. NOTHAFT
Family income growth, mortgage rates, and home prices are three key drivers of new-home demand. While rising land acquisition and development expenses and a skilled labor shortage add to construction costs, national new-home sales in 2019 are expected to exceed last year's volume.
We anticipate economic growth will be about 2.1 percent during 2019, sufficient to push the unemployment rate down to about 3.6 percent. This would mark the lowest unemployment rate in 50 years and generate more wage and income growth. As of November 2018, the Federal Reserve Bank of Atlanta Wage Growth Tracker reported wages up four percent over the past year, and growth may accelerate as the labor market tightens further in 2019.
The good news on employment and income growth also means the U.S. will experience higher interest rates during 2019. The Federal Reserve will continue to keep an eye on inflation while gradually raising short-term interest rates. We expect long-term yields to rise as well, nudging 30-year fixed mortgage rates above five percent by year-end 2019.
Higher interest rates will affect housing market activity. At the margin, existing homeowners with low-rate mortgages will be incented to stay in their home rather than sell, keeping the new-listings flow relatively low and tempering sales transactions. Existing home sales in 2019 will be close to last year's volume. The larger monthly payments that come with higher mortgage rates will likely soften buyer demand, leading to less pressure on home prices. For the national CoreLogic price indexes, growth is forecast to slow over the next year to about three to five percent.
In contrast to the dip in existing home sales during 2018, new home sales booked a two percent rise. Across metropolitan areas, the largest number of new home sales and greatest increase in activity occurred in the South and West. The Houston, Dallas, Atlanta, and Phoenix metropolitan areas topped the list of new single-family building with each having more than 1,500 new sales per month.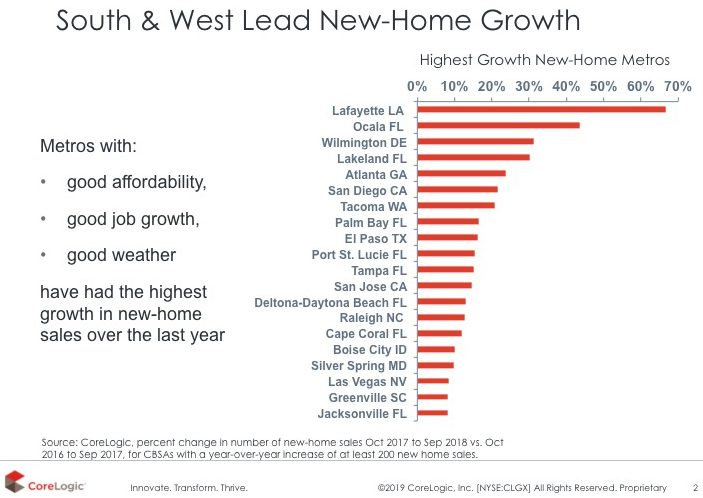 All four of these areas have low unemployment rates and employment growth that exceeded the national gain: National nonfarm payroll employment increased 1.7 percent during the year ending November 2018, and job growth was 4.2 percent in Phoenix, 3.7 percent in Houston, 2.6 percent in Dallas, and 2.1 percent in Atlanta. Rapid job growth has led to in-migration from other parts of the U.S. and increased demand for new homes in these areas. This trend has broadly occurred throughout metropolitan areas in the South and West.
Areas in the South and West are also the ones experiencing the largest percentage growth in new-home demand over the last year. The fastest growing metropolitan areas are generally not the largest ones, but smaller areas that offer better affordability, good job prospects, and favorable weather. As examples, the Lafayette, LA, and Ocala, FL metropolitan areas had an increase in new-home sales from a year earlier of more than 40 percent.
We forecast a three percent rise in U.S. new home sales during 2019, placing sales at their highest level since 2007. Most of the increase will be in the South and West, with the Houston and Dallas metropolitan areas topping the list for new-home sales.
Dr. Frank E. Nothaft is Chief Economist for CoreLogic. He may be reached at www.corelogic.com