New Products Wow the IBS and KBIS Show Floors
By Christine Rombouts, Senior Contributing Editor, Builder & Developer
The 2023 National Association of Home Builders' (NAHB) International Builders' Show (IBS) is back in Las Vegas this year and yesterday was a great start to the show. Considered the premier show for the residential construction industry, IBS draws nearly 100,000 attendees and more than 1,200 exhibitors. It's the place to discover hot new products, network with professionals from around the states as well as internationally and learn from leading experts. Featuring the co-location of IBS and the National Kitchen & Bath Association's (NKBA) Kitchen & Bath Industry Show, Design & Construction Week brings together building industry professionals from around the globe.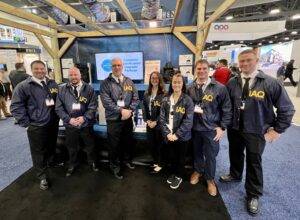 This year, the new West Hall opened up to accommodate growing attendance, which was needed since this year's numbers are expected to set new highs. Enthusiasm and energy were at an all-time high. Here are some notable quotes from a few of the industry professionals who attended.
Don Neff, President, LJP Construction Services: "We were very excited about all the new products, technologies, and trends, and increasing the visibility of our brand because booth traffic has been steady all day. I also enjoyed the New Product Zone, which always has interesting and fun products on display."
EBeth Pitman, Director of Marketing and Communication, CertainTeed: "This year's show has definitely been exciting. We're re-launching the brand, even though we're a 100-year old company to develop better sustainable strategies across the board so this is the perfect place to do so. Traffic at our booth has been very busy the whole day. We have two large format walls that show the roofing and siding systems from the inside out and these have been very popular."
Scott Lang, National Technology Sales Manager, Simpson Strong-Tie: I was most excited about the Tesla Loop; that's a cool way to get around the halls of the convention center. I love the energy and the aisles are full so it's well attended. With the market adjusting, builders are very interested in technology, especially as it helps reduce waster so they can be more efficient and effective, so they're excited to talk to us because we have the technology that enables that.
Tony Misura, President, Misura Group: "It's been exciting to see our industry raging back like a storm so it's lots of energy, enthusiasm and innovation, which is essential as we all take different approaches to solving some of the industry's toughest issues, like affordability. Even though housing starts have declined, much of the innovation and technology have double-downed, especially since the labor force has declined. This pressure is driving innovations to help with this. The exhibits and lectures are great places to check-out new products and principles. Tomorrow, I'm excited to attend the supply chain panel by Jennifer Castenson and the offside framing panel by Jess Lohse."