The Next Generation's Focus on Convenience
KBIS/IBS 2019 smart technologies bring safety and knowledge to the forefront
By BARBARA SCHMIDT
Today, homeowners and builders are looking for more than just smart technology; they also want convenience. Simply having an app for a single function does not efficiently sell the technology any longer.
Homeowners and builders are looking for ease of use and simple installation as well. With heavy competition in the "smart" technology category, manufacturers are looking for ways to create convenience for both the homeowner and the builder to make a difference.
Snap and Lock Windows
Window installation can be one of the most costly line items for a builder. Giant mulled windows often have to be craned into position with a large crew. Logistics and scheduling are very critical for those giant window-scapes to be installed correctly.
Today's window manufacturers are looking for ways to ease the cost and timing of installation by creating products that can literally snap and lock into position on the job site. Snap-and-lock windows are easily installed with a one or two person crew and it is estimated that these new systems cut average installation costs by over 50 percent.
Snap-and-lock windows are easy to install and still meet all the quality standards that larger mulled combination windows do. This is the next step in innovation where a system is smart but it is also easy to use.
Appliances as Sous Chef
Just about every appliance manufacturer has an app that works with your smart phone. You can turn your oven on, find out what is missing in your refrigerator, or check if your dishwasher needs maintenance.
This is great, but do you need an app for every appliance? How will all these apps work together? The next innovative step is finding ways for these apps to work together by sharing information.
Several appliance manufacturers doing this by integrating appliances to speak with the whole home system as one voice for the homeowner. Again, ease of installation and ease of use are the main thrust of this new effort.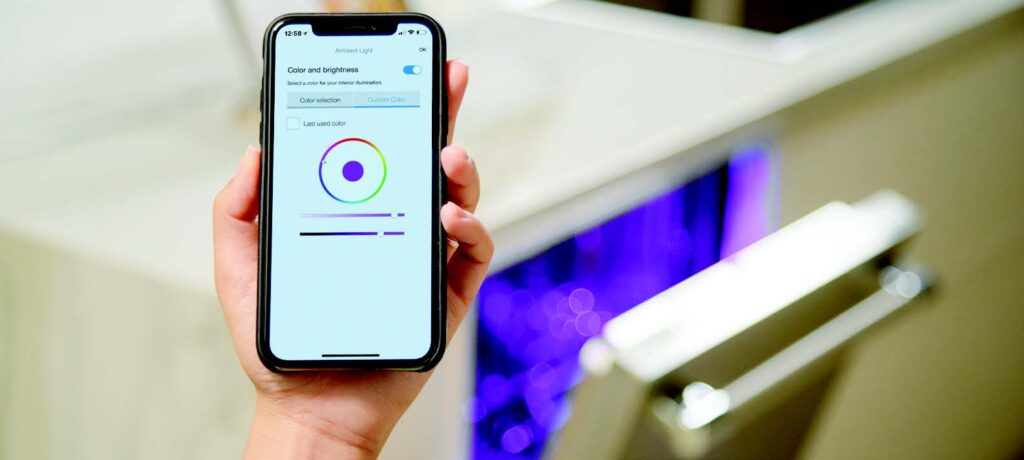 Water Flow Monitoring
Several plumbing manufacturers have introduced new flood warning systems to help homeowners avert the number one reason for insurance claims. Most of these systems use water flow sensors to learn and regulate your home's water flow. Any change in that flow alerts the homeowner's smart phone for investigation.
Many of these systems require a plumber to install, but there are now available options for the homeowner to install without a plumber.
Lights On
Dimmer switches and ambient light sensors have been around for a while. These are usually installed as part of entire lighting system. Now some of these smart lighting effects are available as part of your bathroom fixture package.
Imagine a mirror automatically lighting as you walk into the room, or dimming as the sun rises. What if you could speak to your mirror for it to adjust for different functionality? These simple functions create environmental lighting so easy to adjust that a homeowner can have it installed without the expense of an entire system.
Simple built-in functionality for everyday home use creates convenience for the homeowner and lucidity for the builder or remodeler. Lighting, with how important it is for everyday life, should be convenient as well.
Today's homes are smarter, but they must also be functionally easy to work with – both individually and, possibly, as part of an overall smart home app. Convenience is the name of the game for smart technology, and ease of installation is critical for these products' popularity.
Barbara Schmidt is a nationally recognized interior designer and marketing expert creating authentic storytelling about spaces, places and trends. To learn more, visit studiobstyle.com.