No Phones, Borrowed Chairs, and High Heels
Augusta National delivers a memorable experience
by Bob Mirman
The rains began early on Saturday morning and remained with us all day. No one cared. No one complained. No one was leaving.
It was day three of the 2018 Masters Tournament at Augusta National Golf Club. And by my count, it was me, my wife, Martha, and 40,000 of my new best friends who came prepared with rain gear, umbrellas, and sunny "What? Me Worry?" dispositions. (Well, make that 39,999; during the rain, we saw one woman in high heels and a tight sleeveless mini-dress who looked prepared for neither downpours nor golf. One of my new bleacher-buddies imagined her to be a clueless member of a curling team up in the Iron Range of Minnesota.)
For a golf fan, the Masters offers an extraordinary customer experience. No other golf tournament or sporting experience is quite the same. And regardless of your position in the new home industry, we all have lessons to be learned from this:
1. All parking is FREE. The club could easily be charging $30 per car and bring in an extra $300,000 a day for seven days ($2.1 million), but they choose to be customer focused vs revenue focused.
2. A beer at any baseball park: $10-12. At Augusta: $4. And sandwiches are $2.50. Customer focused.
3. Average face value of a Super Bowl ticket: $1,700. At the Masters, a one-day ticket is only $75…if you can find one. Again, customer focused.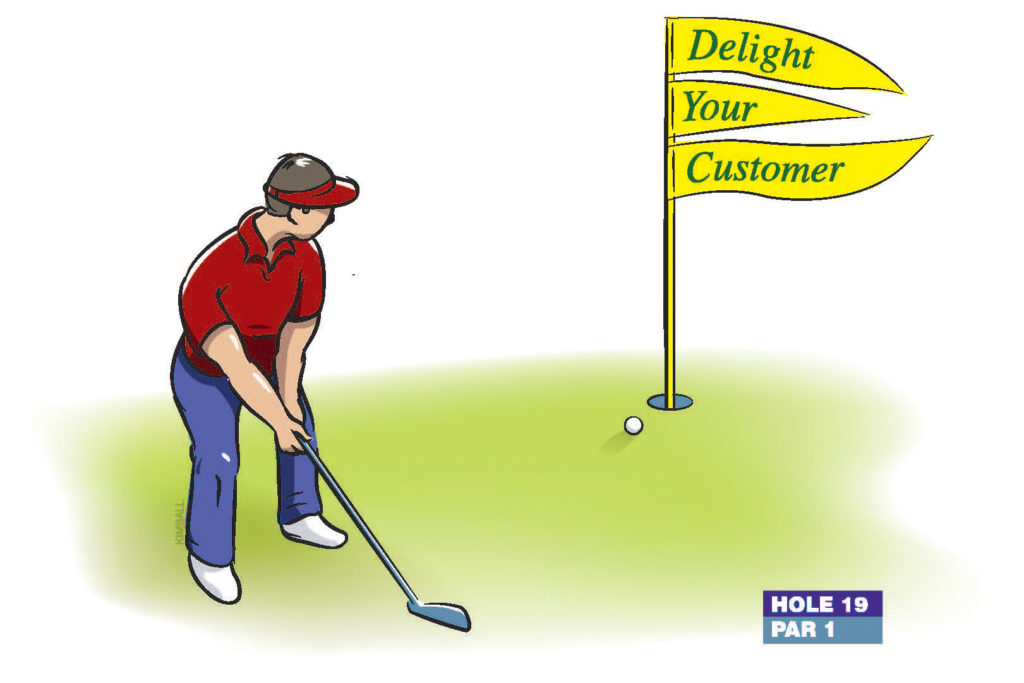 4. No cameras or cell phones are allowed, so they provide groups of phones for FREE long-distance calling.
5. Want to get up-close and personal with Tiger or Phil? Just walk up to the front row of the chairs on any hole and sit in any empty chair. Since the owner of this chair is no doubt out walking around the course, you are allowed to borrow his chair until he returns. Try doing that at Dodger Stadium.
6. Most impactful: Many hundreds of people in green uniforms work at or around The Masters, and the commonality is striking: They are all smiling. They look you in the eye and say "Welcome to The Masters!" or "Thank you for coming to The Masters!" The parking guides. The police on the street. The restroom attendants who humorously point you to open urinals. EVERYONE.
The message: The Masters is revered almost as much for the way it considers the customer experience as it is for the quality of golf being played. Regardless of the business you are in, a systematic plan for your customers' experience needs to be a primary element of your model. And remember that small things count: Dick Bryan, our industry's customer service guru, is a stickler for the way his staff and the trade's service reps dress – and smell – when conducting a service call: Breath mints? Check. Hand vac? Check. Drop cloth? Check. Booties? Check.
The best concepts for creating a memorable customer experience often come from outside our industry. Every time you are a customer at a sporting event, restaurant, airline, retail store or wherever, keep your eyes open for ideas which you can use to delight your customers.
Bob Mirman is a psychologist and founder/CEO of 33-year old Eliant, the building industry's largest firm specializing in managing the customer experience. He may be reached at contact@eliant.com.