Oakwood Homes Embodies Green Luxury
Oakwood Homes has been building homes and communities in Colorado, Nebraska, and Utah since 1991. Over the past 24 years, Oakwood has implemented high standards not only into the construction of their homes, but also into the communities in which they build.
CEO Pat Hamill co-founded the 21st Century High Tech Academy and the Foundation for Educational Excellence community education organizations. It is explained simply in their company's mission statement: To create unmatched luxury homes that are accessible and customizable at every budget—for homebuyers in every stage of life. Oakwood Homes builds "luxury at every level." No matter what age, family-size, or income, Oakwood is dedicated to bringing affordable, stylish, and efficient homes to Colorado, Nebraska, and Utah.
Cottages at Valley Station is the prime example of everything Oakwood Homes is founded upon. Located in Herber City, Utah, developments began in June of 2014. Cottages at Valley Station are near Highway 40 and US 89/Provo Canyon, providing simple access to the Salt Lake Valley and are less than ten minutes away from Deer Creek Reservoir and Soldier Hollow Resort in Wasatch County. The 103 single story and two story homes have nothing less than a breathtaking view of the Wasatch Range Mountains. Starting from the mid $200s, Cottages at Valley Station offer floor plans from 2,307 to 3,833 square feet. Oakwood not only offers the most affordable homes in the area, but they are built to preserve the beautiful environment they are in. Each homeowner receives the Oakwood High- Performance Energy Guarantee.
"We achieve our energy performance guarantee through product performance modeling, third-party energy inspections and installing energy-efficient products and equipment that are above industry and market standards," explained President, Utah Division, Mike Stewart.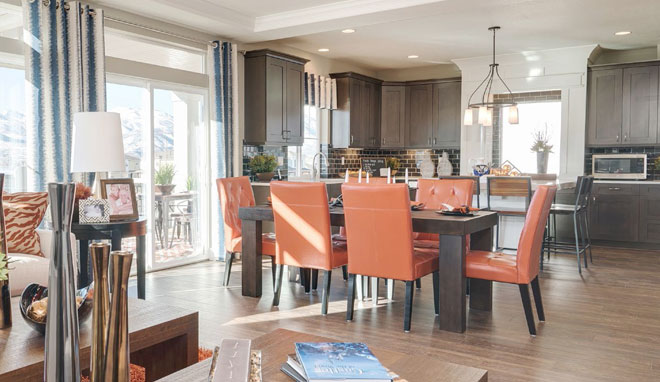 Quality standards are achieved through detailed quality and energy audits at every stage of construction. Every Oakwood home has a 95 percent high-efficiency furnace, 2×6 exterior framing with high production blown-in insulation in all walls, ceilings and conditioned spaces. With these standards and building practices, each home built by Oakwood Homes has a HERS rating of 65 or less. This leads to 30 percent more energy-efficiency than a standard new home in the industry.
Some of the energy-efficient standards are: R-23 wall and R-40 attic insulation, energy saving low-E dual glazed vinyl windows, 95 percent efficient natural gas furnaces, energy-efficient central ACs (non-Freon), and 40 gallon energy-efficient natural gas water heaters. Oakwood Homes also participates in a construction waste-recycling program.
"We hope that the quality and care we have taken with this development will result in future opportunities coming available to us in the Heber Valley," Stewart said.
Oakwood Homes incorporated a contemporary craftsman style to the exteriors of the homes, while emphasizing four-sided architecture. The Mountain peaks are mirrored in the peaks on the rooftops. A mixture of natural materials paints the outside and pulls the outdoors in creating cohesiveness with the wilderness that surrounds the community.
The single story homes include Smart Space, "a second level space constructed into the roof of the home. This allows a main floor living option while providing additional space for a bonus room or additional bedroom," Stewart said. For the two story floor plans, a "Flex Room" is added. This extra room can be used for a variety of different purposes, depending on the need of the individual homebuyer. Grotto kitchens, dining islands, and spa showers come standard in all homes. "These are features unique to Oakwood Homes, giving a more custom home feel to each home we build," Stewart explained.
There are an abundance of options to choose from for interior design. Some of the amenities within the homes are: Ceramic tile entryways, easy-care vinyl flooring in kitchens, baths, laundry, nooks per plan, and stain-resistant carpet in a choice of styles and colors.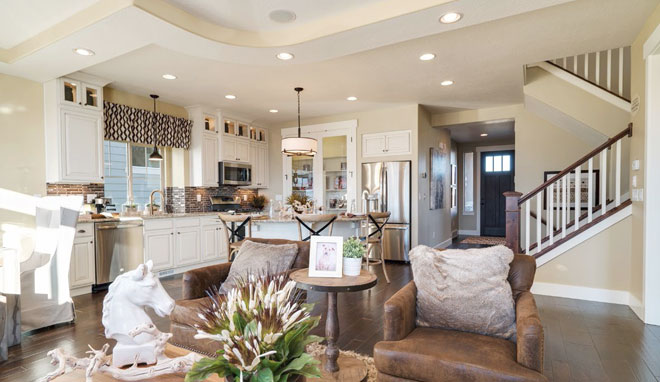 The kitchens have special detailing, some of the features include: Energy-efficient stainless steel appliances with a natural gas range and a microwave-hood combination, granite countertops and backsplash in kitchen with a stainless steel undermount sink, hardwood cabinet fronts with easy-care interiors and hidden hinges, and corner base cabinets with turn-style shelving per plan, to name a few. From the craftsman style of the exterior— which compliments the stunning mountainous backdrop—to the modern details of the features inside, Cottages at Valley Station have style and functionality. With all the attention to detail, it is astounding that Oakwood Homes is able to keep a low price point.
Oakwood Homes assured that the homes are attainable at nearly every level of income. Citizens commuting to either Park City or within Herber City now have an affordable housing option without going to the Salt Lake Valley. "We love the opportunity to provide more affordable housing in Wasatch / Summit County area," Stewart said. "From a builder standpoint, this project allows us to provide housing in an underserved price point while providing 'Luxury at Every Level,' an important Oakwood philosophy. From a customer standpoint, they are able to purchase a high quality, energyefficient home that allows an array of choices to make this house their home."
The property was originally zoned for multifamily housing. Oakwood realized that being consistent with the surrounding communities, already made up of single family detached homes, would be best. However, this originally created a challenge. Since the price of the property was initially based on multi-family use, it was difficult to make single family detached housing economically feasible.
"Working closely with the land seller and Heber City, we were able to agree on a solution that was more consistent with the desires of the community and surrounding neighborhoods," Stewart said.
Oakwood is currently constructing 21 new model homes within Wasatch County. These models will service seven central locations, which will include 25-30 new communities in the area.
Lacy Allen is the Editor for Builder and Developer magazine. She may be reached at lacy@penpubinc.com