The Partnership of Ignorance and Arrogance

Homebuilders are helping people create a comfortable place to raise children,
produce memories—there is no place for arrogance in this process

"The arrogance of success is to think that what you did yesterday will be sufficient for tomorrow." —William Pollard
Everyone's picking on the airlines these days. How can that be? It's fun to fly! It's entertaining to wait on TSA lines; get bumped from flights (1 in every 19,000 passengers); lose your baggage (3 bags lost per 1,000); arrive late (3 percent of all domestic flights). Oh, the joy of usurious fees for changing your reservations or boarding with a carry-on. There's probably a law on the books in Mississippi against having this much fun!
I fly a lot, mostly on Southwest. And not just because it's convenient. Southwest flight attendants have a sense of humor and what is apparently an open-ended license to entertain their passengers. They sing, tell jokes, do everything but tap-dance up the aisle. On my last trip to Phoenix, here was the shtick:
"Ladies and gentlemen, in the case of an emergency, an oxygen mask will fall down in front of your face. Put it around your nose and mouth, tighten the strap around your head. If you are traveling with a small child, put your mask on first, then on your child. And if you are traveling today with two small children, this would be a good time to pick your favorite."
That being said, the ACSI airline customer satisfaction ratings for 2016 were UP by over 4 percent from 2015. Zowie! That sounds pretty optimistic!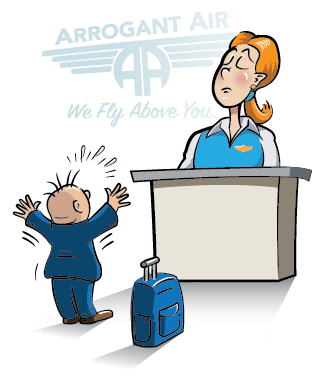 If you have customers, you deserve to get pummeled in the world of public opinion when you ignorantly forget who you are serving.







Maybe all this negative talk about the airlines is overstated. Maybe they've turned a corner and have started treating us like human beings instead of cattle.
Yeah, and maybe Amazon is getting bought out by Krispy Kreme.
So, what can we make of the strong improvement in airline customer satisfaction during 2016?
ASCI's aggregated satisfaction rating for ALL domestic airlines reached 72 percent in 2016 (4 percent higher than in 2015). So, it's improved.
Are we all happy now?
Let's get real: If you were running my home building company, and we had a 72 percent customer satisfaction rating, you would be out the door faster than Ivanka Trump at a Hillary Clinton fundraiser. Seriously… only 72 percent? This would indicate that over a quarter of customers are negative about their airline and would probably never refer this airline to a friend.
Although flyers rated airlines higher in 2016, my conviction is that the trend will be reversed in 2017. Consider the numerous traumatic airborne events just in the last six-months, highlighted by Dr. David Dao getting dragged from a United Airlines flight to make room for a flight attendant trying to catch a connection.
If you have customers, you deserve to get pummeled in the world of public opinion when you ignorantly forget who you are serving.
Airlines care too much about their bottom line and not enough about the people in their seats.
It can be summed up in one word: Arrogance.
Building homes for families is an honor. We are helping people create a comfortable place to raise children, produce memories. There is no place for arrogance in this process.
I am so thankful that most of the home builders I work with are truly committed to delivering an extraordinary purchase experience and an incredible home.
Have to run now. Need to get to the airport. Wish me luck.
Bob Mirman is a psychologist and founder/CEO of 33-year old Eliant, the building industry's largest firm specializing in managing the customer experience. He may be reached at contact@eliant.com.