Peering into 2018: The Outlook for U.S. Housing Markets
Erosion of housing affordability likely to spread to more markets in the coming years
By DR. FRANK E. NOTHAFT
A central theme for the 2018 housing market will be the continuing erosion of housing affordability, an issue that will permeate a growing list of American neighborhoods. Today, housing affordability is already a major concern in many high-cost markets and will spread to more moderate-cost places across the nation. Let's look at the economic factors that we expect will further weaken affordability in the coming year.
One is the projected rise in interest rates. The Federal Reserve has signaled its plan to increase its federal funds target, pushing other short-term interest rates up, including initial rates on adjustable-rate mortgages. The Federal Reserve has already increased its federal funds target in four one-quarter-point increments since December 2016 and has released projections that would place the funds target three-quarters of a percentage point higher by the end of 2018. Further, the Federal Reserve plans to reduce its portfolio of long-term Treasury and mortgage-backed securities, which may include selling part of its mortgage-backed securities into the capital markets; such sales could add additional upward pressure to fixedrate yields. And while fixed-rate mortgage rates remain at historically low levels, they are already up about three-fourths of a percentage point above their record low. Fixed-rate loans are forecast to rise in 2018 by at least one-half a percentage point to as much as a full percentage point. (Exhibit 1)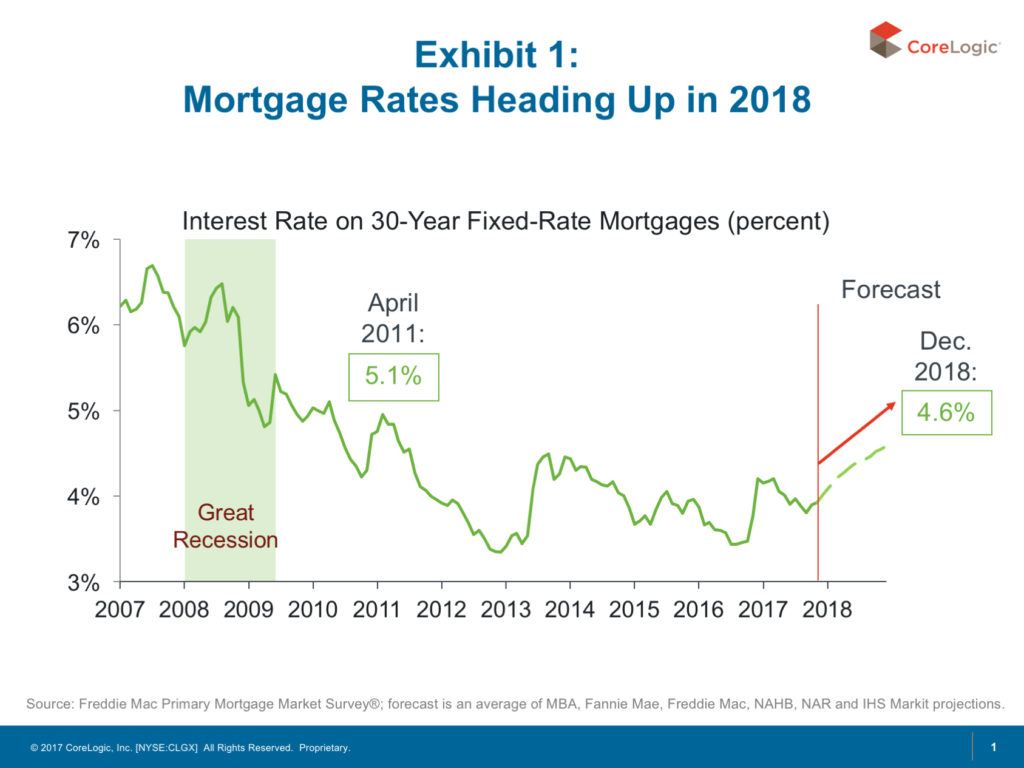 A second factor is the increasing price of buying a home. CoreLogic's national Home Price Index has been rising at a 6 percent or better clip over the past year with less expensive homes rising even faster. When combined with the rise in mortgage rates, the price increase for lower-priced homes translates into approximately a 15 percent rise over the last year in the monthly principal and interest payment for a first-time buyer.1 (Exhibit 2) And rents are up about three to four percent over the last 12 months. Both the rise in home prices and in rents have outpaced the price increase in the typical bundle of other goods and services that consumers buy, and have outpaced wage growth for the typical worker. We expect this trend to continue in 2018, with the CoreLogic Home Price Index for the U.S. up another 5 percent.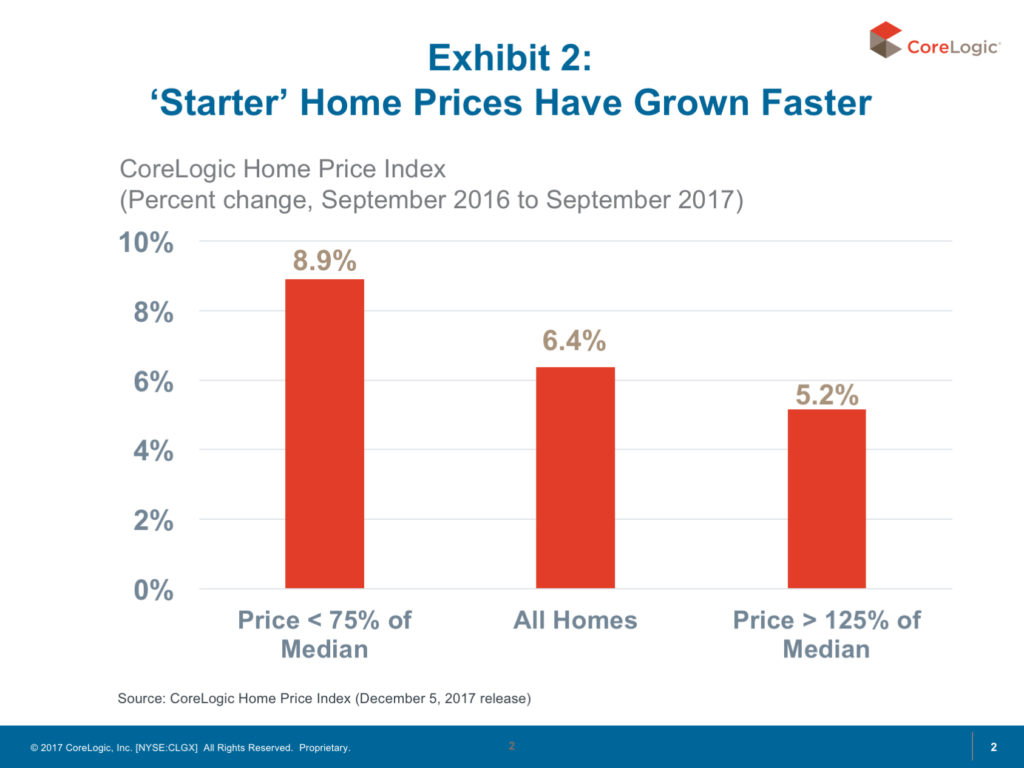 Third, we expect the very low for-sale inventory, especially for 'starter' homes, to continue. Rising mortgage rates will incent more homeowners to keep the homes they currently have, rather than sell and buy a home financed with a more expensive new mortgage. This trend will limit the supply of existing homes offered for sale. Homebuilders have added to new forsale supply, but primarily for the more affluent move-up buyer. As low inventory confronts the rising desire for homeownership by a growing number of millennials, home sale conditions will favor the seller with low time-on-market, multiple contracts per home, and more homes that sell at or above list price. These phenomena will be particularly acute in the first-time buyer segment, where there is already a shortage of for-sale inventory. (Exhibit 3)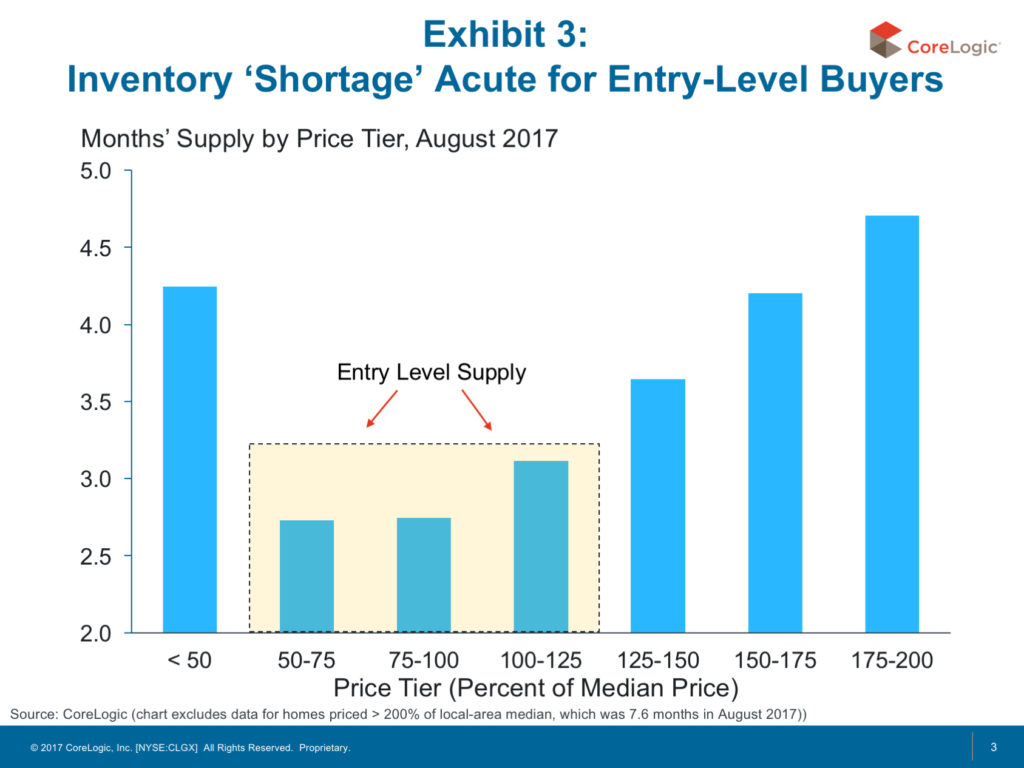 A steadily rising number of first-time buyers will be a fourth feature of the housing market in 2018 and beyond. A rising number of millennials will be aging into the peak ages for becoming first-time owners, adding to demand to buy homes. During 2017, the largest number of millennials were aged in their mid-20s, while the peak home-purchase demand occurred for buyers in their early 30s. In 2018 and beyond, the housing market will have more millennials looking to move into a single-family home. (Exhibit 4)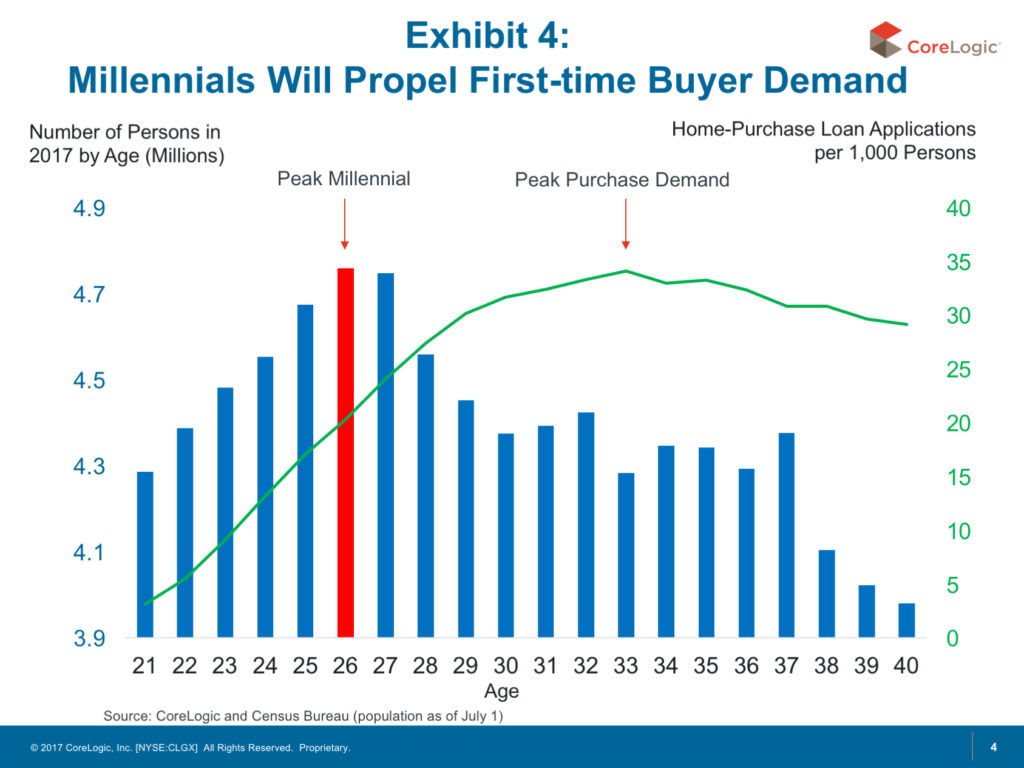 Declining affordability can be alleviated by new construction and rehabilitation of older housing stock. We expect housing starts to increase 5 percent in 2018 to 1.25 million homes, with single-family starts up 7 percent and multifamily starts unchanged from 2017. However, even more building is necessary to alleviate the affordability challenges in many higher-cost American cities.
Dr. Frank E. Nothaft is Chief Economist for CoreLogic. He may be reached at www.corelogic.com.