Peninsula Publishing Sponsors BIA/OC Annual Outlook Dinner
Pictured Above: Peninsula Publishing's publisher and Editor-in–Chief, Nick Slevin had a great time catching up with Mayor Steven Choi of Irvine, Calif. and Dr. Esmael Adibi
IRVINE, Calif.- Monday, January 26th The Building Industry Association's Orange County Chapter held their annual outlook dinner, presented annually by Peninsula Publishing. Held at the Irvine Marriot, roughly 900 building industry professionals came together, a 150 increase from last year's attendance.
The evening kicked off with an extended networking hour, crowding the halls with industry chatter. Mike Balsamo, CEO of BIA Orange County, welcomed the crowd as everyone took their seats.
Senior Vice President of Sales, Marketing and Design of The New Home Group, Joan Marcus-Colvin began the program with a light-hearted spoof; a witty skit to encourage individuals in the industry to become members of the BIA.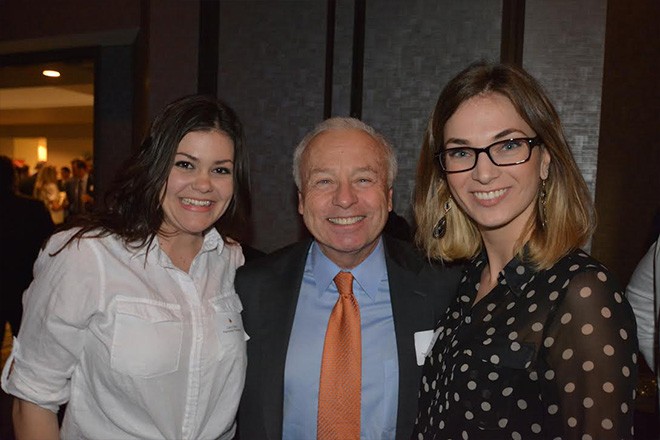 Doug Bauer, CEO of Tri Pointe Group, Inc. contributed the opening remarks with encouraging words regarding TRI Pointe's continued focus on building homes for millennials.
Bauer, a graduate from the University of Oregon, spoke candidly about the difficulties millennials have entering the housing market. He explained how TRI Pointe Group, Inc. plans on appealing to this group and how building homes needs to evolve in order to do so.
Keynote speaker and notable economist Dr. Esmael Adibi from Chapman University presented his forecast for the year, how the changes to the economy have affected the building industry, and what we can expect in the New Year.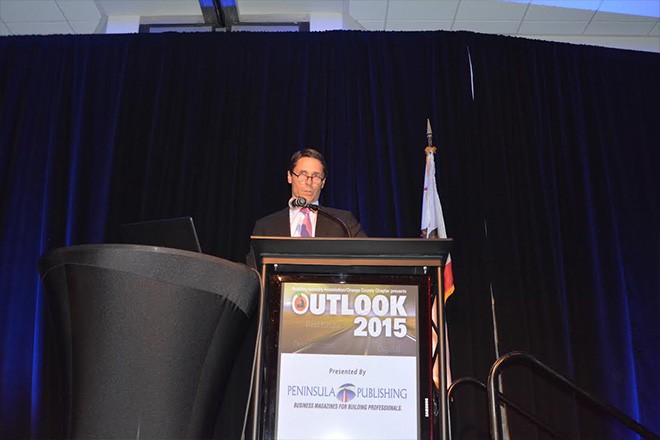 Touching on the unemployment rate, federal government purchases, investment spending, global demand for U.S. produced goods, faster aggregate spending, and the economy of California and Orange County, Dr. Adibi captured everyone's attention with clever anecdotes.
Notable individuals also present at the BIA/OC Annual Outlook Dinner were City of Irvine Mayor; Steven Choi, City of Anaheim Mayor; Tom Tait, and City of Fullerton Mayor Doug Chaffee.
Peninsula Publishing is proud to sponsor of the BIA/-OC Chapter Annual Outlook Dinner. We look forward to seeing you all at next year's BIA Outlook.