Perham Exemplifies Timeless Architecture
Brandon Architects' romantic reinterpretation of classic design with a modern flare, Perham is a Golden Nugget nominee for Custom Home over 8,000 square feet
By Sergio Flores
Photography by Jeri Koegel Photography
Interior Design by Details a Design Firm
Perham is a collaboration between architect Brandon Architects, builder Spinnaker Development, and interior designer Detail A Design Firm. The result is a timeless piece of architecture in Corona Del Mar, Calif.
Both Spinnaker Development and Brandon Architects shared one common goal: to create a special and impressive custom home that could serve as a benchmark for both of their companies. Much was needed—cooperation, patience, and of course passion from each of their respective teams to deliver the result. Together they have accomplished the task and on the way have garnered an Award of Merit from the Gold Nugget Awards for Custom Home over 8,000 square feet.
"Perham is a romantic reinterpretation of classical design with a modern flare," said Brandon Architects. "This European-inspired farmhouse incorporates traditional architectural materials and form, while introducing a contemporary open floor plan concept pursuing maximum ocean views."
Passers by will notice the attentiveness to detail and use of high quality materials used. "The traditional and contemporary design elements that blend together in an almost effortless way make this home stand out," said Brandon Architects. "These elements provide a strong statement from both the street and throughout the home."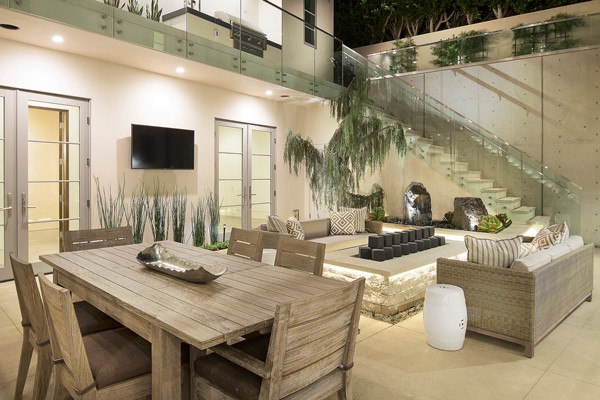 Perham also fuses the clear line between the indoor and outdoor with dramatic and expansive living elements, in addition to modern technology. Thus the modern is juxtaposed with old-world craftsmanship and paired with custom detailing to deliver a breathtaking coastal living experience—rightfully earning its place in the prestigious Cameo Shores Community.
Perhaps the most distinct feature of the home that is gathering the most attention is the circulation spine that is capable of orienting the entry on a separate axis through a cantilevered operable steel wall system. When operated, the custom designed wheel, gear, and pulley transforms the entry into a large deck, bestowing the bystander with an unobstructed and framed view of Catalina Island.
Other features are just as spectacular. The dramatic custom steel door leads to a living area centered on an expansive peninsular fireplace and oriented towards the rear, bluff top grounds. The home is complete with a pool and large spa with the Pacific Ocean serving as a scenic backdrop.
There was, however, one problem that faced the builder and architect: the limits of a single floor and height allowances. The solution? Maximize both the spaces and views with its undulated valued roof through its central core.
The home features a large open courtyard that filters light down into a spacious, 3,000 square foot basement that hosts a private outdoor living area with a fire pit and ample amount of space for recreational activities. Other in-house amenities include a state-of-the-art theater, game room, full bar conditioned with a wine room, gym, guest suite, and a generous 2,000 square foot garage.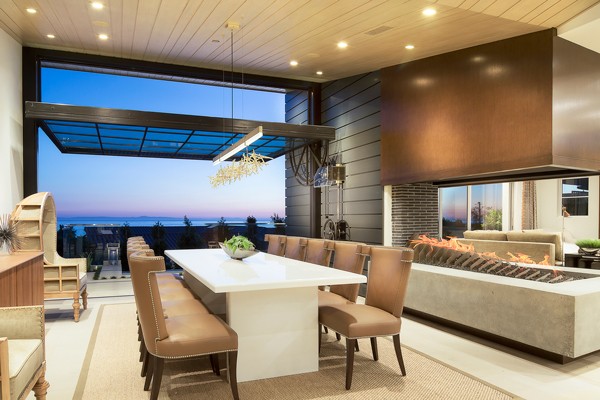 "The modern design elements and exposed steel structure help to tell a history of the home that evokes generations of renovations and improvements," adds Brandon Architects. "The gorgeous Perham is truly a unique Cameo Shores gem."
At over 8,000 square feet, Perham is not only a visual spectacle, but it also delivers on the efforts of bringing forth a sustainable home. Several factors were incorporated into the design to ensure the home did not squander energy, water, or unneeded resources. "All duct and air distribution component openings are covered with tape, plastic, sheet metal, or other methods to reduce the amount of water, dust, and debris," said Brandon. "All particle board, medium density fiberboard (MDF), and hardwood plywood used in the interior and exterior comply with low formaldehyde standards per C.A.R.B, ASTM E 1333-96."
Furthermore, the abundant amounts of windows allow the home to bring in natural light during the day. Also, a minimum of 80 percent of resilient flooring with low-VOC emission limits per CHPS was used. Dishwashers and other appliances throughout the home are ENERGY STAR® certified, and the carpet is compliant with the Green Label Plus Program.
Perham is Brandon Architect's second project to collect a Merit Award from the Golden Nugget Awards; their Orchid home, also located in Corona Del Mar, received the same honorable recognition for Custom Home 4,000 to 8,000 square feet.
Brandon Architect's mantra is rather simple: "Smart Design, Better Living;" a mantra that they adhere to strictly with each project they take on.
Sergio Flores is an Assistant Editor for Builder and Developer magazine. He may be reached at sergio@penpubinc.com.