Proving That Good Things Come in Threes
Boasting a prime location, a modern, but inviting style and superior amenities, Dallas' new offering epitomizes the good life.
By Kim Singletary
Dallas, Texas is home to a lot of firsts. The site of both the nation's first shopping center and convenience store — 7-Eleven, which is still headquartered there — it also happens to rank as the number one visitor and leisure destination in Texas. It also, most importantly, recently came in first in Forbes' 2012 list of places where people are moving.
It's not hard to see why. Business is booming in Dallas. Last year no fewer than 18 area businesses were named Fortune 500 companies and the Dallas/Fort Worth area is currently home to 23 of the richest people in America. The fourth largest metropolitan area in the country is definitely home to "the good life" for many.
So where do you go if you want to be right in the middle of the best this city has to offer? The latest option is Zang Triangle. Completed May 2012, this 260-unit apartment community, developed by Lang Partners, sits on a three-acre parcel in North Oak Cliff, less than a three-minute drive from downtown Dallas and walking distance from the hip Bishop Arts District.
"Zang Triangle is not only the first multifamily property built in the area in more than a decade, it was also the development team's first multifamily venture," stated Melissa Joesoef, JHP Architecture/ Urban Design. "Careful assemblage of a strong design and construction team, our client's perseverance, and local government and community support all contributed to the project's success."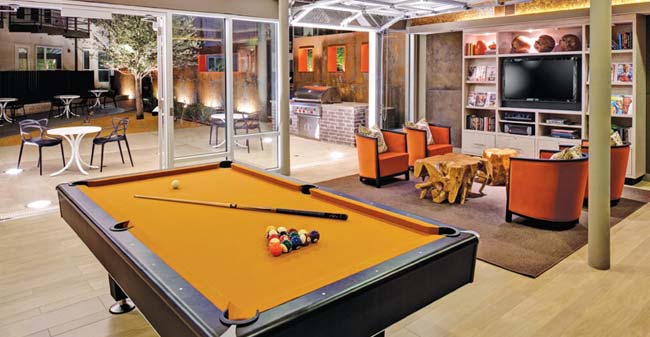 Zang Triangle has indeed found success, including earning impressive recognition from its peers. In 2012 Zang Triangle was chosen as a finalist for Best Midrise Apartment at NAHB's Multifamily Pillars of the Industry Awards.
For renters, though, it's all about an ideal mix of location and style that adds up to a lifestyle that's almost too good to be true.
While just minutes from all the Downtown Dallas has to offer, residents need only take a short walk to find some of the area's best offerings at the Bishop Arts District. Formerly a trolley turnaround for the city in the 1920s, the Bishop Arts District melds the best of old and new with more than 60 independent boutiques, coffee shops, restaurants, bars, art galleries and theatres. Quaint brick buildings and idyllic store fronts house everything from local designers and vintage finds to all natural pet treats, to a restaurant frequently celebrated as the "Best Sushi in Dallas," to made-from-scratch pies.
The melding of sushi with homemade pies is a fitting example of how Zang Triangle manages to be both modern and homey – offering residents the style they love with the sense of comfort they crave. "In keeping with its context and with sustainability in mind, we wanted a design that exudes urbanity, vibrancy and timelessness," Joesoef stated.
The unique triangular nature of the site provided the main design challenge.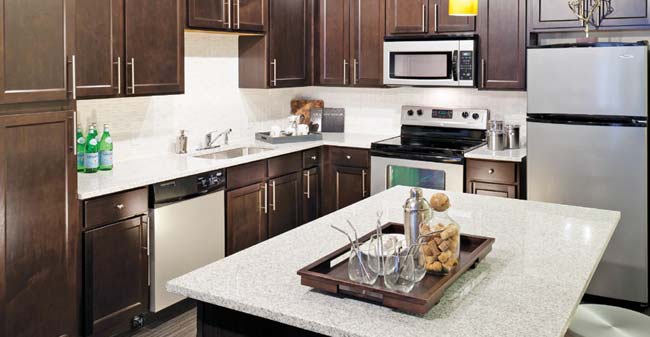 "A non-uniform triangular site may yield a less efficient building that dictates odd shaped units," Joesoef stated. "To maximize efficiency we kept the building geometry as regular as possible, while keeping most of the corridors doubleloaded with units, except for a few areas adjacent to the garage and at the terrace level. By doing this we gained dynamically shaped courtyards both in the interior and exterior edges of the project." Joesoef also noted that the potentially long, unbroken façade along Zang Boulevard was avoided through the careful articulation in massing, roof line, fenestration, and material application. "The triangular courtyards also help to break the long massing."
Inside the community residents are greeted by views and amenities more commonly found in highend resorts than your own backyard, starting with a clubhouse that features a Wi-Fi Internet café and HDTV sports lounge complete with billiards. Then, of course there's the resort-style pool with its own poolside grill, outdoor dining area and firepit – all perfect for get-togethers of any size.
A separate grilling area beckons residents with inviting hammocks and a soothing water feature that perfectly demonstrates the community's modern blend of metal, wood, water and light. For the exercise enthusiasts, Zang Triangle offers both a stylish poolside fitness club and pedestrian access to nearby Lake Cliff Park.
But of course it's not just the outside, but the inside that counts, and that's where Zang Triangle shines with open-concept gourmet kitchens featuring granite islands and Whirlpool Clean Steel finish appliances, bamboo inspired flooring, high ceilings, generous windows and available custom touches such as over-sized terraces and studies. Units range from one-bedroom, one-bath to two-bedrooms, two baths and span 576 to 1,476 square feet. Live-work and furnished units are also available.
And of course the upper floor units enjoy panoramic views of adjacent downtown Dallas — giving Zang Triangle residents not just a room with a view, but so much more.
Kim Singletary is editor-at-large of Builder and Developer magazine. She may be contacted at ksingletary@penpubinc.com.