More Comfort, Better Indoor Air Quality, and Lower Energy Costs.
By Monica Irgens
Radiant floor heating is the ideal heating system for homes and buildings. It is comfortable, efficient, unobtrusive, quiet, and does not blow dust and allergens around the way forced hot air systems do, which can affect Indoor Air Quality (IAQ).
IAQ is strongly related to the health and wellbeing of building occupants. Breathable air that's free of health threatening pollutants can lead to a higher quality of life, lower risk of respiratory illnesses, and a reduced risk of various chronic conditions.
Many problems such as asthma and allergies are influenced by environmental indoor factors – "the sick building syndrome." Central heating systems are one of many pollutant sources for indoor air problems, especially with aging ductwork and HVAC systems. Additionally, COVID has increased our awareness of IAQ over the past two years, particularly when it comes to airflow indoors and spreading virus particles throughout the air.
In addition to IAQ issues, energy costs have been increasing throughout 2021 and are on track to continue increasing through winter 2022, which is triggering homeowners and builders to seek more energy-efficient heating and cooling systems, as well as systems that can run off alternative energy sources such as solar.
According to the Short-Term Energy Outlook by the U.S. Energy Information Administration (EIA) retail energy (electricity, propane, natural gas and heating oil) prices for several fuels are already at their highest point in several years[1]. The EIA predicts that U.S. Households will spend more money on energy this winter than last year with households that heat their home on natural gas paying up to 30% more on average this winter.
"The EIA predicts that U.S. Households will spend more money on energy this winter than last year with households that heat their home on natural gas paying up to 30% more on average this winter."
Subfloor heating has been around for centuries and while the decision to install radiant heating used to be a pre-construction option, today's innovations make it feasible and even DIY-suitable for existing home retrofits.
Radiant floors are heated either with hot water flowing inside tubing, or with electric resistance cables or mats, including more efficient low-voltage self-regulating heating flat elements. Instead of overheating the room's perimeter in the hopes that the warm air will travel throughout the space before rising, subfloor heating systems heat from below. The result is a more even overall heat distribution that warms everything in the room, including surfaces, furnishings, and people.
Hydronic water tubing systems are usually designed to heat an entire house. Water is heated to between 100 and 120 degrees Fahrenheit by a boiler and circulated through tubing underneath the floors. The tubing can be installed in several ways: embedded in a concrete slab, installed over an existing slab or stapled under a subfloor.
Electric, line-voltage or low-voltage systems can be designed as a sole heat source to warm a whole house or just as supplemental heat. These systems can be constant wattage cables or mats and are also available as self-regulating electric thin mats.
Some heating systems come with cables, which are often pre-attached to mats for ease of installation and are installed over the subfloor in a bed of thin-set mortar. There are also radiant electric floor heating products that can be installed under laminate and other floating floors, such as engineered hardwood.
STEP HEAT offers heating products that can be used for interior and exterior applications. Applications include floor heating, roof deicing and snow melting for homes, commercial buildings and ships.
STEP HEAT can be installed under most flooring products because it is self-regulating and cannot overheat. It is very energy efficient – as the ambient temperature rises, the electric resistance increases and the consumption of electricity decreases. It is as if there is a sensor over the whole floor.
Most finished flooring, including tile, stone, vinyl, carpeting or hardwood, can be installed above these heating systems. If you do not want to pull up your existing flooring, you can also find electric radiant heaters that fit in the joists under the subfloor. Insulation is then installed under the mats so that the heat travels upwards.
Radiant heating is more comfortable than other systems for a variety of reasons. First and foremost, it feels warmer because the heat is delivered where you need it—near the floor.
Since all surfaces in the room are also being heated, there are no cold spots to draw heat away from you and make you feel uncomfortable. In addition, radiant heat does not constantly cycle on and off, causing you to be too hot or too cold. Also, it doesn't dry or blow around the air, which negatively impacts those with allergies. Plus, radiant heat is relatively draft-free.
For energy efficiency, programmable thermostats with both air and floor temperature limits are recommended to maintain the ideal chosen temperature for each individual area.
Radiant heat is ideal if you're building a new house, but it can be retrofitted to fit the floors of existing homes, too.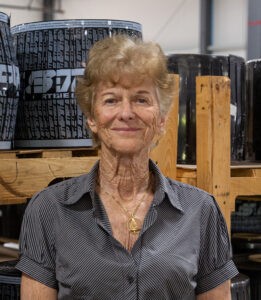 Monica Irgens is the President of STEP HEAT. She may be reached at 314-222-9090.