Ranch Style Family Development
By Cristina Paz
Builder and Developer magazine is proud to recognize Rancho Mission Viejo as its 2013 Developer of the Year. Owned by the O'Neill/Avery/Moiso family since 1882, Rancho Mission Viejo is Orange County's last working ranch.
Residents enjoy beautiful views of sprawling hillsides and valleys on a 17,000 acre reserve, known as The Reserve at Rancho Mission Viejo. Anthony R. Moiso, President and CEO of Rancho Mission Viejo, and The Ranch team follow the advice of his grandmother: "Take care of the land and the land will take care of you." With a culture of care, uniquely its own, Rancho Mission Viejo fosters real Ranch-style hospitality. The community of Rancho Mission Viejo is a development partnership between Rancho Mission Viejo, LLC (managing partner) and DMB Associates, an Arizona-based, diversified real estate company. Rancho Mission Viejo, LLC is responsible for the ranching, farming, planning, development, and financial management of the 23,000-acre Rancho Mission Viejo. The Ranch encourages residents to live happy healthful lifestyles through taking advantage of all the fresh organic produce and ample recreation space.
Located in the heart of South Orange County, just 2.3 miles from downtown San Juan Capistrano and five miles from San Clemente and Dana Point Harbor, Rancho Mission Viejo is a prime location for homebuyers. Residents have easy access to the employment and retail centers of Ladera Ranch, Mission Viejo, Irvine, Rancho Santa Margarita and other Orange County areas. Rancho Mission Viejo's distinct location connects residents to miles of biking trails and easy access to a network of trails that head up into the mountains and down to the beach.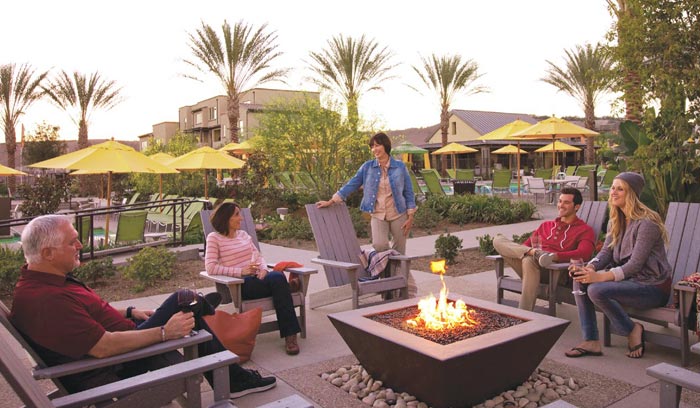 Rancho Mission Viejo's master planning was recently recognized at the 2013 SAGE awards. Senior Vice President of Community Development, Paul Johnson received the 2013 SAGE award for Person of the Year for implementing his new model for active adult living on the 6,000-acre Rancho Mission Viejo community. When asked about creating a successful team in order to create a community such as Rancho Mission Viejo, Paul Johnson stated that "Under the direction of Tony Moiso, our internal Ranch team forms the foundation of our community development efforts. Each team member brings an incredible amount of talent, knowledge, and expertise to everything we do. We also carefully select the consultant teams, which consist of the very best in the real estate development industry."
The successful master planning is evident through the number of people in attendance for the grand opening of The Ranch's first village.
With more than 10,000 people in attendance, the first village of Rancho Mission Viejo, called Sendero, celebrated its grand opening in late June of this year. Encompassing approximately 690 acres, Sendero has been planned to include: 941 attached and detached homes and 286 apartment homes. The homes are available in a variety of different floor plans in order to meet the needs of various homeowners. Home prices at Sendero currently range from the high $300,000s to over a million. At the heart of the Village is El Prado, the social and recreational center. El Prado is highlighted by the Ranch House, a nearly 3,900 square foot clubhouse with pools, a water play park, outdoor fireplaces, grills and the Guest House.
Sendero has been carefully planned out to include all the makings of an ideal community for families, couples, and singles. Sendero features a 55+ gated enclave called Gavilan, providing 286 primarily single-level residences. Gavilan is situated near the Hacienda (within El Prado), an approximately 9,200 square foot clubhouse. The Hacienda includes: a fitness center, the Studio, meeting rooms, an outdoor patio area, a pool, a staffed bar, bocce courts, and more. The average current homebuyer at Gavilan ranges between the age of 60 and 70. Throughout the rest of Sendero the average homebuyer age ranges between the ages of 35 and 45, with some as young as the early 20s and as mature as their mid-60s.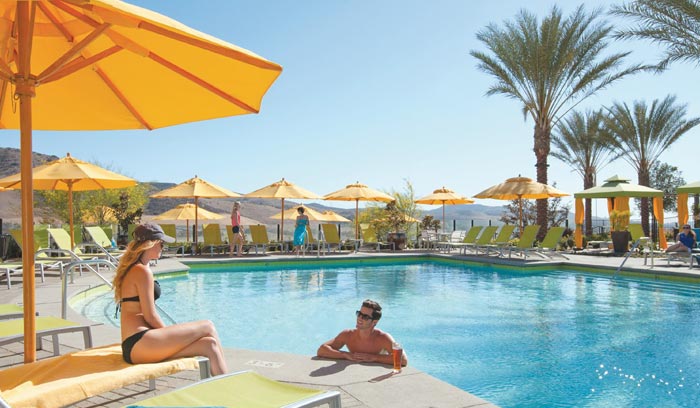 "The range of homes, diversity of social and recreational amenities, unique village-wide events and activities, as well as the spectacular open space setting of Sendero helps create a new model for multigenerational living, where active adults are provided with many opportunities and encouraged to intermingle with younger families and singles. This blending of the ages fosters the ability for residents to connect based on interests versus age, and creates a new model for inter-generational living," said Johnson. The intergenerational villages offer both age-qualified and allage facilities as well as community-wide programs and activities designed to unite Ranch residents through their shared passions, pursuits and interests.
The Capistrano Unified School District recently approved plans for the first K-8 school on Rancho Mission Viejo. Sendero field, a future 15-acre community park with sports fields and children's play area is to be built as well. Other future developments include up to 5 million square feet of non-residential space to be used for planned shopping, dining and employment centers. On-site services will range from dry cleaning to a grocery store, residents could go elsewhere, but chances are they won't want to.
More than 350 new homes are projected to be sold by the end of 2013 at Sendero. In just six months Rancho Mission Viejo has sold more than one-third of the homes planned for Sendero. The Ranch is dedicated to taking care of the land, and as such embraces green practices. They reduce impacts to local landfills by recycling homebuilder construction waste, use innovative water storage and water-wise landscaping practices, and use photovoltaics in key community facilities, apart from their long list of in-home conservation practices. For over 130 years Rancho Mission Viejo has taken care of the land and cultivated their culture of care. "The Reserve contributes to a better future through the establishment of places for people to live, work, and play. Yet, beyond that, we believe that the blessings of landownership come with the responsibility to be a good neighbor.
So, we support local charities through our annual Rancho Mission Viejo Rodeo and other charitable activities. We also make sure that schools, parks, libraries, and houses of worship are included in each of our communities, as well as pay our fair share and more toward new roads and all sorts of additional infrastructure improvements," said Paul Johnson. Rancho Mission Viejo, with its masterfully planned intergenerational villages, abundant natural landscape, and outstanding accommodations deservingly earns its place as Developer of the Year. Rancho Mission Viejo cares about its residents and is a place for them to not only live, but thrive.
Cristina Paz is an assistant editor for Builder and Developer. She may be reached at cpaz@penpubinc.com