Azure is the pinnacle of quality craftsmanship and thoughtful design
By Yvonne Nguyen
Since 1968, Shea Homes has been building quality homes and providing an unparalleled customer experience. Shea Signature, the most exclusive living experience offered by Shea Homes, is the pinnacle of quality craftsmanship and thoughtful design.
The care and attention to detail homebuyers can expect from Shea Signature can be seen in the debut community Azure. The luxury community is designed to evoke elegance through use of  high quality materials and sophisticated style by featuring ingenious innovations that make space more usable, adaptable and livable. The community launched in June of 2017, with model homes opening in the fall of 2018. The buildout is estimated to be complete by 2024. Azure is located in Paradise Valley, Arizona, with a stunning backdrop of the Camelback and Mummy Mountains.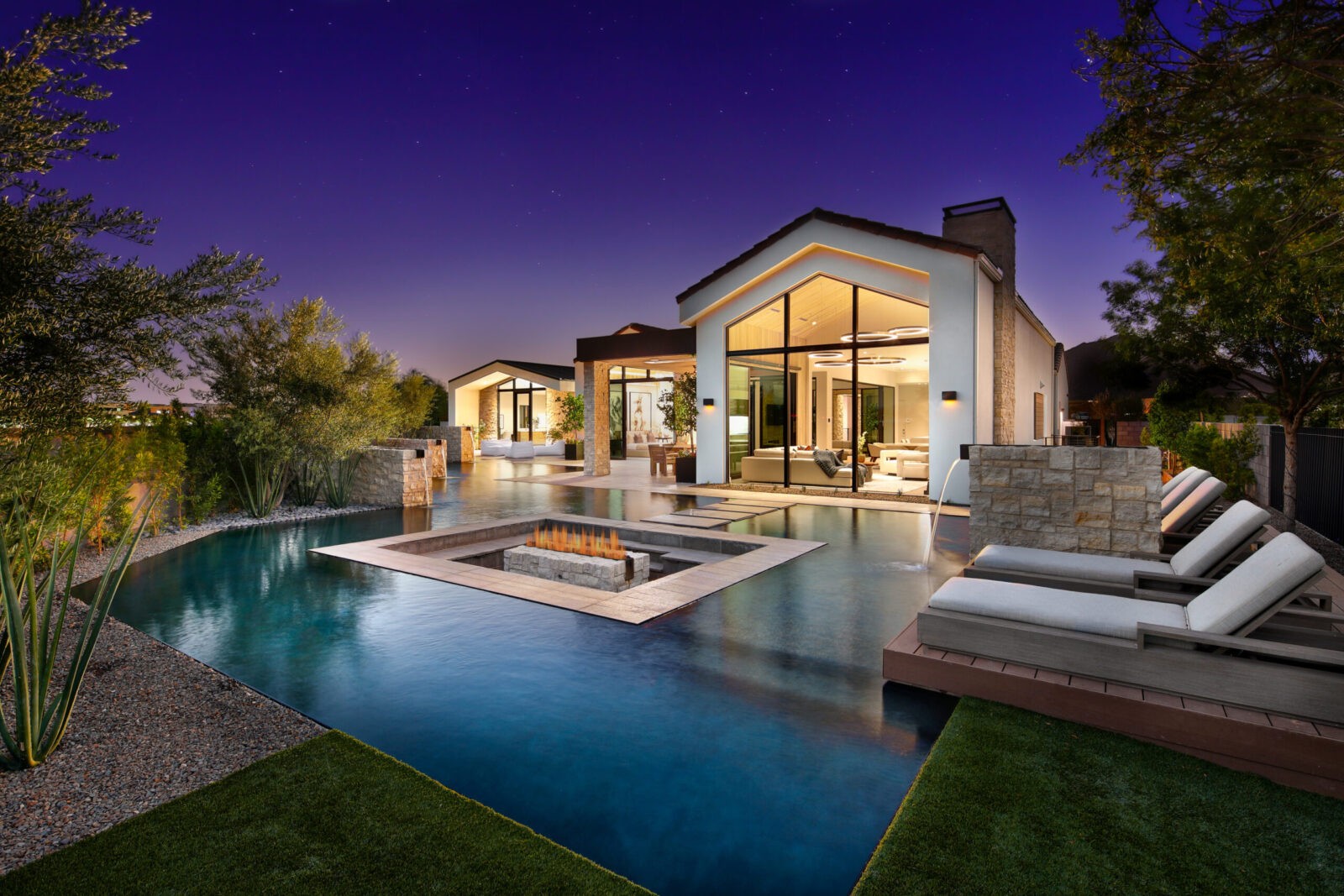 Nestled within a master planned community surrounded by luxury real estate, upscale resorts, golf courses and plenty of fine dining options, Azure is a private and gated community of 66 residences. Azure is within walking distance to high-end, specialty boutiques and the Palmeraie Shops. 
Each house offers a unique blend of modern and traditional elements. The homes are a culmination of inspired architecture, with thoughtful landscaping and a private entrance featuring an elaborate water installation. Homes were designed to the appropriate scale that suited those looking for more elegantly simple lifestyles. The team at Shea Signature approached this home as a unique opportunity to provide affluent and experienced homebuyers with a luxurious house in a setting unlike any other.
Homeowners can effortlessly entertain friends with multifunctional rooms that can flex up to accommodate guests and extended families for the holidays. Each house features main levels dedicated to entertainment spaces and a large master retreat, alongside a lower level and loft program for junior suites and secondary bedrooms.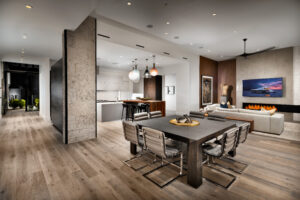 The houses were designed with the goal of creating a seamless transition between indoor and outdoor living spaces to maximize views of the surrounding desert vistas and incorporate natural light throughout the home. In order to achieve such an open living space and provide privacy from neighboring yards, lofts are located toward the front of the home. 
In some residences, a three-level, open riser, steel staircase is surrounded by windows to flood the home with light. In the lower level plans, expanded window wells allow for the inclusion of full height doors, giving homeowners the ability to walk outside directly from the basement. The designs of these residences achieve the goal of creating homes that deliver a luxurious and sophisticated feel. 
With seven home designs – each with three distinctive exterior styles and the ability to select several home structural options – coupled with the opportunity to personalize interior finishes, buyers get the experience of custom homes, all while providing the community with an appearance of custom estates. 
Buyers may also add detached guest casitas, detached offices, detached 2-car garages or additional upper-level guest rooms or offices with covered patios to complement their lifestyle.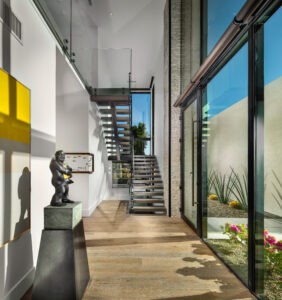 From amenities that are sophisticated, yet uncomplicated to the spectacular natural surroundings, these resort-like communities redefine luxury living. The collective offering ranges in size from 2,974 square feet to 5,900 square feet.
Each property is equipped with energy efficient features: VRF heating & cooling system, LED lighting, insulated windows, low-flow plumbing fixtures, 2×6 and 2×8 wall construction and cathedralized roof insulation.
Houses will range from $3.5 million to $6 million. This pricing is commensurate with Paradise Valley and the surrounding neighborhoods. Land and material costs, in conjunction with competition and buyer upgrades, are the biggest price drivers.
To bring their vision to life, the Shea Signature team collaborated with award winning PHX Architecture, Greey|Pickett, and Creative Environments to create an upscale neighborhood enriched with a collection of homes offering a unique balance of modern and transitional architecture reflecting the natural desert beauty and refined atmosphere of Paradise Valley. 
Since Azure is Shea Signature's debut community, the company had to find new trades to provide customers with luxury options, upgrades, and the skills necessary to install these products. 
Since its debut, Azure has won a plethora of awards. Notable recognitions include: 2019 PCBC Golden Nugget Award for Best Single Family Detached Home – over 4500 square feet, 2021 HBACA MAME Awards for Home of the Year – Production Home and 2022 The Nationals Awards for Best Single Family Detached Model Home over 4,000 square feet.
Yvonne Nguyen is the Assistant Editor of Builder and Developer. She can be reached at yvonne@builder.media.