Respiratory Health in the Workplace
Why respiratory health matters now more than ever.
By Natasha Duwin and Tobias Franoszek
According to the Occupational Safety and Health Administration (OSHA), the most common dangers associated with the construction industry are physical hazards including falls, electrocution and use of heavy equipment and machinery. But there are other serious dangers that are routinely ignored.
The impact of prolonged exposure to air contaminants dislodged when digging, sanding, painting, sawing and blasting. Further complicating respiratory health is a surge of air-transmittable viruses, such as SARS-CoV2, as well as raging wildfires and extraordinary weather events, creating a dangerous elixir of contaminated air.
The air we breathe isn't often of concern. A quick drive by any construction site often reveals a majority of crew members–sans mask. Foremen and site supervisors have shared difficulty in convincing crew members to wear proper respiratory protection, creating a landscape rife for a respiratory crisis — a perfect storm between man, might and the microscopic.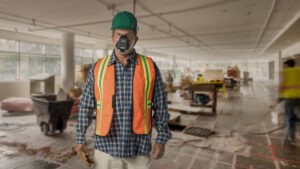 Danger in the invisible
Although aware of the physical risks associated with a career in construction, workers tend to be less knowledgeable or concerned about exposure to air contaminants. Often color and odorless, they can be hard to detect. Prolonged inhalation of chemicals, silica, wood dust, chalk or even mold can potentially result in long-term illnesses such as chronic obstructive pulmonary disease, mesothelioma, silicosis and others.
The quality of the air we breathe—both indoors and out—is in jeopardy, possibly requiring a degree of filtration to negate the effects of pollutants and contamination.
According to Professor Michael Greenstone of the University of Chicago who, in conjunction with colleagues, developed the Air Quality Life Index (AQLI) which converts air pollution levels into impact on life expectancy, "Air pollution is the greatest external threat to human health on the planet."
As drought-ridden areas across California, Nevada, Washington, Oregon, Utah and Canada continue to burn, the negative impact on air quality ripples across North America– prompting statewide environmental protection agencies to raise alerts for residents to remain indoors and avoid going outside until polluted air resolves.
A majority of outdoors professionals, construction crews and trade professionals have long taken comfort in the theory that working outdoors provides protection from respiratory concerns. Unfortunately, in areas where air quality is low, outdoor crew members are equally at risk (from wildfire smoke) as those working in tight indoor quarters with materials that off-gas, contain harmful (VOCs) or emit toxic chemicals. Add to this a resurgence of COVID-19, and the blanket of assumed protection gained from work outdoors is instantly dashed. The construction industry has reached a pivotal crossroads—one where considerations must be given respiratory safety and its complexities.
Practical tools of the trade
One proven solution for healthier, more breathable air—both indoors and out— is masking. Yet, convincing hardened contractors and tradespeople to don a respirator mask for respiratory protection has its own set of challenges. The predominant reason given not to wear a mask has to do with comfort. N-95s or P100s are the standard for filtering contaminants (airborne particulate matter, welding fumes) yet are useless if not properly sealed to the face. Extended wear of these designs can also lead to discomfort, ultimately resulting in removal.
Alongside grumblings about discomfort and poor breathability, laborers and tradespeople have become disenfranchised about mask wear caused by pandemic-related mask fatigue. Vaccine hesitancy has further fueled the debate. However, innovation in respirator mask design has ushered in better performing and more comfortable options.
The Octo Respirator Mask (ORM), was designed for people who work long shifts. The ORM filters more than 95% of all airborne particulates and pathogens and has vents that allow for superior breathability and communication, eliminating the need to remove and re-set the mask during conversation. As the concept of mask wear can be polarizing, providing a few viable (N95 or above protection) mask options for crew members to experiment with often propels mask adoption.
The intersection between a resurgence of COVID-19, burning wildfires (and resulting toxic smoke), the aftermath of extraordinary weather events causing dangerous mold and prolonged exposure to workplace toxins and fumes, highlights the need for improved education and support for respiratory wellness in the construction industry. Mandates and protocols for safety are an important step, however long-term respiratory health begins with simple precautions—proper respirator mask wear and indoor air filtration—to protect the health of team members working inside and out.
Natasha Duwin and Tobias Franoszek are the founders of OCTO Safety Devices.