RiverHouse: Designed to Inspire
CRAFT Development's RiverHouse created for community
By Camille Manaloto
After four years of planning and construction, one of Healdsburg's newest communities was completed and began selling at the end of 2021. RiverHouse was CRAFT Development's first infill project. Jim Heid founded CRAFT in 2017 as an advisory and consulting service for intentional building. After 35 years of consulting and hobby renovations, Heid took his skills to the next level with RiverHouse.
Inspired by cottage-style homes and Ross Chaplin's book, Pocket Neighborhoods, RiverHouse is an eight-unit pocket neighborhood in Heids' hometown of Healdsburg, California, a small wine country town about an hour north of San Francisco. 
Though the town is small, about 12,000 people, Healdsburg has gained significant acclaim in the past decade. With three Michelin star restaurants and a famous town plaza, real estate is in high demand, but the town also has a very distinct urban growth boundary and a Growth Management Ordinance that limits new homes to just 30 per year.
With construction and sales happening during the height of Covid, sales were accelerated. The majority of buyers were from urban places looking for a small town getaway. 
CRAFT Development partnered with JZMK Partners and Beach Street Builders on the RiverHouse Project. 
JZMK Partners was originally established in 1960 as Kermit Dorius Architects, later to become JBZ Architecture & Planning in 1994, then JZMK Partners in 2001. JZMK Partners has designed projects in 12 States, two U.S. Territories and 15 Countries worldwide. The firm specializes in Urban Planning, Residential, Resort and Mixed Use developments at all scales.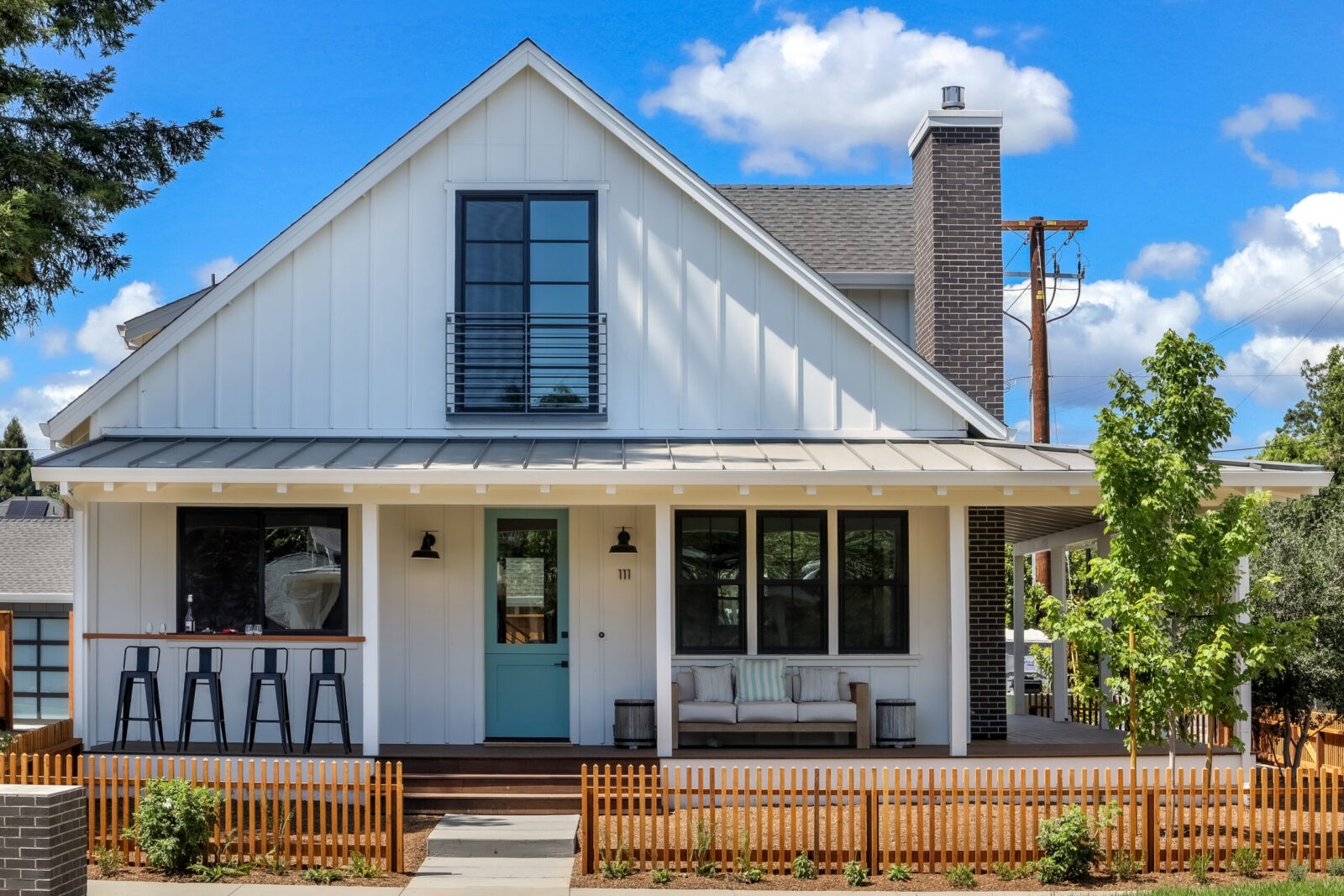 While the finished project was beautifully crafted, RiverHouse came with its own set of challenges. 
"Finding a builder was extremely difficult," Heid said. "What I came to learn was that building a project of essentially eight homes, four ADU's and four detached garage structures was too big for a custom home builder and too small for a production builder." 
Beach Street Builders have two decades in production building, making them efficient and construction oriented. They also have been in the custom home market for ten years, giving them an eye toward what buyers want and how to do more than just production finishes.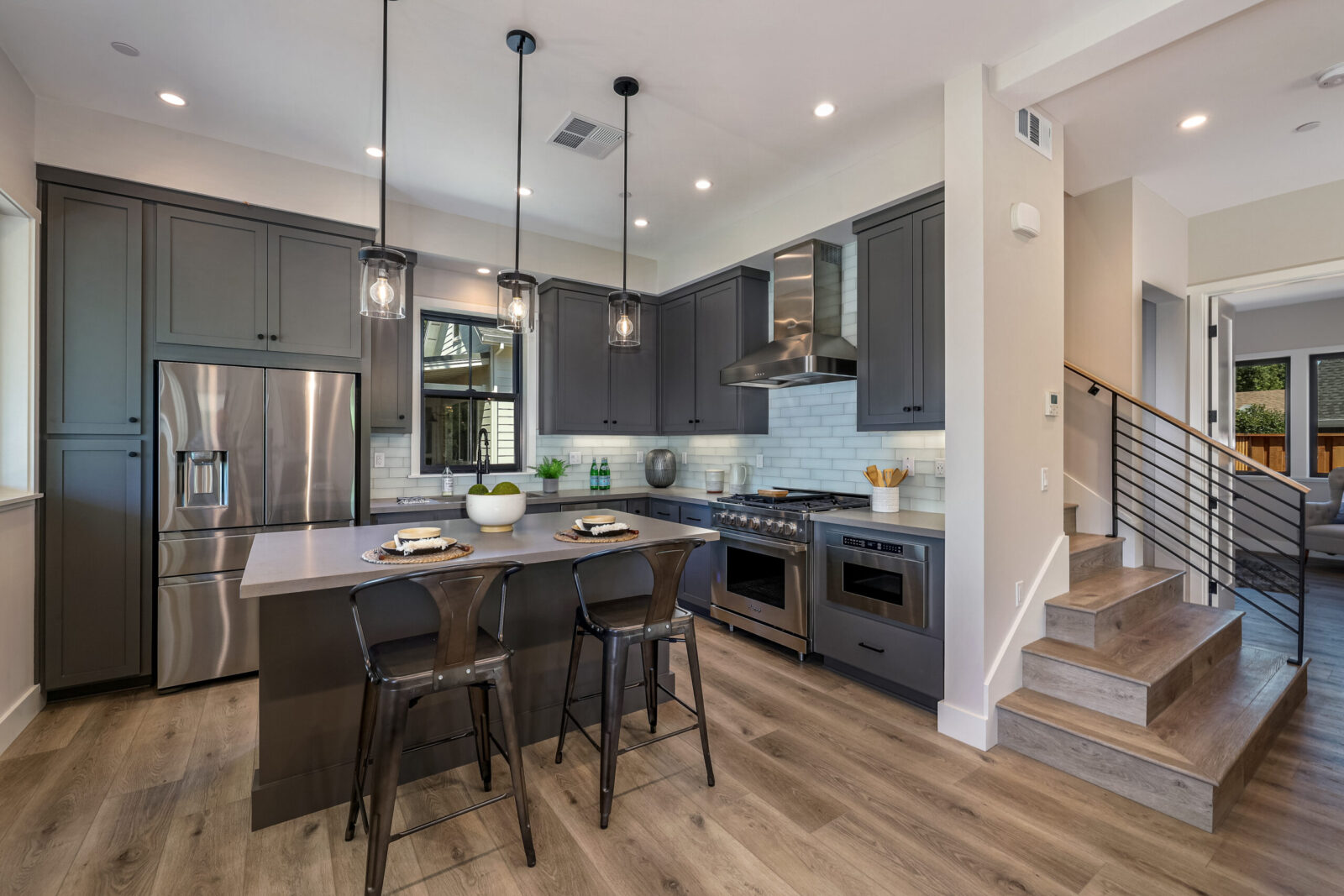 RiverHouse offers two floor plans and ADU units on specific lots. Both plans (the Cottage and the House) include two bedrooms and two bathrooms, ranging from 1,250 to 1,750 square feet and priced from $1.3 to $1.6 million. The ADU units are 500 square feet one bedroom one bathroom and added $350,000 to sale prices of either floor plan. 
Target buyers were projected to come from both ends of the 'dumbbell' – boomers and millennials. On one end were empty nesters, downsizing seniors and buyers selling their country place and moving into town. On the other, young couples who have no kids and wanted a weekend place in wine country.
The ADU's ended up being a highly desirable option as they increased the overall square footage of a buyer's home, while making their purchase a three bedroom/three bath. But because they were detached and free standing, they created considerable optionality in how people use them – guest house, rental unit, extra space for kids or parents or even caretakers.
Having spent a lot of time working in the south, Heid was inspired to include large porches, starting at nine feet, that wrap around in some cases and add a level of depth, scale and personality. Heid included the screens to add a level of privacy and separation that an open porch can't – while still allowing you to enjoy the indoor/outdoor lifestyle.
The interiors are all about light, volume, views and vignettes from inside. As site plans were curated, the homes were sited and oriented to create unique views of the Heritage trees and the river that were conserved during the building process, or interesting little vignettes of the greenery. Room ceilings are nine feet in the cottages and 10 feet in the Houses. The living areas are high volume with ridges at about 17 feet. This volume was accentuated with eight foot doors to all interior rooms, and eight foot doors on all exteriors and an eight foot header on all windows, making everything feel more spacious.
The close knit community received a 2022 PCBC Gold Nugget Merit Award, with the Grand Prize winner to be announced late June, in the categories of Best Infill Site Plan Solution and Best Single Family Detached Home – under 1,800 square feet.
RiverHouse received Tier 1 certification by the California Green Building Standards Code. High efficiency insulation, sealed attic systems, heat pump cooling and heating, low water use fixtures, low-e windows, LED lighting, motion sensors and purple pipe irrigation networks are all included in RiverHouse homes.
"My projects are based on the idea of merging physical design to create projects that inspire people to ask for better, while organically creating a stronger sense of community." -Jim Heid, Founder, CRAFT Development
"One of the energy features I'm particularly proud of is our included PV array. Because of the location and orientation of the garages, they were perfectly aligned for solar array," Heid said. "We worked with an engineer to optimize the roof pitch to maximize panel efficiency, and each home has either 2.1 or 2.9 KVA of Solar included in the garage that feeds back into the meter."
RiverHouse – with its central green design to encourage 'chance encounters' has almost immediately connected eight different families in very short order, as they moved to Healdsburg and discovered what is great about this place.
"My projects are based on the idea of merging physical design to create projects that inspire people to ask for better, while organically creating a stronger sense of community," Heid said. 
Camille Manaloto is the Editor of Green Home Builder Magazine. She can be reached at camille@builder.media.