Santa Rita Ranch Embraces Green Lifestyle
Santa Rita Ranch near Austin, Texas is the only true master-planned community in the Williamson County area and embraces the traditional ranch and eco-friendly lifestyle.
Development for the community began in 2013 and is ongoing. Roughly 80 units are currently sold/occupied in the South region while the community begins to expand, adding a North section with even more notable home builders.
SRR South offers homes from the $190s – $300s by CastleRock, Highland Homes, and Wilshire Homes. Currently under construction, SRR North will feature homes priced from the $200s – $700s by David Weekley Homes, Scott Felder Homes, Grand Haven Homes, Highland Homes, Ryland Homes, and Wilshire Homes. Developed by Elizabeth and Ed Horne and Mariner Real Estate, the 3,100-acre Santa Rita Ranch features nine unique villages located in Williamson County, north of Austin and near Liberty Hill.
"With demand for homes in Williamson County at an all-time high and supply at an all-time low, Santa Rita Ranch is the place to buy today," Horne said. "It pays to be a pioneer home buyer in Williamson County with the market value for homes increasing annually."
Joel Kotkin, professor of urban development at Chapman University in Orange, Calif. looked at the average incomes of 51 of the largest metro areas in the U.S., adjusted them for cost of living, then created a ranking. Three of the top ten were Texas cities: Austin came in eighth, Dallas-Fort Worth fifth and Houston finished first.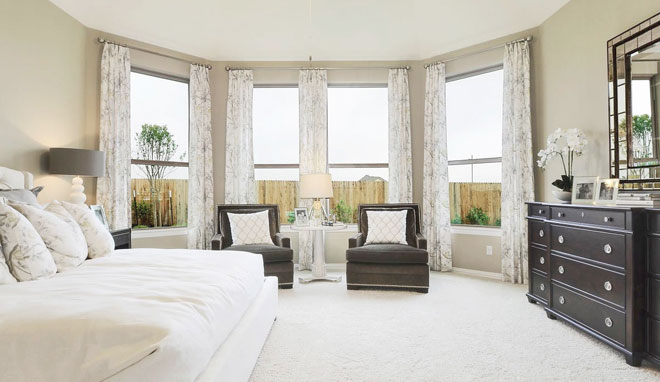 According to CNN, more Americans moved to Texas in the last few years than to any other state. The area gained more than 387,000 people, according to the 2013 census, making it the fastest growing state in the U.S., with Austin being the fastest growing city in the country.
The affordability of the homes in Texas is a large attraction for those who are considering relocating. Large open spaces for families to spend time in nature is another factor: To say Santa Rita Ranch is "going green" would be an understatement.
Not only are the homes built with "green" building standards incorporated into the homes, but the community encourages its residents to preserve the environment around the community, as well.
Santa Rita Ranch is a place where discovery, learning, and technology are at the forefront of everyday life. The community publishes a blog to encourage residents to be active, healthy, kind, mindful of the environment, and to be social with neighbors.
To offer residents natural gas in their homes, the team recently had to build out a five mile piping system. Santa Rita Ranch is proud to be the only master-planned community to offer its residents natural gas in the Georgetown and Liberty Hill area.
"Existing homeowners are now converted from propane, and natural gas is being designed into all homes under construction and those in the planning phases by the various builders," Horne said. "The existing homes that switched to propane will save significant money in the long run by lowering utility bills and will quickly pay back the up-front conversion cost."
All of the home builders make energy awareness a fundamental element of every home at Santa Rita Ranch. These eco-friendly homes are more comfortable and made to last, and are more energy- and water-efficient. Santa Rita Ranch's home builders are committed to lessening their footprint on the environment, beginning with laying the foundation to the installation of ENERGY STAR appliances of residents' eco-friendly home.
Santa Rita Ranch features responsible landscaping, with low-maintenance, hardy native plant choices, and well-water irrigation for all green spaces.
The homes offer pure untreated and chemical-free well water to protect wildlife and the surrounding land from treated run off, as well as many water conservation initiatives. Well water is how Santa Rita Ranch keeps homes green and preserves nature surrounding the homes.
The area caters to families with an array of community amenities. The team just announced its addition of their Ranch House Welcome Center with a Jr. Olympic size swimming pool, Splash Park, and two 18-feet dual water slides.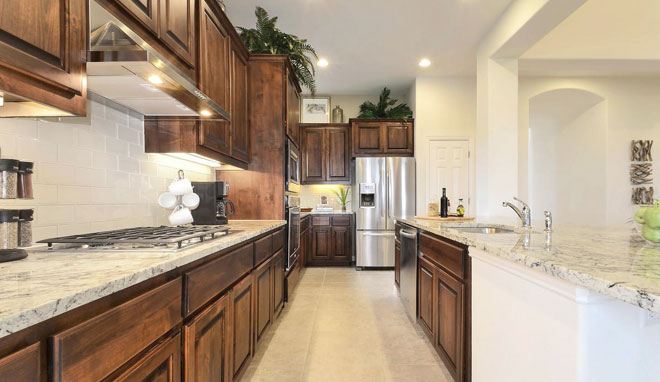 SRR also encourages togetherness among family and friends in the community with their embrace of the traditional ranch lifestyle, where walking is the chosen method of transportation and residents can enjoy life at their own pace.
SRR is planning for 6,000 homes and a 38- acre town center that will include restaurants, shopping and daily services. Each village will boast amenities with access to the aforementioned pools, parks, hike and bike trails, on-site schools, a family sports complex and sports fields. 135 acres will be dedicated solely to green space which includes trails linking to future on-site elementary and middle school campuses.
The community also aims to give back. Santa Rita Ranch and Operation Finally Home, an organization that honors wounded, ill and injured veterans and widows of fallen soldiers with new custom-built, mortgage-free homes, awarded Iraq veteran U.S. Marine Corps Sgt. Ray Coffey and his family a new home within Santa Rita Ranch last month.
Santa Rita Ranch hosted the Operation Finally Home dedication for the Coffey family at the end of January to celebrate his family's start to their new lives in their new home.
Henley Homes, Inc. spearheaded the building efforts for Coffey's home. "When we make a commitment to build a home, more importantly we're making a commitment to changing the life of a wounded veteran and his family," said Gary Henley, president of Henley Homes, Inc. "That is why we dedicate all of our time and resources to make sure it is the best home we can provide."
This is the first of many mortgage free homes to be built in Santa Rita Ranch with their new partnership with Operation Finally Home. The community is located north of Austin and near Liberty Hill, two miles off 183 North, just north of the Hwy 29 and Parmer Lane (Ronald Reagan) intersection. Austin is only minutes away via the new Highway 183 Toll Road.
Living in this area in a home at Santa Rita Ranch is all a part of the visionary plan of Elizabeth and Ed Horne and Mariner Real Estate.
They put the residents at the focus of every decision made. "We put a lot of thought into our community, so your family will get more out of it," Horne said. "Our visionary developers created a thoughtful and beautiful community you can call home."
Tamara Philips is the Managing Editor for Builder & Developer magazine. She may be reached at tamara@penpubinc.com.