Sarasota Splendor: The New Custom Green?
Gone are the days when the term "green house" meant either a thatched-roof hut, a bland starter home or a place so small that energy costs would stay down simply because the place just wasn't all that big.
On Florida's Bird Key, along the peninsula's west coast, Perrone Construction has completed the largest LEED certified home in Sarasota – what locals refer to as the Palm House. This spectacular residence is a mostly limestone waterfront home surrounded by palm trees, and is 8,189 square feet of air-conditioned space.
And it's not just big, and beautiful. The Florida Green Building Coalition (FGBC) has identified the home as a spotlight project for builders and homeowners who want to learn more about the benefits of green construction.
That's because this spectacular tropical home is also more than just green. This award-winning home, with a spacious master bedrooms and two guest bedrooms, is a testament that builders don't have to minimize luxury in order to maximize energy efficiency.
This classic Florida LEED Silver certified home sits along the shores of a bay that feeds to Sarasota Bay, and is built on 57 pilings, with gorgeous views and intricate detail. Yet this elaborate energy-efficient project, under the guidance of Richard Perrone, the president of Perrone Construction, took only 15 months to build. Perrone said he had 50-60 tradesmen working 6 days a week, and their efforts have produced an award-winning masterpiece.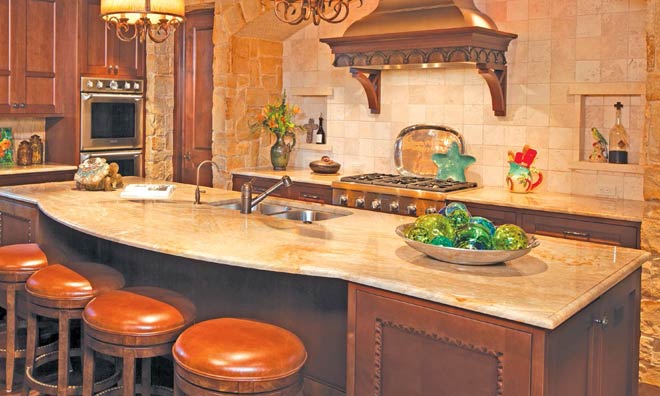 The design, an Italianete villa, won the coveted Aurora award, presented by the Southeast Building Conference, for Outstanding Custom Home costing $3 million or more. Designed by Oz Planning and Design, it is true in its architectural style to an Italian villa.
"The most important thing to our company, other than the quality of homes we build, is the authenticity and character of it," said Richard Perrone, president of Perrone Construction. The home's exterior is 75% adorned with Syrian Elba Limestone which was hand-carved on site. The soffits and corbels are made from western red cedar, enhanced with a deep rich stain.
The limestone theme continues inside, as the expansive kitchen, impressive family room with chandelier and exposed beams and classic stairwell are all clad in Texas limestone and true Venetian Plaster. The interior is also embellished with custom woodworking, all FSC certified.
This spacious two-story home, with front and rear-facing balconies, offers impressive views in an exclusive community. The home also includes several nods to luxury, including a large woodadorned theatre room, a huge wine cellar, His and Hers offices, a craft room and a library with built-in bookcases and arched entry.
Perrone Construction also does new home design and construction, as well as condominium remodels and home renovations. But they have specialized in this type of luxury waterfront construction for more than 30 years.
Their normal projects range in size from 4,000 square feet to more than 22,000 square feet of air-conditioned luxurious space. And that experience has paid off with The Palm House, and its numerous design, safety and energy efficiency recognitions.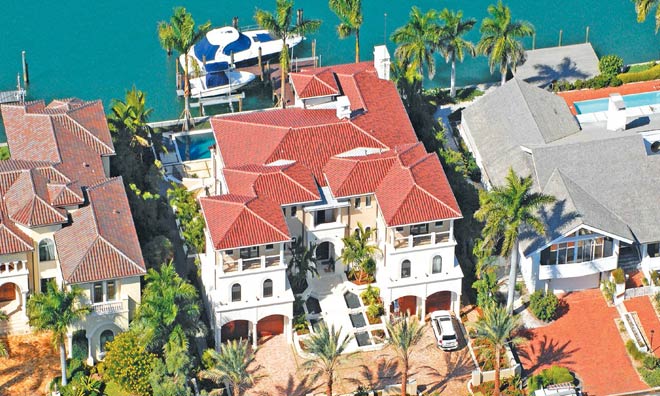 "We examined traditional examples of this style for inspiration," Perrone added. "You'd look at the home and most people would never imagine that it is such a highly-rated 'Green' home."
In addition to the LEED certification, the Aurora Design award and the spotlight from the Florida Green Building Coalition, the FGBC also awarded the Palm House a Platinum rating.
Sitting on the often storm-threatened west coast of Florida along the warm waters of the Gulf of Mexico, the home, which was built to Miami-Dade storm code requirements – by choice, not by requirement – received an Emerald rating under the National Green Building Standard. The home also received a Gold rating for water conservation, and a Department of Energy Energy Star certification.
How did Perrone Construction complete a home this beautiful, this big and this green? "Many of the practices we've had in place already over the past 33 years were what you would consider the components of green construction now, though it wasn't called that back then," Perrone said. "They were just good solid practices."
"We tweaked those practices slightly to fit tighter within the guidelines of the different governing bodies," Perrone added, "to create a LEED certified home that Sarasota hadn't really seen anything like before."
And that's really saying something. "Sarasota luxury homes are fairly abundant," he added, "but this one really stands out and makes a statement." "For those who want a LEED certifies luxury home without compromise, you in fact CAN have your cake, and eat it too."
Mike Brennan is writer/editor at Builder and Developer magazine. He may be reached at mike@penpubinc.com