Sea House Community "Breaks the Mold"
Strengthening its reputation as a customer-centric producer of shelter, Irvine, Calif.-based MBK Homes has pushed the development envelope once again. This time, delivering an entirely new type of housing option to the Orange County market with Sea House, a unique for-sale infill community in Costa Mesa, Calif.
Appealing to millennial buyers, the contemporary collection of 33 three-story detached residences feature rooftop decks (all with ocean views), three open floor plans, two-car attached garages, and first floor live/work zoned space. It's this innovation in design and attention to detail that make MBK Homes' Sea House Builder and Developer's Community of the Year for 2014.
Situated on a 1.6-acre infill lot on the corner of West 18th Street and Coastal Way, construction at Sea House began in July 2013 and was completed just 16 months later in November 2014. At 20 dwelling units per acre, the highdensity community delivers the benefits of single-family living in an urban locale and within a burgeoning neighborhood of Westside Costa Mesa. Sea House is one of several new housing communities that will be popping up in the area in the coming year.
"When Sea House was in the design stage, there wasn't anything else in Orange County where this type of high density product was available," Vice President of Sales and Marketing of MBK Homes Rick Fletcher said. "Sea House helped address the high demand of buyers looking for an urban-type of product in this up and coming area."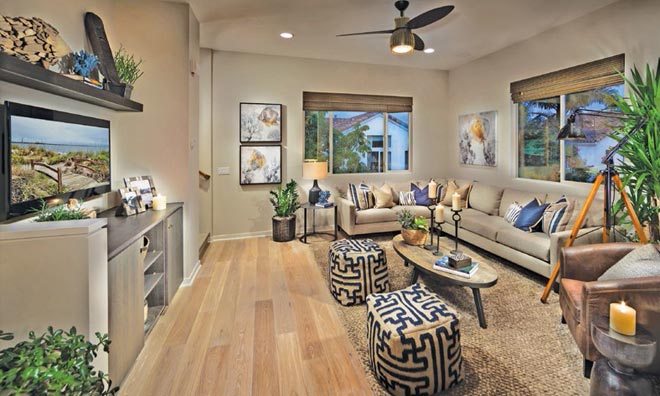 Demand was so strong, all 33 residences sold out after only 11 months on the market. The first homes released started at $570,000. The final model phase of homes were sold at prices approaching $900,000.
"The success of Sea House solidifies MBK Homes' confidence in the housing market and our commitment to providing a unique standard of quality homes and customer service to our buyers," Fletcher said.
Designed by Fallbrook, Calif.-based Summa Architecture, the homes have an urban industrial look that fits within the fabric of the surrounding community. The outdoor common areas have an inviting design that creates a space for homeowners to relax together in the community areas.
MBK Homes teamed up with San Diego, Calif.-based landscape architect group, Howard Associates, to create a series of eclectic gathering spaces, overhead trellis structures, and ornamental grasses and succulents to soften the landscape and provide a warm and inviting environment.
"It breaks the mold in terms of what people typically picture newly constructed homes in Orange County looking like, which is appealing to a wide variety of buyers searching for the convenience and energy of an urban environment, yet still wanting the laid-back carefree lifestyle that is synonymous with Coastal Orange County," Fletcher said.
Residences range in size from 1,587 to 1,785 square feet and include two full baths and two half baths, up to three bedrooms, rooftop decks, and two-car attached garages. Less than a mile from the Newport Beach coastline, the homes come with ocean views. The first floor was zoned for living and/or a working environment, giving the homebuyers the option of running their businesses from home.
The interior spaces boast high quality standard features including stainless steel Energy Star appliances; granite countertops; advanced wiring with RG6 and CAT5 cables for high-speed connections; multi-media flat panel TV connects in the family rooms; a USB charging station in the kitchen; and electric vehicle conduits in the garages. Optional features include a flat screen television conduit for balconies, and Nexia home automation on front door lock and thermostat.
Beyond the homes' visible features and techoriented details, environmental engineering and wellness is also an integral part of the homes; something MBK calls the "MBK Quality Difference." This includes materials like high-end Stego Wrap Moisture barrier under floors to help avoid moisture damage; concrete tile roofs with a 25-35 year life expectancy; Therma-Tru entry doors with weather stripping; raised panel interior doors; and rain gutters.
"At MBK, we pride ourselves on a high standard of quality," Fletcher said. "Whether they are readily seen or not, we are committed to using the best materials available in order to provide buyers the greatest value."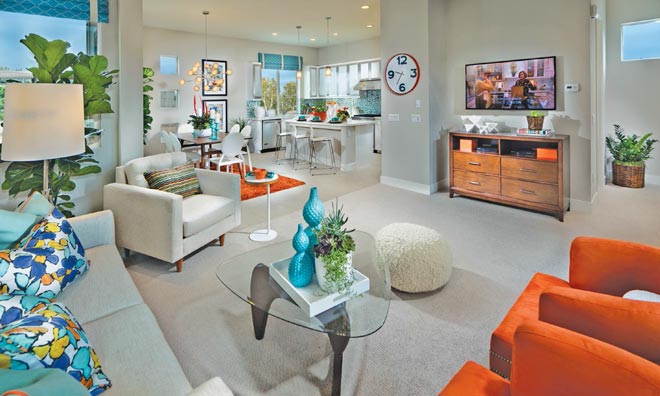 Through its LifeWise Program, MBK Homes also invests in a variety of earth, health, water and energy-friendly features including: dualglazed vinyl windows with efficient, low-E, energy-saving glass; energy efficient tankless water heaters; water-conserving toilets and faucets; fluorescent lighting; fully insulated exterior walls and ceilings; sealed duct systems during construction; range exhaust fans vented to the outside of home; and low VOC interior paint that reduces ozone-depleting chemicals with little odor.
MBK Homes uses engineered wood products to reduce the harvest of large trees including flooring from sustainable and recycled materials like bamboo, cork and carpet made from recycled soda bottles.
Sea House is a few miles away from some of Orange County's best shops and entertainment venues including: South Coast Plaza, The LAB Anti-Mall and The CAMP, Costa Mesa Fairgrounds, Verizon Wireless Amphitheater, Angel Stadium, Honda Center, and Segerstrom Center for the Arts. The community is also less than one mile walking distance from major employer headquarters including Hurley, World Industries, Volcom, and RVCA. About 15 minutes from John Wayne Airport and Irvine's business hub, Sea House, is one of the most ideal locations to live in Orange County.
MBK Homes is an active developer of for-sale single and multifamily housing communities, rental housing, apartment property acquisition, and distressed asset renovation. Through its various housing solutions, their mission is to provide top quality shelter to residents in California. Throughout its nearly 20 years, MBK Homes has earned a reputation for delivering award winning customer satisfaction in housing that is innovative in design, comfort, sustainability and craftsmanship at an excellent value.
MBK Homes offered three other for-sale communities in Southern California in 2014 including: Aragon in Signal Hill; Vineland Metro in North Hollywood; and Jacaranda in Stanton. MBK also launched a new division, MBK Rental Living, with two new apartment developments currently underway: Ocean Air in Torrey Hills and Palisades at Sierra Del Oro in Corona. The developer also plans to open an additional seven communities (both for sale and for lease) within the next year.
Lacy Allen is the editor for Builder and Developer magazine. She may be contacted at lacy@penpubinc.com