Selling Homes and Apartments Takes Having the Right Outdoor Amenities
Outdoor amenities such as communal areas, fire pits, and more are becoming the key to getting buyers to sign on the dotted line
by Mary Cook
Buyers and renters vote for their preferences when they sign a deed on the dotted line, and one of the features driving that decision right now is access to outdoor space. Fifty-six percent of homebuyers want patios, decks, and more, noted Zillow's Consumer Housing Trends Report 2017.
It makes sense given our country's current mindset. Gallup's monthly poll on Americans' satisfaction shows unhappiness is consistently high, and spending time with friends and family outside is an antidote. So it's understandable that people of all ages crave community and face-to-face interactions. Our homes have become the place where we interact with family and friends, and there's no better place to do it than the proverbial "great outdoors."
That's because the great outdoors come with great benefits. Research shows that being outside reduces cognitive fatigue, depression, and anxiety, lowers blood pressure and stress hormones, and can be peaceful, calming, and centering.
Not surprisingly, outdoor amenities have become the Holy Grail for homeowners
and renters alike. But banish the thought that we're talking about mere outdoor kitchens, swimming pools, or personal putting greens. From our work designing amenities, recreational spaces, and model home interiors, we've seen that there's a new breed of outdoor living, and it's based on strategically conceived, smartly designed amenities that foster health, wellness, and community.
Here are the major trends architects, builders, and developers should incorporate into their homes, condominiums, and multifamily projects to drive those signatures on the dotted lines:
Bringing the Outside In—and the Inside Out
We've moved beyond outside spaces that simply border some part of a residence. Today, layouts are designed to blur the lines between indoors and outdoors. Rooms are fitted with apertures that allow the act of living to flow seamlessly between these two spaces at a moment's notice.
Many new products are available to foster this flexibility whenever possible, which, in many climates, is 12 months a year. Window walls that slide, fold, or lift up like garage doors are no longer the exception to the rule but routine, making it possible to access yards, decks, outdoor entertaining spaces, and more.
Best of all, the options are endless—in fact, they are limited only by our creativity as designers. Many manufacturers offer a wide range of window styles and systems, but in projects where authenticity and an exacting aesthetic were key, we have adapted vintage windows from industrial buildings, manufacturing plants and even an airplane hanger to achieve a specific style.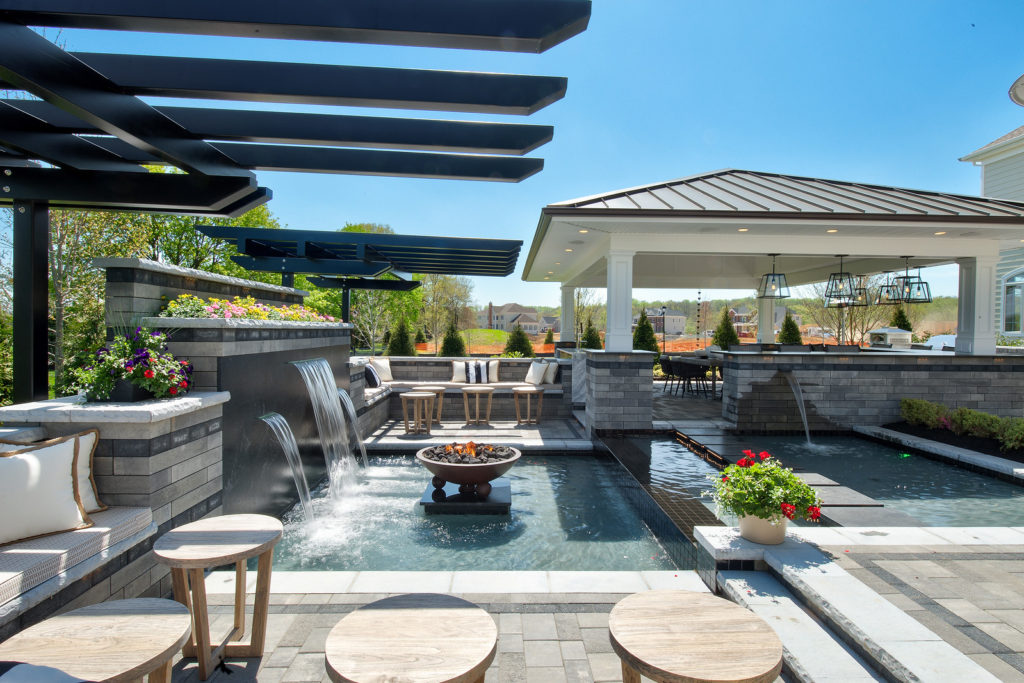 Making the most of Al Fresco Entertaining Areas
Just a few years ago, outdoor kitchens were packing state-of-the art appliances of every ilk, from different types of ovens, grills, and refrigerators, to multiple prep areas. No longer. Prepping for meals or even cooking outside is a nice idea. But thanks to heat, humidity, ultraviolet rays, and rain, not to mention crawling and flying creatures, these activities rarely happen al fresco.
Instead of outfitting outdoor kitchens with bells and whistles that don't get used, the trend today is to simplify and streamline these hardcore working spaces, but expand the eating and living areas. Grilling, eating, and entertaining are what really happen outside. The actual kitchen part of the equation is shrinking, while the living spaces where we relax, are expanding and getting more elaborate than ever.
From simple fire pits and media areas, to custom-built versions with stately fireplaces and full-blown outdoor theaters, a range of comfortable, functional, and sturdy seating and reliable tech is key. Seating should include a range of flexible options, such as chairs, couches, daybeds, and benches. TVs, projectors, sound systems, and screens must be protected and easy to use. Among our favorite new features are motorized invisible screens for instant and virtually invisible insect, sun, and element control.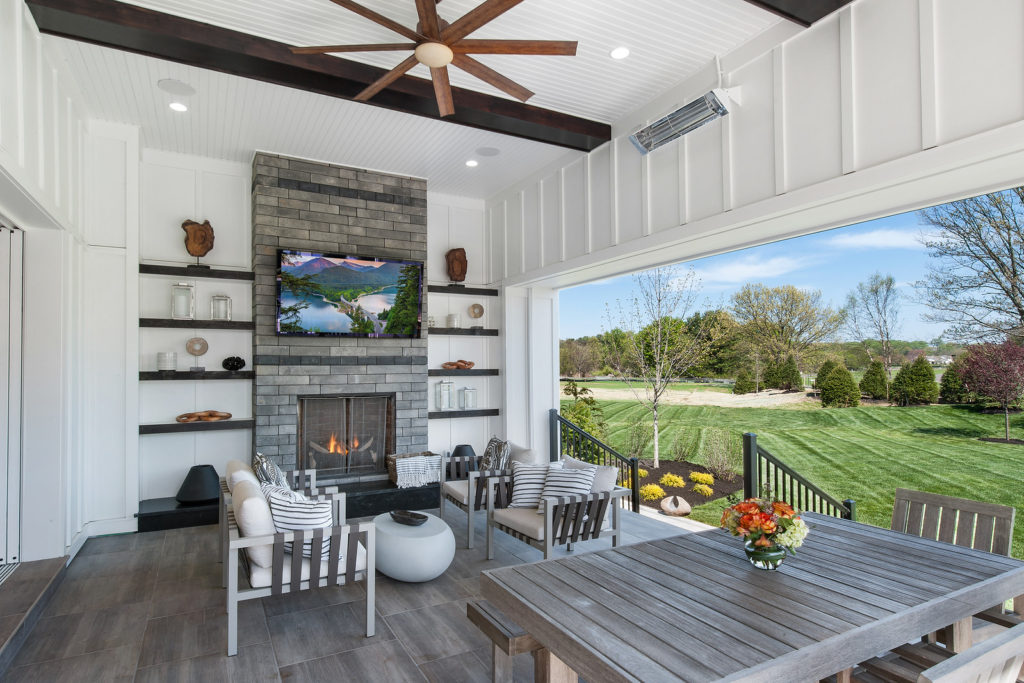 Maximizing Playtime and Gaming
For homeowners and apartment dwellers, pools and putting greens are perennial outdoor favorites. While golf has struggled to attract new players, games that foster togetherness are flourishing. Bocce ball, sand volleyball, cornhole, pickleball—all games that require engagement and are good options for groups—are replacing golf.
Window walls that connect family rooms and hospitality spaces to the outside foster outdoor fitness activities, from yoga and Pilates, to spin and strength training as people bring their equipment outside. But the other amenities that are clearly here to stay for the long haul are attractively designed bark parks, dog runs and dog wash/spa centers that spur events and activities that bring residents and their dogs together.
Mary Cook is the founder and principal of Mary Cook Associates (MCA), a full-service commercial interior design firm that focuses on the homebuilding and hospitality industries. She is nationally known for creating innovative environments targeted to market demands and designed to increase property value. She may be reached at www.marycook.com