Shea Homes' Arizona Solar Staple
By creating a partnership with solar provider Sunrun to offer residential solar technology standard, Shea Homes has introduced a new face of housing to Arizona's Southeast Valley.
By Evan Lancaster
In an effort to carry the accumulated success of 2012 into 2013, California-based homebuilder, Shea Homes has introduced two new community installments—The Hideaway and Ridgeview, within the 2,000 acre master-planned community of Johnson Ranch, in San Tan Valley, Ariz.
By taking advantage of the abundant Arizona sunlight, Shea Homes made a commitment of developing The Hideaway with more than luxury in mind. Thanks to a partnership with Sunrun—the nation's largest residential solar provider, the homebuilder was able to deliver both sustainability and style. Sunrun Co-CEO Lynn Jurich explained that Sunrun wanted residents to have access to solar options that prevented them from sacrificing other amenities and lifestyle needs.
Jurich said Sunrun continues to strive toward a goal of making residential solar technology a standard amenity that will reduce energy consumption and promote a healthier environment. She also added that homeowners can choose between three different sizes and solar systems can be custom-designed according to the square footage and orientation of the home.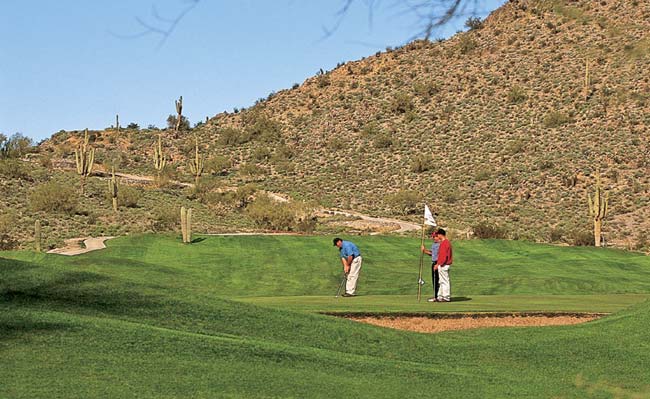 "Sunrun invented solar service so that homeowners don't have to choose between the planet and their wallets, and now it's becoming a standard option for new homes," said Jurich. "As solar adoption continues to grow, solar will be as common a consideration as countertop finish or flooring material."
According to Ken Peterson, vice president of sales and marketing for Shea Homes, this was an opportunity to offer homeowners the option of affordable solar technology and reduce energy costs, as well as showcase a commitment to the environment that coincided with Shea Home's drive to maintain a standard of delivering highperformance housing.
"Offering solar is in alignment with our overall goal to continually build homes that are highly energy efficient for our customers," said Peterson. "Having this partnership with Sunrun is an added benefit to provide solar solutions to our customers which will ultimately reduce the monthly investment of operating their homes."
Developed by Sunbelt Holdings, Johnson Ranch is one of Arizona's largest master-planned developments featuring single-family homes built for optimum energy efficiency and are supported by the newly upgraded ENERGY STAR 3.0 rating program, which includes third-party certification through the Environments for Living (EFL) designation. Peterson explained that the Environments for Living program guarantees homeowners cooling and heating costs will not exceed a pre-specified limit for two years.


"If the home goes over the guarantee, a refund of the difference is given," Peterson explained. "There will also be options to upgrade the homes with solar packages," he said.
Both communities—the Hideaway and Ridgeview, give homeowners a variety of lifestyle options, each of the six different floor plans offer three distinct architectural styles ranging from Spanish, Ranch Hacienda, Italian/Tuscan to a Craftsman/Bungalow design. All designs are integrated in order to ensure the Hideaway [and Ridgeway] catered to a well rounded demographic of homebuyers from first time homebuyers to the opposite end of the spectrum with empty nesters.
With floor plans ranging from 1,831 to 2,690 square feet, these single family homes offer three-to-five bedrooms and two-to-three bathrooms, with optional master bedroom retreats, open loft space with room for a wet bar, storage or a guest bedroom. Peterson added that although the Hideaway is in its infancy, it is expected to become an essential component of the already well-established development of Johnson Ranch.
"This neighborhood is an integral part of the Johnson Ranch master plan. Many of the existing homes in the community are anywhere from 3-10 years old and Hideaway now offers fresh new plans, architecture, design, and of course energy efficiency," he said.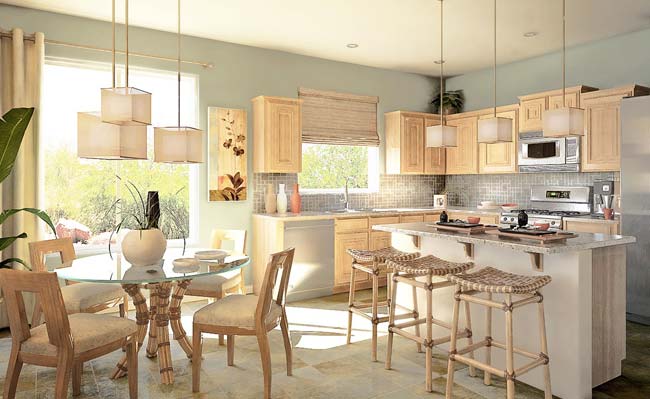 In Addition to energy efficient technology standard, Johnson Ranch is built within close proximity to recreation, shopping and education opportunities. Conveniently located near many of the master-plan amenities such as the Indigo Sky Recreation Center with pools, basketball, volleyball, and more.
Peterson explained that Shea Homes stands by a commitment to meet the needs of homeowners and deliver outstanding options for housing for any homebuyer. The Hideaway is a perfect example of the homebuilder's active goal to promote a lifestyle that is unique and sustainable, where homeowners can focus on more important aspects of life, such as family, friends, and relaxation.
"Hideaway at Johnson Ranch caters to those who want a carefree lifestyle, a spacious home where they can entertain, live out their hobbyist dreams, find a home that adapts to them, and a home where the outdoors is an extension of the indoors," he said. They want to invest in a product they know will last, save them time and money, and ultimately be helping the environment." Scheduled for completion in 2015, Peterson said he is looking forward to introducing a new and unique product to Arizona's Southeast Valley. With 135 home sites on 50 x 120 lots, customers will have many options to choose from with price points ranging from the high $140,000s to the mid $160,000s. As the community continues to grow, this new addition of homes to Johnson Ranch will reinvigorate the area for new developments and establish the credibility of a well-known California builder in an Arizona market.
"As other builders are closing out, we are excited to be opening up in Johnson Ranch," said Peterson. "Shea Homes is committed to creating neighborhoods that age gracefully and mature over time to create a community atmosphere and an enhanced quality of life for all its valued homeowners.
Evan Lancaster is features editor of Builder and Developer magazine. He may be contacted at elancaster@penpubinc.com.