Southwestern Luxury in this Scottsdale Community
By Marco Martinez
Founded in 1969, Scottsdale-based Camelot Homes is one of the oldest family-owned home builders in Arizona. With over four decades of experience building thousands of homes in Arizona's finest communities, Camelot Homes has established an unparalleled reputation for outstanding architecture and homebuilding excellence. "We build each home as though our family name is on the front door," says Cammie Hancock Beckert, Co-Managing Director, and granddaughter of founders J.W. and Maggi Hancock. Known for their precise attention to the needs of homebuyers, Camelot also knows there is no one with a more clear vision of what they want from a home than the person who will be building a life there.
Camelot's success can be attributed in part to the fact that they have established a strong brand identity. In the world of business, every successful brand has a distinctive characteristic that they become known for: a company attribute, a brand style or a particular service that sets them apart from both their peers and competitors. Dramatic architectural detail, a reputation as being forward thinkers in the Arizona homebuilding industry and excellent customer service all define Camelot Homes, day in and day out.
In June of this year, Camelot added to that brand identity with the opening of Bocara, a premier luxury new home community in North Scottsdale. Bocara is a gated community with just 50 home sites sized from 11-14,000+ square feet. The highly coveted infill location is ideally situated near major employment centers, premiere shopping, golf, recreational activities, and has great access to the Valley's freeway system.
The homes in Bocara include Early California, Ranch and Southwest Contemporary architecture, and range in size from 3,100-4,000 square feet. Each home embraces Arizona's casual lifestyle living with spacious great room designs and seamless indoor/outdoor living. Popular floorplan options have included casitas, additional bonus rooms and four car garages.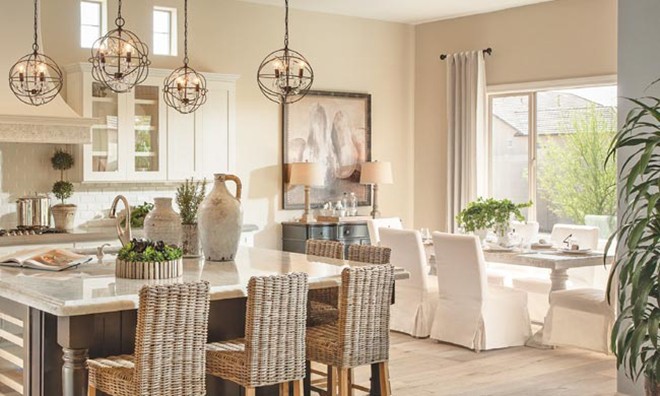 The homes are also Energy Star rated, and the community is landscaped in an environmentally sensitive way with lush desert landscaping using drought resistant, low water usage plants. A common area with a community vegetable garden is located in the heart of the neighborhood and is designed to draw residents together in a fun and mutually beneficial activity.
During the building of Bocara, there were three specific challenges associated with this project. First, Camelot had to gain support from three existing neighborhood associations to rezone the site from a density of 23 allowable units to 50. Second, they were building on an ESL (Environmentally Sensitive Land Ordinance) site – which required a minimum 25 percent open space, however Camelot left almost 40 percent of the site undeveloped as well as meeting stringent development standards. And lastly, FEMA required them to raise the entire site one foot, resulting in a 50,000 cubic yard import.
"We were able to gain neighborhood support by limiting the homes on the perimeter areas that were adjacent to existing homes to single level and we created an open space corridor so as to not severely impact the views from the neighboring communities," says Hancock. "We also worked on a traffic plan to mitigate the traffic flow away from the existing communities. We did this by placing the ingress/egress to our project on Scottsdale Rd., the main arterial street, rather than through neighborhood collector streets." When asked to comment on the importance of building this development, Hancock replied "this area of Scottsdale has not had a brand new single family community built in many years. There is a pent up demand for new construction in this highly desirable location." He also noted buyers will benefit because the homes are beautifully designed and the site plan is very open, affording terrific views and lots of open space (90 percent of the homes back up to open space).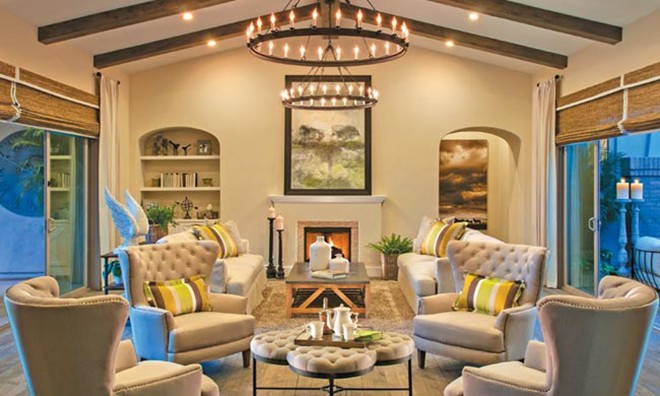 Camelot Homes also continues to receive recognition within the homebuilding industry. Most recently, Camelot Homes received the coveted 2014 Small Volume Builder of the Year Award presented at the Home Builders Association of Central Arizona's 29th Annual Major Achievements in Merchandising Excellence (MAME) Awards, and also garnered an Award of Merit in the annual PCBC® Gold Nugget competition. The Gold Nugget honors architectural design and planning excellence and draws entries from throughout the United States and internationally at PCBC®, the nation's largest regional conference and trade show for the real estate development field.
"To us, winning the Small Volume Builder Awards confirms that our best practices have exceeded industry standard and we strive to do that daily," said Hancock. "This year was especially gratifying. In receiving the Small Volume Builder Award, our team has been recognized for its years of dedication to the pursuit of excellence in homebuilding, and that honor is not taken lightly. We will continue to exceed expectations and raise the bar for an industry we're proud to be in."
Next up for Camelot – in addition to Bocara, Camelot has just begun sales for a luxury mountainside single-family neighborhood in the Northwest Valley named Gold Mountain Preserve. The homes at Gold Mountain range in size from 3,000 to almost 5,000 square feet on ½ acre lots and are priced in the high $500,000's. Camelot is also preparing to bring two new award winning Villa communities to the market. The Villas are stunning single level du-plexes and tri-plexes ranging in size from 2,062 to just over 2,600 square feet. Both future Villa communities will be ideally located, one on the last remaining parcel in Scottsdale's premier master plan community, DC Ranch and the other on one of the last remaining parcels in Fountain Hills.
Camelot now offers their legacy of craftsmanship and attention to detail to custom home or remodeling projects as well. Whether starting anew or redesigning an existing space, their expert team offers sophisticated, innovative and award-winning designs to bring your dream home to life. They make the process simple and worry-free every step of the way, leaving you to enjoy your home – brand new or lovingly reimagined.
Marco Martinez is an assistant editor of Builder and Developer magazine. He may be reached at mmartinez@penpubinc.com