Spaces With Style and Sustainability Down South
Toll Brother Apartment Living's Notion boasts eclectic aesthetics with something for everyone

By Hanna Heiss
Toll Brothers Apartment Living, was founded in 2011 and is a division of Toll Brothers, Inc., a top United States homebuilder operating in more than 60 markets.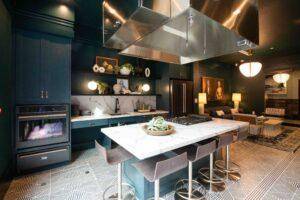 Ranked the sixth largest apartment developer in the nation by the National Multifamily Housing Council in 2023, the firm has developed nearly 8,900 units, has more than 5,000 units under management and controls a national pipeline of more than 17,500 units. Toll Brothers Apartment Living brings the same quality, luxury and service to its rental and mixed-use communities as Toll Brothers, Inc. This can be seen in select markets including Atlanta, Boston, Dallas, Los Angeles, New York, Philadelphia, Phoenix and Washington D.C.
One of the apartment developer's recent endeavors is Notion, a 290-unit multifamily community located in Decatur, Georgia. Sitework began in August 2019 with construction commencing in 2020 and fully completed in January 2023. The official grand opening was held in March of this year.
An Eclectic Neighborhood Reflection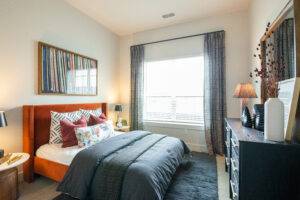 The city of Decatur offers Notion residents, along with access to downtown Atlanta, located just 25 minutes outside the area,
the convenience of being positioned in downtown Decatur, which hosts a variety of scheduled activities including farmers markets, festivals and concerts in the park. The city is also filled with locally owned shops, bars, restaurants and coffee shops.
The mid-rise complex is inspired by the surrounding community, echoing the nearby neighborhood's historic industrial architecture. The interior design reflects Decatur's reputation, encapsulating the authenticity of the city's art and culture, as well as a well-regarded dining scene and active outdoor lifestyles. In that spirit, Notion sits on a nearly 3.2-acre site, featuring a mix of studio, one- and two-bedroom units and boasts attractive amenities that appeal to young, established professionals. 
The project was a joint venture between Toll Brothers and partner Pondmoon Capital, alongside general contractor CBG Building Company, architect Dwell Design Studio and interior design Mary Cook Associates.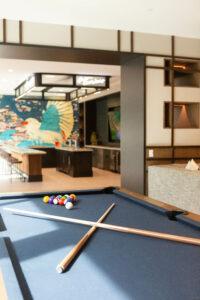 Prices range from $1,624 for a studio to $2,735 for a two-bedroom, two-bath apartment home. Rent prices are ultimately determined by the market. Floorplans range from 580 square feet for a studio to 1,735 square feet for a two-bedroom.
For Those Seeking Adventurous and Energy-Efficient Qualities
Meant for the adventurous, independently-minded individual, desiring change, variety and freedom to express uniqueness, the community encourages imaginative style.
Notion boasts a variety of energy-efficient features along with meeting the requirements of the National Green Building Standard. Features include ENERGY STAR stainless steel appliances, water-efficient plumbing fixtures and sensor-controlled common area lighting, as well as electric car charging ports, programmable thermostats, LED lighting, low VOC paint and smart home technology.
Aside from being energy-efficient, Notion was designed with hospitality in mind, from its amenity spaces to corridors and outdoor spaces. The complex has spaces for residents' day-to-day needs with workspaces, a game room, an Exhibition Kitchen and more.
A Quirky Personality: High-End to Artsy
The complex conveys a quirky personality with mixed cultures of high-end taste and artsy, sometimes gritty appearances. The area presented the Mary Cook Associates (MCA) design team with a unique opportunity to create a living environment that reflected both folksy street style and urban chic characteristics. Spaces were developed to foster creative expression, supporting curiosity and promoting social engagement for the sophisticated, active resident.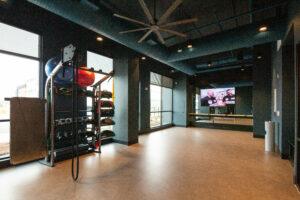 MCA focused on curating design with a unique identity, authentically coinciding with the neighborhood's eclectic vibe. Living and common spaces exude a hole-in-the-wall coffee house aesthetic, along with three coffee bars themselves, offering an opportunity for community engagement. Accessories and artwork, including a branded wall displaying colorful spines of books and textbooks, accentuate the coffeehouse aura.
Notion, with more than 8,000 square feet of interior and exterior amenity space. This space includes a hospitality lobby and lounge, Luxer® lockers and an oversized package room, a mail lounge featuring a complimentary coffee bar and conference room, a fitness center with state-of-the-art machines for cardio and weight training featuring an on-demand fitness studio with Wellbeats®, a resident billiard lounge featuring booth and bar seating, an exhibition kitchen, a resort-style pool with cabanas, courtyard lounges featuring lawn games and grills, a pet park and paw-spa, a self-service bicycle shop and bicycle storage and community-wide Wi-Fi.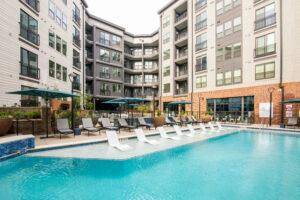 Additionally, residences feature wood-style flooring in the living areas, plush textured carpeted bedrooms, quartz countertops and designer tiled kitchen backsplashes, soft-close drawers and doors, designer light fixtures and large walk-in closets. Select residences also include large soaking tubs, walk-in showers and private balconies.
As it is meant for the curious, imaginative and creative, and active resident, Notion certainly lives up to that expectation with all that it has to offer inside and outside its walls.
Hanna Heiss is senior editor of Builder and Developer. She may be reached at hanna@builder.media.