The Dynamic (or Disruptive?) Duo: Migration and Investors
The demand of the housing market led by two major factors: migration and investors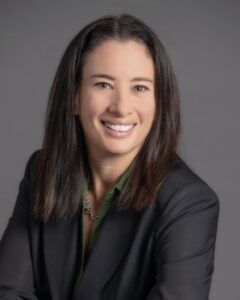 By Lesley Deutch 
The US housing market has set several records over the past two years, and demand for homes continues to soar, despite recent headwinds. However, now is the time for caution. We attribute much of the current strong demand to the dynamic (or disruptive?) duo: migration and investors. 
Record demand 
New home builders across the country averaged 3.3 sales per community in April 2022, above the 2.5 average for the month of April from 2013 to 2019, though trailing April 2021's unusually strong 3.6 rate. Most builders across the country are limiting sales due to supply constraints, so actual demand could be higher.
Record Cost Increases and Labor Constraints
The homebuilding industry continues to suffer from rising costs of building products and a labor shortage throughout the industry. Price increases for building products continue to increase all product categories as supply chain bottlenecks continue to constrain production and delivery. Engineered wood, lumber, trusses and millwork/flooring costs are rising the fastest today.  
Builders are also having difficulty finding skilled labor in the industry, often paying higher fees and wages to secure contractors. Over 50% of respondents in our recent dealer survey noted labor as the biggest concern for the dealers and customers. 
Home price appreciation
Record demand, combined with supply and labor constraints, has led to record-setting home price appreciation. According to our Burns Home Value Index (BHVI), US home prices increased nearly 19% YOY. The rapid home price appreciation, combined with over 5% mortgage rates results in rising home payments. We estimate home payments will be 40% higher in 2022 due to price appreciation and rate increases – the largest one-year shock in history. 
Historically, rising home payments and decreased affordability would result in slower housing demand. But the US housing market continues to grow, albeit with some pushback from buyers as home prices continue to increase. 
Enter housings' dynamic (disruptive?) Duo: migration and investors
Migration is one of the strongest drivers of current housing demand. Migration is hard to measure but easy to see. The number of new residents flocking from expensive housing markets to more affordable ones has transformed the landscape of markets like Florida and Texas, resulting in strong demand despite rising home prices. 
In our proprietary builder survey, we asked buyers what percentage of buyers came from out of state, and on average, the answer was 22%. But in Florida builders reported 36% and Northwest builders (who are seeing an in-migration from California) reported 29%. 
The impact of migration can easily be seen in home price appreciation – Florida has experienced the strongest home price increases over the last year, followed by the Southwest and Southeast.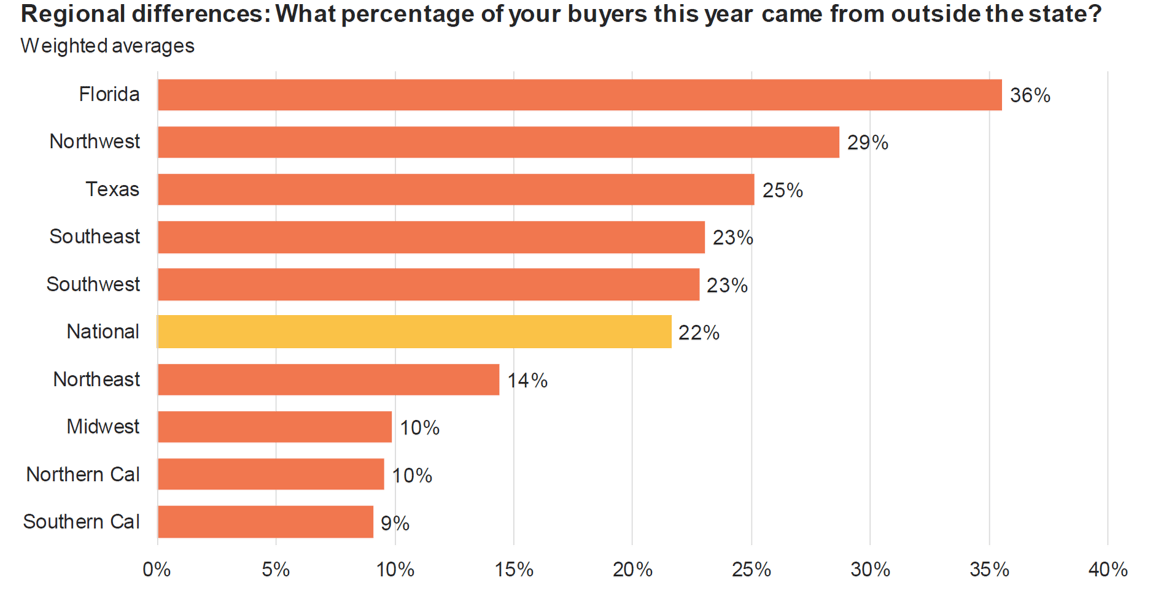 Migration is not the only factor in strong housing demand – investor activity is on the rise and has supported home price increases and unprecedented demand. Investors were a huge driver of 2021's housing boom and accounted for one in every three purchases nationally. 
Record-low mortgage rates incentivized small investors, many of whom were investing in real estate for the first time, to take on cheap mortgage debt, often utilizing cash-out refinances on existing investments to acquire additional properties. While yields are likely falling, investors are also driven by a desire to hedge against inflation, which encourages investing in homes.
We carefully track investor activity across all markets in the US, and the number of investors continues to rise, up to 25% of all home buying activity. We are not at peak levels (yet), but the number of investors varies significantly by market. Investors make up 30%+ of all sales transactions in 11 markets, most of which are in the Southwest, Texas, and Florida. Phoenix leads the way at 42%, while Washington, DC, trails at 10%. Investors are either buying second homes to resell, fix and flip or rent. 
Where does the housing market go from here? We warn that now is the time for caution. Builders and developers should continue to plan, doing plenty of research to make informed decisions. We are at the height of a cycle which involves a high level of risk but also reward. In the words of a more famous Dynamic Duo, "May the Force be With You". 
Lesley Deutch is a Managing Principal with John Burns Real Estate Consulting. She has 25+ years of real estate consulting experience. She can be reached at ldeutch@realestateconsulting.com.