The Key to Customized Quality
By Carly Caumiant
Photography by Fine Line Photography
Beginning its development in January of 2012, the community of Carriage Park by Keystone Custom Homes is one of luxury and move up quality pleasing home buyers with personalized customization and high-end options.
Carriage Park houses around 70 singlefamily home sites and sits beautifully in Palmyra, Pennsylvania.
"We offer a wide variety of popular home designs and encourage our customers to personalize each home to their exact tastes," explained Keystone Custom Homes President Larry Wisdom. "Our homebuyers have more than a thousand different ways they can personalize the design of the exterior and interior details of their home. They can literally personalize the home so that it's a one-of-a-kind home for them."
"We offer the cost-saving benefits of having the operation efficiencies and the buying power of a large production builder along with the personal care, service and choices of a custom home builder," explained Wisdom. "Our best value in the market place, and why so many people come to us, is they can get both of these things combined together for a very reasonable investment."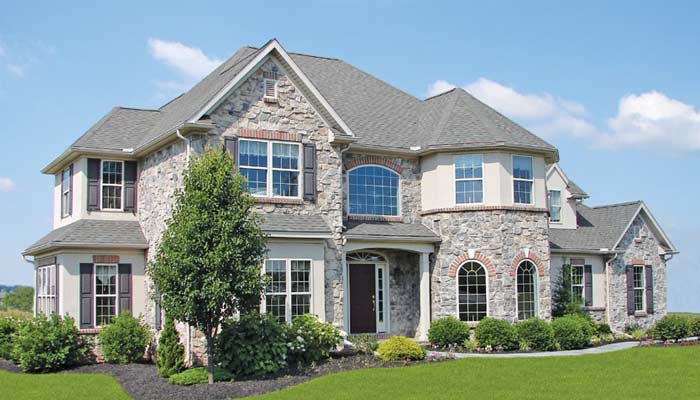 Keystone Custom Homes proudly harbors a state-of-the-art design gallery spanning 5,000 square feet where homeowners can walk through model rooms showcasing possible designs for their dream home while receiving the personal care and attention of a design specialist adviser.
"You can see multiple different kitchen layouts [at the design gallery], all different countertop surfaces from Corian to Zodiac to granite. You can personalize your home with many different choices of stone and brick or you can go into the outdoor living area where you can see options for paver or flagstone patios. You can go into the comfort floor covering area where you can personalize your home with designer carpet, tile, vinyl and hardwood flooring options," explained Wisdom.
One of the more popular areas of the design gallery is the spa area where homeowners can walk through model bathrooms that showcase Venetian baths that feature Roman showers and body spray systems. The door less design is comfortable yet luxurious with a soaking tub and indoor shower sitting area. An extra large vanity is also included. Also available are other bath specialty packages as well as multiple vanity, countertop, shower tile and flooring options.
"You expect to find this extensive selection of design options in homes that are three quarters of a million or a million dollars, yet folks are delighted to be putting these baths into our $270,000 – $320,000 homes," explained Wisdom.
One of the truly unique benefits that Keystone Custom Homes offers in terms of personalization is their Key Choice online program. After choosing to build a Keystone Custom Home, buyers can simply slip into their pajamas, glass of wine in hand, and browse housing design options via the Key Choices program from the comfort of their living room.
Homeowners can get together as a family and design their one of a kind Keystone Custom Home through the click of a button or the swipe of a tablet screen. Paint options, patios, decks, fireplaces, technology enhancements, and room designs are just some of the many options to personalize through the Key Choices program for their future Keystone Custom Home. You can even choose to move walls and change room sizes to suit your family's needs.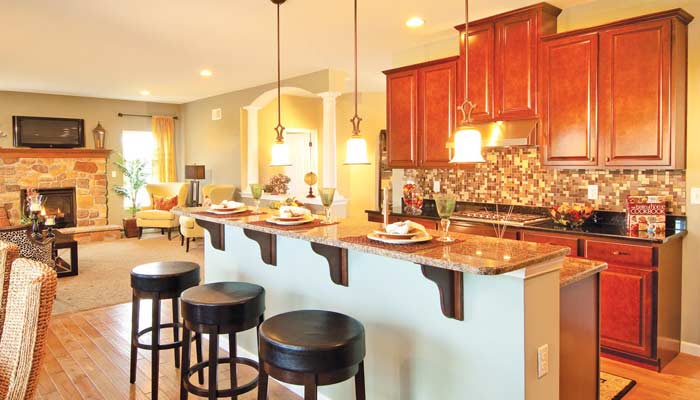 "People know what they want and they don't want to settle for something inferior," explained Wisdom. "When value and quality matter most, people are much better shoppers; they pay even closer attention to details and value comparison. Especially when you have challenging economic times, as we have experienced, people are serious about value and quality, and during this period of time, Keystone Custom Homes' sales have soared because our team has listened well and given homebuyers what they want."
Keystone Custom Homes' team members are passionate about delighting their new homebuyers and service after settlement is a priority for them, leading to many referrals from happy new homeowners.
"We really focused on listening to our prospective homebuyers as well as inviting feedback from our existing homeowners. Listening to our customers and rapidly adapting our home plans, we have been able to continuously offer innovative new home designs that fit today's customer's needs and desires," explained Wisdom.
"Our success lies in offering homeowners what is most important to them; fresh new designs which are financially smart, energy saving and high quality, perfectly located exactly where they want to live," explained Wisdom. "Our buyers tell us they want homes built by a builder who has a solid reputation, who would be there in the long run, and one who would allow them to personalize their home into a one-of-a-kind home instead of having to settle for a cookie-cutter home." "When homebuyers come to Keystone, they are provided with a variety of different floor plan options to choose from. They don't want to go through the hassle of starting from scratch; they do want a builder that has listened carefully and is bringing to them options of well-designed proven plans," said Wisdom. "Essentially, our buyers want an easy, pleasant building system and that's what are team gives them."
Keystone Custom Homes is currently building in 48 different communities in both Central Pennsylvania and Maryland. The homebuilding company's popularity is leading them to grow rapidly. "Keystone Custom Homes did not downsize in recent years, rather, the company grew to being ranked the 111th largest home builder in the nation, up 126 places from the 237th ranking in 2007. Instead of backsliding [during the recession], the Keystone team has soared to be recognized one of the top performing builders in the nation," explained Wisdom. Keystone Custom Homes has built over 4,000 homes, allowing the company to improve lives. "Keystone Custom Homes' mission is to improve lives by building above and beyond for our customers, fellow team members and the global community," said Wisdom.
And through building those 4,000 plus homes, Keystone not only improved the life of many homeowners but improved the wellbeing of many workers and employees as well. "The National Research Center suggested that for every home that's built, three jobs are created or supported," explained Wisdom. "Our company has created or supported 9,000 jobs and generated over $570 million dollars in local economic impact in recent years. As a part of responding to this soaring demand for Keystone Custom Homes, the new community, Carriage Park, was introduced and already 30 homes have been sold in this neighborhood."
Keystone thinks about how they will benefit their homeowners and the communities for the long run. The company provides new homeowners with an industryleading twenty-year structural warranty which promotes protection, peace-of-mind and value appreciation.
Keystone Custom Homes has been named the number one home builder in its market place for the seventh year in a row and looks forward to the 48 communities currently underway.
Carly Caumiant is an assistant editor of Builder and Developer magazine. She may be contacted at ccaumiant@penpubinc.com.