The New Home Company Opens Woodbury in Charming Lafayette
Although homes are tangibly built using wood and steel, The New Home Company believes the best homes are built using the heart. Homes are a reflection of the builder, and as perceptive builders, The New Home Company believes homes should additionally be built to reflect how people want to live today.
Their most recent development, Woodbury in downtown Lafayette, Calif. opened in late spring this year, with ongoing development planned until summer of 2016.
Woodbury is composed of 56 new residential "flats" in the heart of downtown Lafayette, Calif., the first community to open in downtown in the last 15 years. Thus far 44 of the residences have been built with 20 sales.
"Woodbury represents a rare and special opportunity to create a unique, thoughtfully designed community in one of the Bay Area's most coveted locations," said Kevin Carson, The New Home Company Northern California President.
The New Home Company served as both the builder and developer, and worked closely with Lafayette's local architectural firm Ward-Young Architects (WYA). The firm's familiarity of the city allowed them to develop an architectural vision that would attract the type of buyers who would choose to live in Lafayette.
Lafayette's rich historical past served as the central theme behind Woodbury's architecture. Because the community is located toward the west end of the city where the atmosphere transitions from cosmopolitan to rural, it was important for the design to accentuate this. At the threshold of open space landscapes coupled with rolling hills, WYA opted for spacious, grandeur decks perfect for a seating area and dinner table that put the resident at the cusp of the indoor-to-outdoor transition. "Woodbury features a very traditional design theme which defines a connection between the homes and the outdoors," said Senior V.P. of Sales, Marketing and Design for The New Home Company, Joan Marcus-Colvin.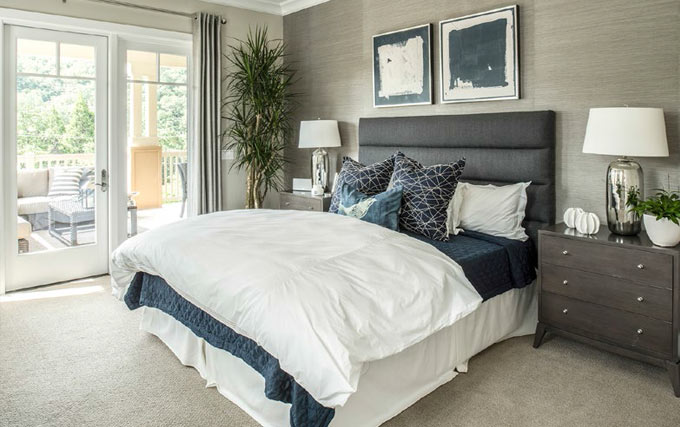 Lafayette is a highly desirable and charming town located in San Francisco's East Bay. Woodbury features two distinct residential offerings: the "Garden Flats" in six, three-story buildings; and "Terrace Flats" contained in a single three-story building.
"Garden Flats" contains 36 units of one-story residences with floor plans ranging from 1,457 to 3,001 square feet, up to three bedrooms, three baths and attached garages. Several of the homes in this plan include lofts and large terraces, with prices in the low $1 millions. The exteriors are quite distinctive, with French doors that welcome the buyer, custom wood roll-up garage doors, stone exterior accents, exterior decks (if located on the second or third floor), front door hardware, 5-foot rain gutters, contributing to an overall elegant architectural design.
The designer amenities continue inside the home: after passing the two-panel front entry doors, residents encounter high 10-foot ceilings, contemporary five-and-a-half inch baseboards that flow throughout the home, fully cased windows, a fireplace in the Great Room (if located on the second or third floor), fully insulated exterior walls and ceilings per Title 24, prewiring if the need for audio, satellite or ceiling fan arises, and plenty more.
Kitchens equip the owner with everything they need to become a gourmet chef, featuring European frameless construction beech cabinets, quartz solid countertops and highend stainless steel appliances. Bathrooms are spacious and will act as a safe haven for the buyer, with features including European frameless construction beech cabinets, satin nickel widespread bath fixtures, a shower wall and more.
"Garden Flats" can be customized to the owner's preference as well, with optional features like crown molding, a home theater, full backsplash options in the kitchen, and designer finishing packages available. ""The Garden Flats" are intended to make the experience of living in a smaller, single-story residence like living in your own private, singlefamily home," said WYA.
Woodbury's remaining 20 units are in "Terrace Flats," also single-story residencies. Floor plans, however, are more conservative— ranging from 1,111 to 1,703 square feet, two bedrooms, two baths, and priced in the low $900s. Because these homes have a slightly more modest floor plan, WYA had to methodically design floor plans that would utilize space in the most efficient way.