The Right Haven For Living Green
By Stephanie Ornelas,
Photography by Tour Factory- Kyle Ketchel & Team/Visual Properties
Homes by Dickerson strives to create an eco-friendly living atmosphere while still bringing a unique feel to each project and with their newest estate, Carrie's Reach, they did just that. With 17 home sites, these custom-built high performance green homes are adorned with farmhouse accents and simple brick and stone designs. Having opened in April of this year, Carrie's Reach in North Raleigh, North Carolina, was designed to be a high-performance green home.
The estate owner had a specific vision for the project that included humanitarian ideas. "The [estate] owner who sold this piece of property for Carrie's reach had very important and detailed instructions," said Jenn Nowalk, Director of marketing and sales for Homes by Dickerson. "She was very philanthropic so it was important that the homes being built here were certified green. All the homes are Energy Star Certified and Home Innovation NGBS Certified to the bronze level," Nowalk said. She discussed their commitment to build certified green homes and explained how much of an advantage this will be to the estate and its residents.
"A commitment to build certified green homes also helps boost property values, the sustainability of the homes and community. Thinking about the positioning of the homes uniquely on every home site takes time and planning, but one we take seriously to create a unique look to the community," Nowalk added.
Each home site includes properly sized HVAC Systems to save energy and increase indoor air quality along with HVAC air duct leakage and home air infiltration tested by Southern Energy Management. The homes also include formaldehyde-free insulation and low VOC paints. Having no-rot exterior materials helps to increase the durability of the home. Along with advanced framing techniques, the estate also features regionally appropriate landscaping design.
The plumbing was extremely important to the designers. Plumbing pipes located in interior walls and water efficient plumbing fixtures were something that meant a lot to the development. The low flow showerheads and dual flush toilets are installed to help decrease the demand for water. The homes are also installed with Rinnai tank- less water heaters, a good investment that is both costeffective and energy-efficient.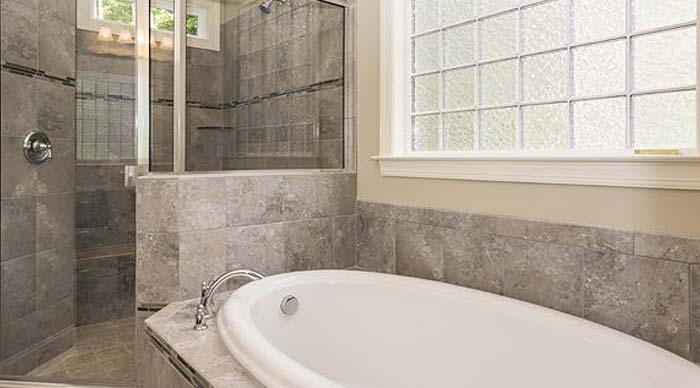 During the development process in Fall 2012, Dickerson faced challenges along the way with two of the home sites located on two of the busy adjoining streets. "They were not on the two main cul-de-sacs of the community so we needed to figure out how to best include them in feeling like they were part of the community," said Nowalk. To make this possible, Dickerson combined the two sites to make one large home site and to create privacy, trees used as buffers were placed along each side.
Despite these challenges, Dickerson was able to successfully build a comfortable community with homes ranging from 2,600 to 5,000 square feet. The single-family homes include large owner's entries and mudrooms and each home includes a chefstyle kitchen. With easy access to I-540 and Hwy 98, the homes are not only spacious but also convenient for commuters. The location is also just miles from RDU Airport and Research Triangle Park.
The estate brings a cozy feel, with wooded home sites and detailed craftsmanship. Large towering oak trees surround the community along with brilliant canopies. "We wanted to make sure we worked around these things and work them into the home sites," Nowalk added. She expressed how much of an advantage this feature is to the homes and the property as a whole.
Nowalk also expressed the reaction throughout the existing communities. "The surrounding communities have been excited for this project and the value of the homes being brought to the area," said Nowalk. With a large historic farmhouse being renovated on the corner close by, she explained the sense of new-ness that will be brought to the area. "This will create a great anchor point for the community," she added.
This 17-unit home site is a great location off of Creedmoor Road in North Raleigh. The homes range anywhere from $490's up to $750's. The energy-efficient features along with its cozy atmosphere make the vision Dickerson had of the project a reality.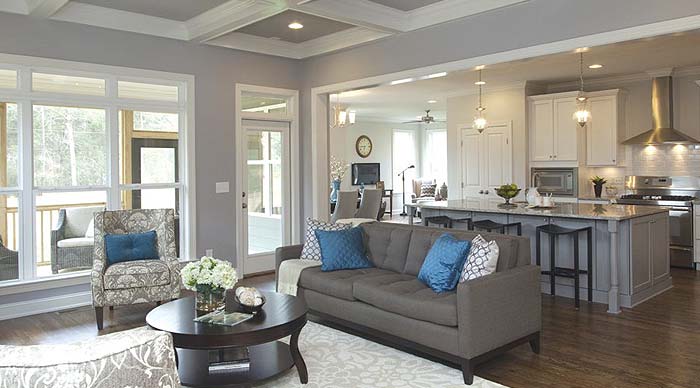 The grand opening of Carrie's Reach brought excitement and anticipation. Guests were escorted to the check-in table on golf carts and picked up Carrie's Reach mason jars, which they were able to take home with them as a souvenir. Chef Jessie Scott of Annie Bells Catering cooked up a lunch that impressed all attendees and a $100 Visa Gift Card Drawing was raffled off and awarded to Kay LaVelle with Allen Tate Realtors.
After a day of grand-opening events, Carrie's Reach was complete and is expected to sell out in no time. Customers can choose from an existing portfolio of plans, customize those plans or a special plan can be designed to fit their personal needs. The Homes by Dickerson iPad/iPhone App can make it easy to design your home and look through many of the home plans that are already designed.
All High Performance Certified Green Homes made by Dickerson are not just energy efficient, they offer their owners peace of mind about their comfort, health, money and impact on the environment. They use correctly sized HVAC systems designed specifically for each home that is built. These systems help reduce unbalanced heating and cooling and they better control indoor humidity levels.
High performance homes use less energy to heat and cool, help manage water usage and use more durable products. This means less money is needed to maintain and operate homes built by Dickerson. Customers can have peace of mind that these resources have been used responsibly and that the waste from the jobsites has been sorted and recycled through a certified third party. They also use products such as concrete block, carpet, carpet pad, and tile that have pre and post consumer recycled components.
Homes by Dickerson is committed to quality, craftsmanship and service. They work to make sure each staff member plays an integral role in providing and maintaining these commitments. They are made up of dedicated professionals that work with one another to achieve the most quality-built, custom home that each person involved is proud of.
"Having a clear vision for the community helps create a beautiful streetscape for all who fill the streets," Nowalk added. "Homes by Dickerson takes that planning to heart to look at each home site uniquely. We work to bring out the best in each property to better the whole of the community."
Stephanie Ornelas is an editorial assistant for Builder and Developer magazine. She may be contacted at sornelas@penpubinc.com.