The rise of Gehan Homes: building modern communities with luxurious and vibrant environments for today's families.
For over 25 years, the award-winning Dallas-based homebuilder, Gehan Homes, has been assembling homes to the corresponding phrase of homes that are "Designed for Your Life." Lately, they've been making homes that are designed for energy-efficiency by incorporating smart features that lower energy expenditure. Gehan Homes tested 57% more energy-efficient than the typical resale home on the HERS index, which is the accepted industry rating system by which a home's energy efficiency is measured.
"Energy-efficiency is a serious consideration in today's home buying process and homebuyers want to know how that translates into reduced energy consumption and decreased utility bills. We have responded to that need by making significant investments in our energy-saving features and smart designs. These features come standard with every Gehan Home," articulated Timothy Gehan, CEO of Gehan Homes.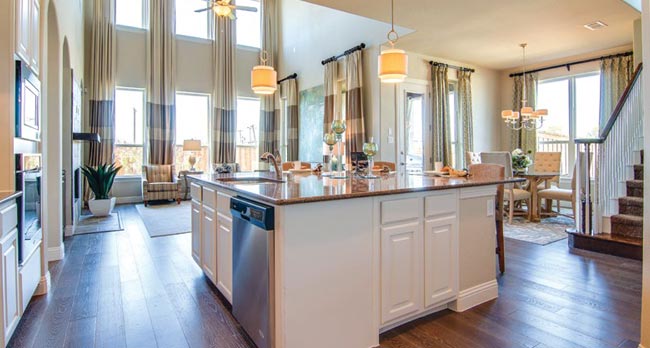 In addition to its efficiency, Gehan Homes is also expanding. They've become one of the top 30 builders in the United states and have recently opened their fourth community of new homes in Phoenix at the Palazzo in Palm Valley. There are 46 homesites in the community, and each home can feature one of five energy-saving floor plans that reach from 2,397 to 3,218 sq. ft.
"Our newly designed floor plans are created with the homebuyer in mind. We pride ourselves in the high quality, energy-efficient materials we use when building each home, and our commitment to exceptional and smart design makes every Gehan Home personalized to fit the flexibility of a modern family," explains Tim Gehan. The community is only 20 miles from downtown Phoenix and is furnished with all the desired luxuries that fit an active lifestyle, including: hiking trails, a golf course, tennis and basketball courts, a playground and more. Their attention to the necessities of a modern lifestyle and culture is part of what sets them apart.
The Palazzo is just one of the 20 planned communities Gehan plans to build in 2014, and is currently building in over 60 communities across Texas. The prodigious amount of quality work they are doing is a testament to their ability to alter their methods according to the vicissitudes of the market and the homebuyer's needs.