The Shelter Industry Pivots: Where are we in the Pandemic?
Checking the pulse with an architectural designer, manufacturing marketer, and an interior designer
BY BARBARA SCHMIDT
At no time in our living history have we seen such a disruption to our world. How is the pandemic affecting your business? Home remodeling seems to be busy if you can afford the budget and are not affected by job loss. Honey do project lists are getting longer with big box stores jam packed with shoppers trying to gather materials for their DIY projects.
With all eyes on our home spaces now will we continue to improve? I asked two successful industry leaders where their businesses are, and what home trends they see happening now and in the future.
State of Your Business
We are residential design experts for large and small shelter industries such as surfaces, appliances, cabinetry, windows, and fixtures. We have seen shelter manufacturing and marketing grind to a halt. Many companies have furloughed employees to try to hold on through the downturn. Every single area of the manufacturing side of the business has made deep cuts to try to stay alive.
The flow of materials for manufacturing and distribution of products has been severely affected by the stay at home orders. It's not just the availability of toilet paper and paper towels that have stopped. Many companies need materials from all over the world to complete the manufacturing process and they can't finish their products for sale. Many factories have had to close or slow manufacturing to keep employees safe.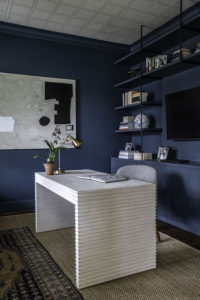 By contrast, I asked Joe Waltman, of Waltman Architectural Design, in Yarmouth, Maine, how his business is going, and he said it's up. He designs and builds spaces all over the country, but primarily north of Portland, Maine. As a more rural area, there is natural separation, although Waltman's employees are all working from home.
"We are seeing more clients want to improve their homes," said Waltman. As an example he spoke of is a container addition he's designing for a client right now. It will be modular with an office and bathroom. The greatest feature is that it can be put in place now and then moved if need be to a new location. His clients are coming to him now in the dreaming phase and trying to structure their next remodeling project.
Checking across the country with one of Houston's most successful interior designers, Meg Lonergan of Meg Lonergan Interior Design. Lonergan is also very busy. Her clients are moving ahead with projects faster and faster. Her business is growing in part, she believes, because "clients with the means to work on a project are moving ahead due to the fact that they are focused at home."
Lonergan's husband made the comment to her that "it's a great time to be an interior designer because everyone's ugly homes are exposed more now than ever." Virtual meetings have made the intimacy of our homes open for the world to see and there's a lot of updating out there to be done!
Home Trends Due to the Pandemic
We have seen a lot more focus on outdoor spaces and biomimicry—the creation of design elements based on nature's systems and patterns. We've also heard designers speaking about garage cleaning areas for deliveries. We believe that more focus will be placed on home offices and privacy areas for videoconferences.
Indoor gardens and gardens in general will become more than just a hobby; they will become a safety net for our disrupted food supply. Our kitchens will become even more important—if that's possible—with focus on antimicrobial surfaces and fresh food storage. We, as a society, are cooking at home more than ever, so updating our equipment and increasing prep areas are focal points.
Lonergan agrees, and she thinks that dining rooms and guest rooms will be made into virtual office spaces for live video meetings. She has two of her three children in homeschooling, and there are at times four members of her family on Zoom sessions. "Those spaces need to be defined and separated from each other," Lonergan said.
At her office, Lonergan has rearranged all her employees' desks to be far apart from one another, and they have sanitizer everywhere. They have been making masks for all their clients as a gift to stay safe. Lonergan created the masks from custom design fabrics she specified for her clients' homes.
With today's highly volatile market and the ongoing virus concerns, we need to help to design and build more safely for all of our society. No matter where you are in the world, sustainability and wellness will be central themes for today's lifestyles.
Barbara Schmidt is a nationally published Interior Designer and Marketing Expert known for her authentic storytelling about spaces, places and trends @studiobstyle.com