Three Strategies to Empower Outdoor Living
Americans want homes that let them enjoy the great outdoors, but it is harder than builders and developers think to get them there
By MARY COOK
We want to be happy in our homes. To that end, homes have grown from 1500 square feet in 1973, when the Census Bureau first started tracking size, to about 2,500 square feet in 2015 — a figure that has held steady since. What has not held steady is what Americans want.
Size no longer tops their wish list, perhaps because "Americans aren't getting any happier with their ever-bigger homes," as The Atlantic reported in June.
What is making them happy? Outdoor living spaces topped the list of popular home features in the American Institute of Architect's last Home Design Trends Survey. Homeowners want spaces that offer connection to nature and tranquility. More than just a backyard or deck, these are spaces where they can relax on their own or enjoy life with family and friends.
The Lure and Benefits of the Outdoors
The trend makes sense. Our affinity for nature is deep-rooted in evolution according to the biophilia hypothesis, which postulates, "humans possess an innate tendency to seek connections with nature," because it is where we evolved. That may explain why we covet beautiful views, be it from hotel rooms or the spaces in our homes, or why views of nature are effective in therapy, healing, reducing stress, diminishing medicine use, and helping patients recover more quickly.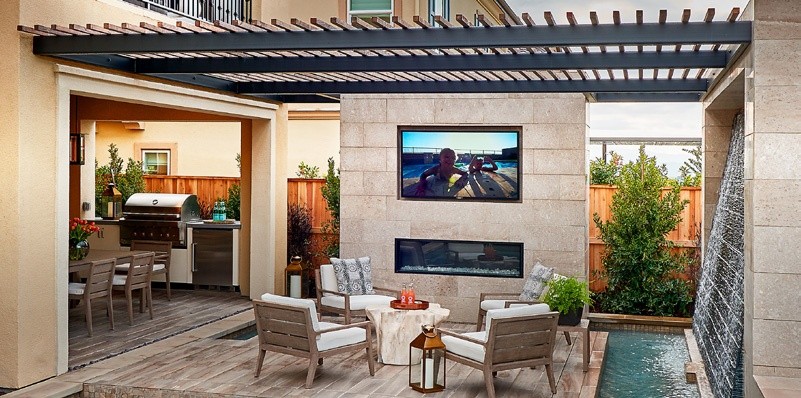 New research shows nature may be more beneficial than we ever suspected. Spending time outdoors is one of the fastest ways to improve health and happiness, Time reported recently. "It's been shown to lower stress, blood pressure and heart rate, while encouraging physical activity and buoying mood and mental health." Twenty minutes in a park is all it takes to improve our wellbeing, even with no exercising involved.
No wonder outdoor spaces are proliferating in residential spaces of every ilk. Virtually every community space, amenity, or model home we design today has a significant orientation to the great outdoors. Homeowners and residents are prioritizing al fresco spaces and green living. Outdoor designs that relate to the local ecosystem are in high demand, as are water features that add a tranquil element to al fresco spaces while masking unwanted sounds from nearby traffic.
Making Outdoor Living Spaces Inviting and Exciting
One issue remains the same in every al fresco space we work on — delivering inspirational design. What many builders and developers do not realize is that spaces must inspire today's inured residents and homeowners to set aside their digital devices, though not necessarily their tech. Realistically, state-of-the-art audio-visual equipment is usually included in the al fresco mix.
Here are three design strategies our interior design team uses to make outdoor spaces inviting and exciting.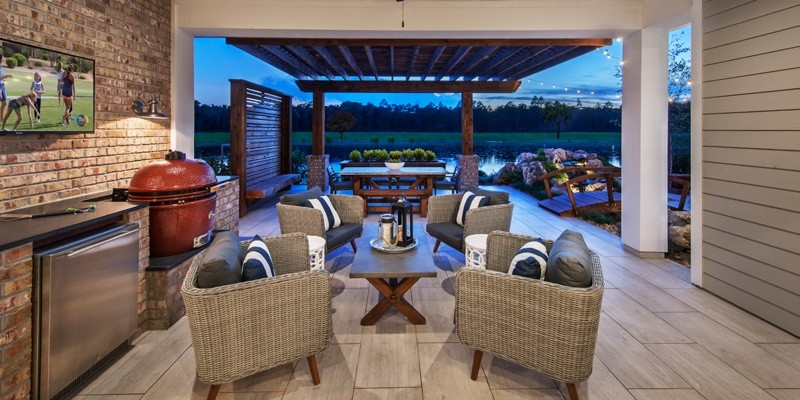 1. Blur the lines between indoor and outdoor areas. French doors and window wall systems that offer dozens of fold-and-stack or sliding panel options make it easier than ever to blur the lines between inside and outdoors. These systems allow kitchens, family rooms, dining areas, and more to open completely to the outside for eating, relaxing, working, playing, and entertaining. They make indoor spaces more attractive and outdoor spaces more accessible by bringing the benefits of the outdoors in while still retaining all the comforts and conveniences of covered shelter. However, it is imperative to choose the right system for a residence's architecture and climate, and the wants and needs of its occupants.
2. Plan spaces to be as livable outside as in. Window wall systems that make it possible to create seamless and authentic extensions of indoor space outside are only a start. It takes more than merely opening a wall or two to make outdoor spaces functional, efficient, dynamic, and productive. When we plan and design these spaces, we amass extensive knowledge of residents' wants and needs, and local conditions — from climate issues to pest control.
Outdoor spaces must incorporate strategic furnishings, lighting, heating and cooling sources, and amenities so to be comfortable and useful for occupants. Without the right layout, it can be tough for various members of a household to use the space at the same time as noise from pool play or sound systems can distract from other activities. It is also impossible to eat, work, play games, cook, or watch videos outside without the right kind of sun shield by day or lighting by night.
3. Make spaces programmable. The spaces in our homes have become more multifunctional; outdoor spaces must follow suit. One trend — to have the food prep areas in kitchens remain on the interior side of those window walls — acts as a shield for most pests, inclement weather, and lighting issues. Covered grills can be used year-round, regardless of weather. Entertaining and play areas with fireplaces and TVs must have clever options so they can be open-air and sheltered when necessary, and large features, such as pool or volleyball court, should be maximized. For example, pools can be covered to become additional floor space for entertaining. Regardless of climate, when we design outside spaces we make sure they are versatile and programmable.
Mary Cook is the founder and principal of Mary Cook Associates. She may be reached at www.marycook.com.