Toll Brothers Streamlines the New Home Buying Process
Making the process of buying and customizing a new home as seamless as possible, Toll Brothers' Design Studio in Reno, Nev. offers a vast range of design options in a one-stop-shop setting
By Genevieve Smith
Photography by Christopher Mayer
At 7,500 square feet, Toll Brothers' grandiose Reno Design Studio is the largest of its kind. Open now for more than six months, it recently received the Nationals 2016 Silver Award for Best Design Center.
What sets the Reno Design Studio apart from its competition is the blending of styles. "Most other design centers seem to lean one way: all traditional or all modern. We really strive to blend the two styles," said Design Studio Manager Mary Candelario.
Reaching for the Tahoe and Reno markets, calling their design motif "Mountain Contemporary" speaks to those looking for a stylish, chic retreat without losing the rustic, cozy feel of a cabin most have come to associate with mountain living.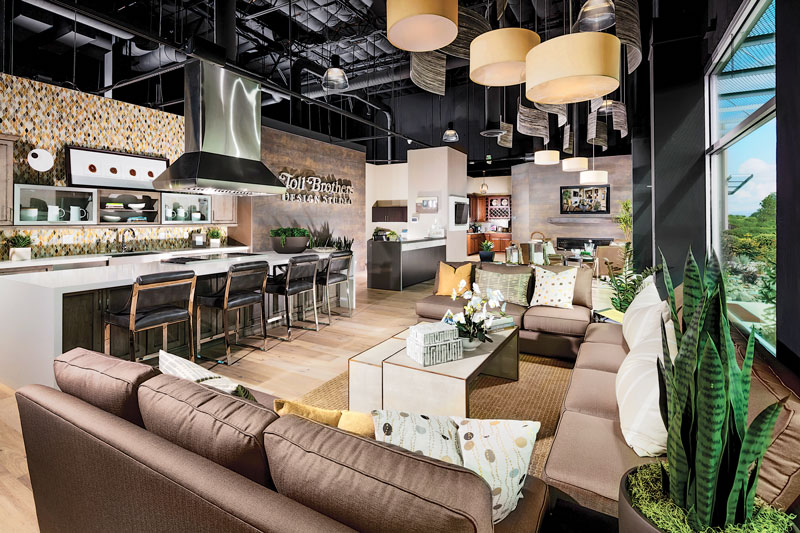 As a stand-alone shop serving Toll Brothers homebuyers exclusively, 80 to 90 percent of the business at the Reno Design Center comes from the Regency community at Damonte Ranch in Reno. As an active adult community, working with the Regency community presents different design challenges. "[Its] different than working with young families [in that] they're thinking of transitions for the future," said Candelario. Certain design elements that are appropriate for a young family obviously may not be the best choice for active adults.
A large trend in the market seems to be "moving away from carpeting, either for ease of movement throughout the space or increased design flexibility," said Candelario. Other trend differences not necessarily related to lifestyle include darker palettes than have been seen in the recent past and alternative materials.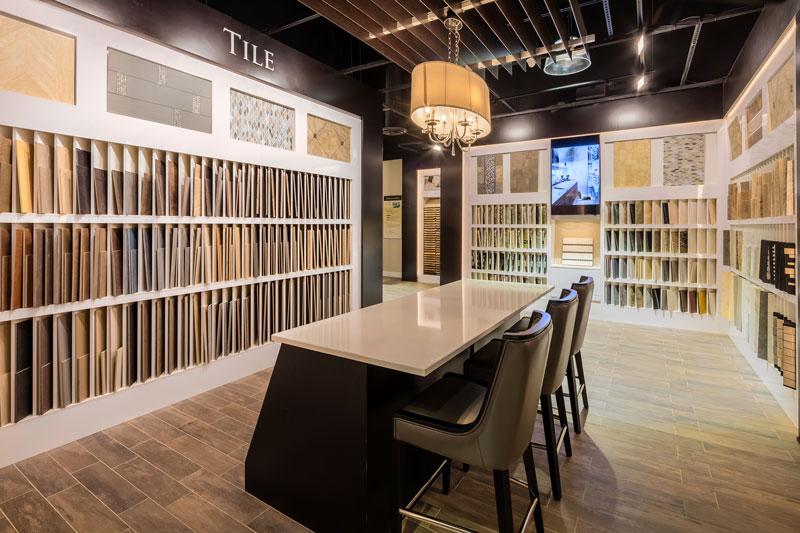 Many design elements showcased at the Reno Design Center are moving away from greys and neutrals into darker, more eclectic and transitional elements. For instance, "wood tile, which gives all the benefits of the appearance of a natural wood flooring experience without any of the worry about moisture or high levels of maintenance, is an extremely popular choice," said Candelario. Also, mixing elements like hand-scraped wood floors and sleek cabinets produces a certain contrast of texture that is prevalent within the Reno Design Studio's "Mountain Contemporary" theme.
While the sheer quantity of options in the wide collection of flooring, cabinetry, and countertops displayed at the Design Studio could be intimidating for most homebuyers to navigate solo, Toll Brothers encourages people via their website to "simply focus on seeing and touching products and gather ideas their first time visiting the studio."
The experiential process works like this: first, homeowners visit the model homes in order to choose their exteriors, then they make two to three visits to the Design Studio to completely customize and personalize the interior of their new homes. What might seem overwhelming to most at first glance, there are "never too many options for the designer," according to Candelario. "We're here to guide them through the process."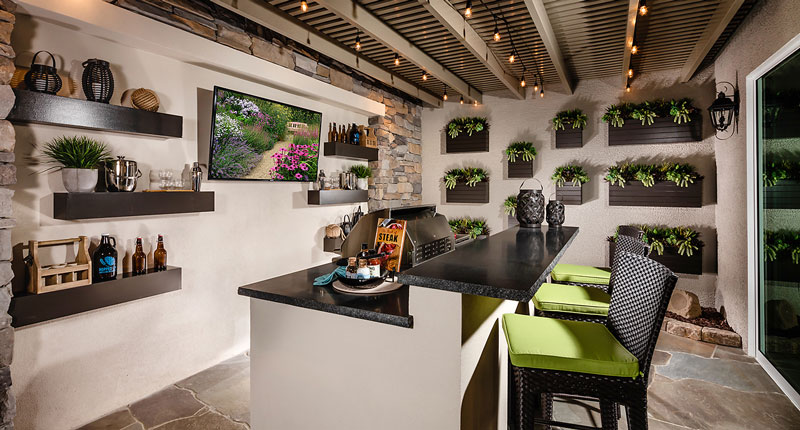 Candelario referenced the prevalence of homebuyers sharing their Pinterest accounts—an app that allows users to collect online images into inspirational pin board-like pages for anything from party planning to homebuilding—and the ability to gather a sense of the homebuyers' exact style tastes through it and similar tools. A plethora of options ensures that no one's ideal home style is out of reach at the Reno Design Studio.
While the Design Studio does not specifically focus on exterior design, many Toll Brothers' homes offer mountain-style or Mediterranean-style elevations with different stone and stucco combinations, dormer or shutter details, and tile or shake roof styles. However, some exterior options are planned at the Design Studio. "Exterior-related options that we sell in our studio are front doors and barbeque island packages. Many of our model homes portray these neat details and the endless possibilities of landscape design," said Candelario.
Streamlining the design phase helps keep change orders and miscommunications between buyers and builders at a minimum while keeping all-around satisfaction with the process high. Candelario shared that the exceptional designs showcased at the studio have been good for more than just streamlining the design process. "We've had several events [here at the studio] and have actually sold homes to people who just happened to walk in."
A benefit to homebuyer and builder alike, the one-stop-shop nature of the Design Studio makes it an all-around asset. "Customers are guided by model home designs: seeing the big picture and the opportunity that it provides to think about living in [a similar] space," said Candelario, referencing the advantage of the model home/design center relationship.
Genevieve Smith is an Editorial Assistant for Builder and Developer magazine. She may be reached at gen@penpubinc.com.