Toll Brothers Triumphs with San Diego Spectacular
By Candice Chandler
San Diego, California has always been an ideal location to experience the epitome of luxury SoCal living, and with StoneBridge Estates residents can enjoy spectacular views and divine move-up living.
ViewPoint by Toll Brothers, a development within the master planned community, offers potential residents an even greater sense of living with spectacular home designs married with unobstructed views to the east and west.
The community is near Scripps Ranch in San Diego and highlights the unique and spectacular landscape of Southern California. The 33 estate-sized home sites are showcased in eight floor plans, each situated on panoramic lots to give buyers a sense of the bustling beachside city.
"When we purchased this community, we envisioned the opportunity for our customers to build their dream homes in the beautiful location of San Diego," said Bradley Hare, vice president for Toll Brothers. "We introduced our "Pick a Plan, Pick a Lot" concept, which is our semi-custom program that allows homeowners to select the floorplan that fits their needs and plot it on their favorite lot available."
This strategy when adapting to the riving housing market has allowed Toll Brothers to provide a semi-customizable, upgraded, and luxurious home that attracts people. The locale also provides an extra sense of move-up living.
The homes are priced competitively from the low $1 millions and can be in either a one-story floor plan or a two-story design. The upgrades that potential buyers can choose from include guest casitas, bonus rooms, four-car garages, 10- or 12-foot first floor ceilings, eight-foot doorways, gourmet kitchens and large master suites. Single-family home designs range from 4,022 to 5,011 square feet, giving plenty of space for families to spend their time.
"Toll Brothers enables homebuyers to choose from eight elegant luxury home designs that include soaring 10' to 12' first floor ceilings, eight-foot doorways, grand foyers with vaulted ceilings, gourmet kitchens with granite slab countertops, luxurious master bedroom suites, and 3-4 car garages. In addition to the beautiful locations and luxury home features, Toll Brothers' Stonebridge community is located within Poway Unified School District, one of the most highly regarded school districts in the state. All of these qualities combined make Stonebridge one of top selling community in San Diego," said Hare.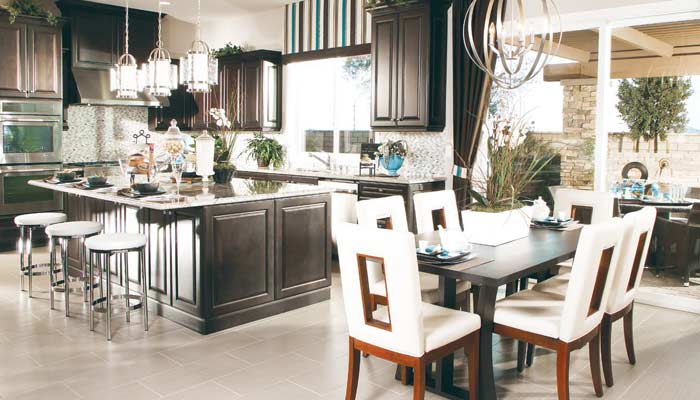 The sprawling lots that each home is developed in offer views that are unmatched. Homeowners have the opportunity to enjoy an expansive 1,600-acre terrain, providing outdoor living opportunities within close quarters of the home. Trails, parks, and active sports fields engage residents and offer more options when choosing to reside in StoneBridge Estates.
"When Toll Brothers was given an opportunity to purchase this property within the master plan community of Stonebridge Estates, we knew that we would be the perfect fit. With some lots as large as 1 acre, this would be an opportunity for our customers to personalize their homes like none other location in San Diego. Toll Brothers recognized the vision to create a high end luxury community in a highly demanded location with coveted school, so we chose our most popular home designs to build there in hopes that our buyers would be able to achieve their dreams of luxury living within our homes," explained Hare.
In addition the community is located near well-acclaimed schools, and residents are proud members of the highly ranked Poway Unified School district. StoneBridge is also just east of the I-15 freeway, minutes from Downtown San Diego, major employment centers, famous beaches and popular attractions including the San Diego Zoo and SeaWorld San Diego.
"StoneBridge is located in an extremely convenient location adjacent to Scripps Ranch, just a short 30-minute drive to downtown San Diego area or beaches, and within minutes of major shopping or employment complexes," stated Hare. "StoneBridge offers beautiful hilltop locations that give our buyers an opportunity to build their dream home on these generously large home sites. Toll Brothers is a semi-custom builder that gives buyers have the ability to pick a plan and pick a lot that the plan will fit on, then choose from many pre-priced options to include in their luxury homes."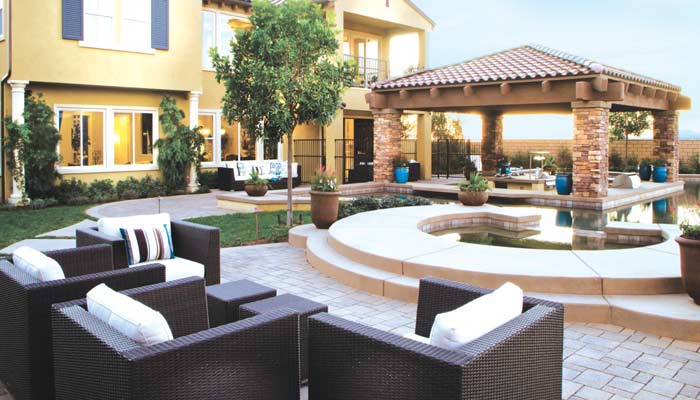 Toll Brothers have also married luxury with energy efficiency, giving the home designs a green sense of development. The technologies included in the homes are WaterSense toilets, Energy Star tankless water heaters, 2×6 and 2×4 walls with upgraded insulation, manufactured wood components, multiple heating and cooling zones, and programmable thermostats. Combined, these green building practices unite to ensure that each home at StoneBridge is 15 percent above the mandated Title-24 code standards.
The semi-customizable aspect of the homes also includes additional green technologies if buyers choose to make their home even greener. Third party inspections are also conducted on the homes to guarantee their eco-conscience design and cost-effective results.
"Toll Brothers has a number of third party quality assurance inspections that we use to help ensure that our homes meet and exceed the expectations of our homeowners for many years after their closing dates," explained Hare.
"With the help of HERS inspectors, internal QA inspectors, Foundation Deputy Inspectors, and sufficient onsite management, we are able to reach this high standard of quality, which ultimately increases the value of our homes. Toll Brothers specifications being among the highest in the industry coupled with our ability to customize our homes set us apart from other builders and create a demand for our homes that is unparalleled."
The numerous different upgrades that the Toll Brothers homes in StoneBridge Estates cover have the potential to give potential buyers anything and everything they need regarding a luxury home choice. With breathtaking views, a master planned design encompassing 1,600 acres of land, energy efficient technologies, and an options program buyers can utilize to give their new home a semi-customized feel, StoneBridge Estates is setting a new standard within the move-up sector of the homebuilding industry.
"With a limited amount of land and a high demand for the homes in this area, Toll Brothers has provided a custom experience like no other public builder in the region. With a collaborative effort from many members of the Toll Brothers team, we are very proud of what Toll Brothers community in StoneBridge has become," stated Hare.
Candice Chandler is editor of Builder and Developer magazine. She may be contacted via email at cchandler@penpubinc.com