Town at Trilith Announces Aurora Collection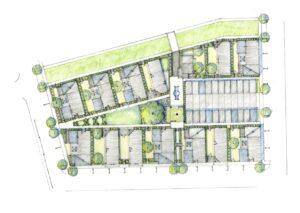 New sustainable-driven homes fused with energy-saving technology available this spring
The Town at Trilith unveiled the Aurora collection, its most efficient homes designed to date, in the award-winning community located adjacent to Trilith Studios, the second largest film studio in North America and home of Marvel's Avengers and the Spider-Man films. This highly anticipated gathering of 14 unique homes is a light-hearted, modern, and innovative take on courtyard living. It celebrates nature by featuring ample natural light, resource efficient design and landscaping, and architecture that points primary living spaces to sequestered outdoor realms. This modern community will be a welcoming retreat from a demanding world.
Aurora is masterminded by the award-winning Trilith Development team, town planner and residential designer, Lew Oliver, and builder, 1023 Construction. Starting in the high $900,000s, aspiring homeowners will be able to purchase an Aurora home from the newest collection this spring.
To boost Trilith's commitment to sustainability, each home offers net-neutral features including complete electrification, geothermal power, smart battery-operated packages and energy-saving appliances. Continuing to maximize clean power sources, each roof is flat to house optional solar panels in addition to the parking structure equipped with a solar array tied to each home to further cut monthly costs and provide eco-friendly solutions. These green-built homes will save homeowners more than 70% in energy costs every month compared to similar homes in Atlanta.
"Aurora is an example of our team doubling down on our commitment to environmental sustainability said Trilith's President Rob Parker. "Using the earth to heat and cool our homes, and the sun to capture and store energy is a big differentiator."
Built with stucco, wood and metal facades, the Aurora collection features 14 homes consisting of three bedrooms and three bathrooms. Additionally, interiors orient toward private courtyards and offer a futuristic take on courtyard living which is perfect for homeowners looking to maximize leisure and comfort and enjoy an abundance of natural light.
"As an award-winning green community, our goal is to create beautiful homes with environmentally friendly materials and capabilities," said Brett Baker, director of residential construction at Trilith. "We hold each home to a high standard of sustainability and craftsmanship to give residents a better living space."
Located adjacent to Trilith Studios, the award-winning new urbanist community will include nearly 1,400 homes while emphasizing creativity, artwork, amenities and green spaces. Trilith's Town Centre features the following: 180 Pure Home, Amici Italian Café, Archer Paper Goods, Barleygarden Kitchen and Craft Bar, Curator, ENZO Italian Steakhouse, Green p.s., Honeysuckle Gelato, Hop City, Leyland Blue, Native Collective, Nourish + Bloom Market, Pet Wants, Piedmont Wellness Center, Roam, SENSU Sushi Restaurant & Bar, The Concierge by Edwin Jarvis, The Funky Shack, The Skin Society, Thumbs Up Diner and Woodstone Bakery & Café. The town is also home to The Forest School, a K-12 micro school with a story arts focus and learner-driven technology.
ABOUT TRILITH
The Town at Trilith is a 235-acre master-planned residential and mixed-use project located in south metro Atlanta, Georgia, adjacent to Trilith Studios. Envisioned as a gathering place for creatives, artists, storytellers and makers, this European-inspired community will include 750 single-family homes, 600 multi-family lofts, 300 hotel rooms and 270,000 square feet of remarkable restaurants, retail, office and commercial space. The residential neighborhoods at Trilith comprise the largest geothermal community in the United States, with 51% of the development dedicated to green space that is currently home to more than 1,000 trees. Upon completion, residents will have access to 15 miles of nature trails, 54 acres of forest, 19 superbly landscaped parks and one of the most sophisticated and welcoming dog parks in the world. The Trilith development team is led by President Rob Parker and project partners including town planner and residential designer Lew Oliver Inc., commercial real estate firm Pace Lynch Corporation, residential real estate firm Berkshire Hathaway HomeServices Georgia Properties' New Homes Division, Piedmont Healthcare, multi-family developer Capstone, Nequette Architecture & Design, landscape design firm HGOR and a Builders Guild comprised of premier homebuilder in the Atlanta area. For more information about Trilith, please visit www.trilith.com.