Trumark Homes Leads Development Boom in Newark
New generation homebuilder, Trumark Homes, recently began sales of its 11.98-acre 164-unit Silicon Valley development in Newark, Calif. Shade and Canopy at Timber feature single family homes and townhomes, representing the first new home development in Newark in more than a decade. "In the past 15 years, only four new homes have been built in Newark, so there is an incredible amount of pent-up demand," said Trumark's Senior Vice President of Sales and Marketing Mark Higgins. "The willingness of city officials to work with us to provide new homes for the next generation will result in the creation of a vibrant new community."
During the grand opening weekend in March, 20 homes were immediately sold, and over 50 homes sold within the first 10 weeks of sales. Shade at Timber will include 84 detached single family homes averaging 2,200 square feet with four bedroom floor plans and ground level side yards.
Canopy at Timber will include 80 three-story townhomes averaging 1,800 square feet with open and functional floor plans. Six different floor plans in total are offered at Timber, ranging in size from three-bed, three- bath with 1,573 square feet to fourbed, three- and-a-half-bath with 2,379 square feet. "This project is located in a great central Bay Area location with access to BART, bridges and freeways, allowing residents to work in San Francisco, Oakland, East Bay, Peninsula, Silicon Valley and San Jose," said Trumark's Senior Vice President of Land Development Christopher Davenport. "The city has encouraged this property to be converted from an old RV storage parking lot to something better. This strip of land is adjacent to the freeway and will provide a much better window into Newark and will improve that section of Cedar Boulevard as well."
Trumark is developing additional off-site improvements including a new median in the neighboring Cedar Boulevard and a new sound wall for roughly 20 homes on the opposite side of Cedar Boulevard to further improve the area's aesthetics. "The City of Newark has been very helpful and accommodating with this project, and they've supported this development from day one," Davenport said.
Timber's fresh architectural style and neighborhood amenities are a high-quality addition to Newark's housing supply. The homes feature interesting elevation details, bright color pallets and lush landscaping throughout. Trumark collaborated with a talented team to create Timber, including KTGY Group as the lead architect and HMH Landscape Architecture. They also teamed up with long-term equity partner The Resmark Companies to develop the community, as well as three other communities in Los Angeles, San Jose, and Milpitas, Calif.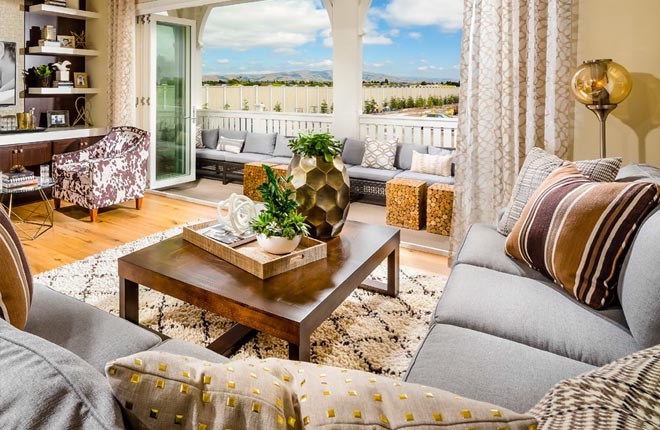 While each home is unique per homeowner's personal touches, Trumark sets the tone for impressive interiors with 10 foot ceilings and oversized windows on main living floors, highprofile baseboards and wood casing, contemporary five-panel interior doors, and attractive staircases with vertical painted wood posts. Floor plans feature expansive great room concepts that maximize living space, and most plans have large first floor bedroom suites that appeal to multigenerational households.
The kitchens are true culinary retreats complete with Whirlpool® stainless steel 30" gas freestanding range/ovens, ENERGY STAR® qualified dishwashers and deep stainless steel sinks with quality Moen® faucets. Shaker-style cabinetry in an attractive Sedona finish with satin nickel pulls, recessed lighting, and granite countertops with fullheight backsplash at cooktops are all included and add class and style to the kitchen area.
Catering to Silicon Valley's tech-savvy buyers, Trumark added ample pre-wiring throughout each home like wireless access points (WAPs), dual USB charging outlet in kitchens, satellite dish pre-wiring and conduit, and pre-wiring for security cameras at front and rear entries. And no Trumark home would be complete without features like energysaving radiant barrier roof sheathing and low-E glass vinyl-framed windows, tankless water heater, quality Schlage® door hardware, and electrical vehicle conduit in garage.
Timber residents will enjoy generous amenities throughout the community including walking trails, children's play equipment, pavilion building for events, outdoor fireplace, flowing water feature and a large barbeque area. Homeowners will be a short distance to major transit and many local shopping centers, amenities and more than 13 parks and sport play facilities, including the George M. Sillman Community Activity and Family Aquatic Center. Timber is located in the esteemed Newark Unified School District and students will attend established schools, including Milani & Bunker Elementary, Newark Junior High and Newark Memorial High School.
Trumark Homes continues to build successful communities throughout California, including the 2015 NAHB National Community of the Year— SL70 in Silver Lake, Los Angeles, Calif. Trumark's Northern California communities include the actively selling PACE community in Milpitas, and the recently sold out 2014 NAHB National Community of the Year—Centered on Capitol in San Jose.
Trumark Homes is a part of Trumark Companies which recently announced it has created a residential land development platform, Trumark Communities, capable of acquiring, developing and selling improved lots. Trumark Communities will focus on acquisitions in markets where Trumark Homes already has a presence, including Northern and Southern California. The company will eventually expand to Arizona, Nevada, Texas, Florida and the Carolinas.
"We believe the size, design, location and amenities of master-planned communities will look different in the future and we want to lead that transformation," said Michael Maples, cofounder of Trumark. "We want our master-planned communities to captivate today's home buyers and thus capture higher revenues for our builder clients."
It's the Trumark Homes mission to not only make a positive difference at home but also affect change globally. After witnessing firsthand the immense need for clean drinking water abroad, Trumark cofounders Michael Maples and Gregg Nelson were inspired to help supply water to those in need.
Their commitment to aid others around the world led to an ongoing Trumark partnership with charity: water, a non-profit organization dedicated to bringing clean water wells to more than 800 million people in developing countries worldwide. For roughly every 50 homes Trumark builds, the team works with charity: water to donate a new well, the first of which was completed in Ethiopia.
Tamara Philips is the Managing Editor for Builder and Developer magazine. She may be reached at tamara@penpubinc.com